You can do a lot with smart playlists in iTunes, and sometimes the questions I get from readers make me discover ideas that I had never thought of. In this week's column, I show you how to create a smart playlist with a certain percentage of songs from different genres. I also talk about organizing iTunes media files, slow syncing of iOS devices, and how to find a lost password for an Apple ID.
Keeping media files organized
Q: I just recently converted to the Mac world by buying a brand new Macbook Pro. So far, I absolutely love the machine, but one thing I liked about Windows and music management was Media Monkey. When I edited a song's title, artist, genre, and so on it would automatically edit the actual files on my computer accordingly. So, for instance, if I deleted those songs from iTunes and reloaded them, they would be completely organized the way I intended for them to be. It gave me an easy way to edit multiple music files at once. How can I do this with iTunes?
I assume that what you mean by "organized" is the way the files are stored on your computer. iTunes does this if you check a setting in its preferences. Choose iTunes > Preferences, then click Advanced. Check Keep iTunes Media folder organized and then click OK.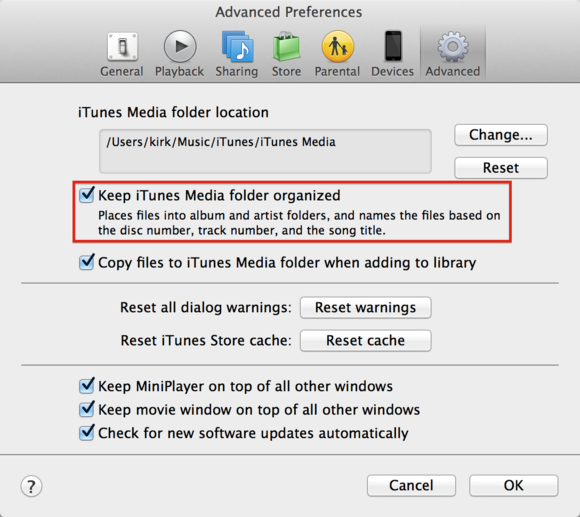 When you make this change, iTunes may need to reorganize your content, moving it to the appropriate folders, and this can take a while if you have a lot of files. You'll find your content organized by artist and then album in the Music folder, movies will have folders for their names, and TV series will be grouped by the name of the series and then the season.
I forgot
Q: I first bought music and movies from the iTunes Store when I had an AOL account, about 10 years ago, but I can't remember my password from all those years ago. The media files are in my iTunes Library, but I don't have access to them because I don't have the password. How can I recover that password?
For this, or for any other issues with passwords for your Apple ID, Apple has a webpage at the convenient address of https://iforgot.apple.com. Go to that page and enter your Apple ID and Apple will walk you through a procedure to get the password. However, this may not work in all cases. If you no longer have access to the email address you used, you'll have to answer security questions. If you never set up security questions, I'm not sure what will happen.
If you've forgotten your Apple ID, that page can also help you find it. Click Forgot your Apple ID? and answer questions regarding your name and email address, as well as prior email addresses. You'll then be asked a number of questions to confirm your identity.
Mixing up genres
Q: I have a smart playlist that contains several genres: jazz, rock, and R&B. But I would like to create a smart playlist with each of those genres, where 40 percent of songs are rock, 20 percent jazz, and 40 percent R&B. Is this possible?
You can't do this in a single smart playlist, but I've come up with a solution. You'll need to start by creating three smart playlists—one per genre. For the first one, set the condition Genre is Rock, and limit it to 40 items selected by random.

When you've done this, create a new smart playlist, where Genre is Jazz and limit it to 20 items. A third smart playlist should be Genre is R&B, and limit it to 40 items. The numbers I've used correspond to your percentages.
Next, create another smart playlist and choose Playlist is Rock. This means that this smart playlist gets music from the Rock smart playlist. Click the plus (+) button to the right of that condition and add another condition—Playlist is Jazz. Add a third condition, Playlist is R&B. Limit it to 100 items selected by random. Make sure that Match any of the following rules appears at the top of the window.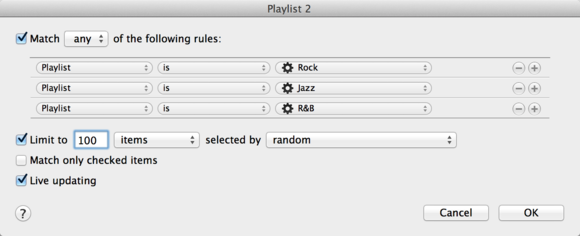 When you play this playlist, it will choose from a playlist of 100 tracks, taking them at random from the three genre playlists. If you want the three genre smart playlists to change their content you could add a condition, such as Last played not in the last 7 days. That way you wouldn't hear the same tunes all the time. Rather, these playlists would change dynamically as tunes are played (and then not played again because of this condition).
Syncing takes too long
Q: I have an iPod touch that I use exclusively for music. I find syncing to be very slow. All I want to do is plug in the iPod touch and wait the 15 seconds I believe it should take to sync only what has been recently changed in my iTunes library. But sometimes it takes a full half hour to sync. Is there any way to fix this?
I've had this problem on my iPhone, notably since iOS 7. Sometimes it takes a very long time to get to the point where iTunes even starts to copy items, and sometimes it copies hundreds of songs that haven't changed since the previous sync.
I think that, first, there are a lot of flaws in iOS device syncing (as many readers have shared similar problems with me). But I also believe that some sort of database file on iOS devices can get corrupted if you interrupt syncs before they've finished. I restored my iPhone a few weeks ago and I now make sure to always let the sync finish before unplugging it. In the past I would sometimes click the X icon in the iTunes LCD to stop syncs, and I suspect that caused some corruption.
I suggest you restore the iPod touch, then sync all your music, and try to make sure to never stop the sync when it's in progress. It will still take a while—it will never be as fast as syncing an iPod classic—but this may prevent the very long syncs you've been experiencing.
Have questions of your own for the iTunes Guy? Send them alongfor his consideration.