I'm in the midst of planning a summer vacation to a couple of countries that are more than a couple of time zones away. Lots of the activities I want to do are kind of off the beaten path, and booking online isn't always an option. That means I have to resort to the primitive telephone to make tour and hostel reservations, which has me asking, "What time is it in Finland? Is that the same time zone as Western Norway? Or Iceland?" a little too often.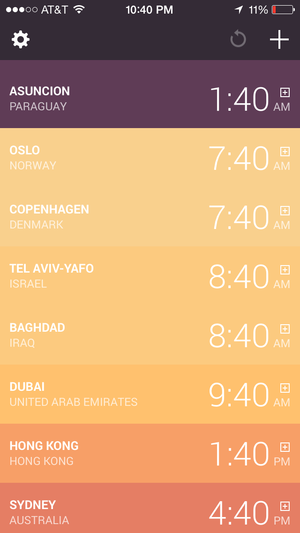 That's why Globo has been an instrumental help. This clock app displays the current time in cities around the world in a neat, beautiful list that you build yourself. You pick which cities or time zones you'd like displayed in Globo's dash, and you can add or remove them as necessary. Just tap the plus sign to add a new city, or swipe to the left over an entry to delete it.
When Globo first launched, cities could only be listed alphabetically, and were then color-coded for an easier reference, giving Globo a similar look and feel to my favorite list app, Clear. Soft yellow indicates early morning, and increases in brightness as the day progresses, reaching a marigold just before noon. The afternoon leads to soft peaches, pinks, and orange, and the sun starts to set by the time purple hits. Deep purple is code for "please don't call me at this ungodly hour" for the times between midnight and 5:00am. (A common feature request was the ability to sort the cities by time zone, and developer Marco Torretta added that functionality in the app's latest updated.)
Tapping on a city reveals more info, like if that city practices Daylight Savings, the weather, how far ahead or behind the time they are from your current location, and what time zone that city is located in comparison to Greenwich Mean Time. You can also check out how far away a city is from you, and what its latitude and longitude are.
"This is hogwash. Surely, I don't need another clock app on my phone," you might be thinking. Yes, iOS's default clock app can manage the time in multiple locations, but it doesn't look nearly as sleek as Globo, and Globo's extra features make it a stellar addition. Plus, if you have friends around the world or need to make business calls to other spots around the country, Globo gives you exactly what you need with just a quick glance.
Globo is available now for $1 in the App Store, and is compatible with any iPhone, iPad, or iPod touch running iOS 7.0 or newer.