Reader Robin Lee wants a bit more convenience from the Finder. She writes:
I'm accustomed to creating quick reminders on my iPhone by using Siri. Obviously Siri isn't on my Mac but is there an easy way to quickly create a reminder without having to launch the Reminders app?
My colleague Kirk McElhearn covered something like this in Create Reminders When You Aren't in Reminders, where the key to success was Automator. I too have an Automator solution, but one that requires a single action.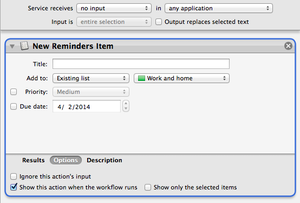 Launch Automator and in the workflow template that appears, choose Service. At the top of the workflow configure the popup menus to read Service receives no input in any application. Select the Calendar library in the left-most pane and from the Actions pane to the right drag the New Reminders Item into the workflow area. Click on Options in the action and enable Show this action when the workflow runs. Save and name your workflow—Quick Reminder has a nice ring to it.
Launch System Preferences, select Keyboard, click on the Shortcuts tab, and choose Services in the pane on the left side of the window. Locate your Quick Reminder entry near the bottom of the list of services, click to the right of its name, and enter a keyboard shortcut—I've used Command-Control-R.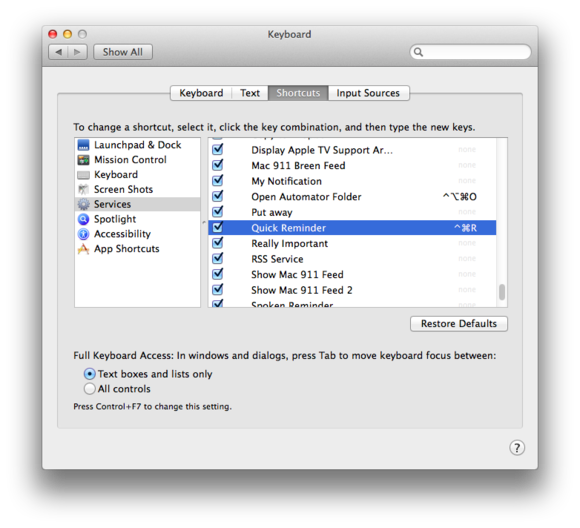 Now when you want to create a new reminder without opening the app of nearly-the-same name, just press this keyboard shortcut. A New Reminders Item window will appear that contains Title, Add to, Priority, and Due date entries. Fill out the reminder in a way that makes sense to you (you can add an alarm if you've enabled the Due date option) and click the Continue button. The reminder will be added to the Reminders app.