It took less than 5 minutes of using Word for iPad to have an overwhelming first impression: I hope Word on every platform becomes what Word on the iPad is. Sleek, uncluttered, well organized, and beautiful, Word for iPad is impressive. An app that encompasses everything great about the desktop application, with none of the clutter. If Word for iPad is in your future, it's an app I expect you'll love to use.
At the outset, it's important to note that Word for iPad is different from any version of any Office application you've used before. Which is to say, while you can download this app for free, it requires a subscription to Office 365 (starts at $10 per month) if you want to use it for anything other than viewing Word documents. This, I know, will provide plenty of fodder for the comments section and while you may not be thrilled with the idea of being tied to a subscription service in order to use an app, I did not find the experience or the the price to be unreasonable. Most users will be able to use Microsoft's 30 day free trial to test the Office 365 waters.
Once your subscription is set, Word opens to a document browser where you can create a fresh document from one of 15 templates, or open existing documents stored on your OneDrive or any other SharePoint location. Word for iPad's templates are similar to what you'll find on the desktop app, but what the app offers is not nearly as deep as what you'll find in Word for Mac. From this window you can also manage your Office 365 account and add new OneDrive or SharePoint locations.
Documents stored in your OneDrive have to be downloaded to your iPad before you can work on them and are synced dynamically to the Microsoft Cloud at intervals in which you are not actively typing in a document. Download speeds vary depending on the size of your document and the speed of your Internet connection, but I found them to take no more than a few seconds. Documents created on the iPad can be saved directly on the iPad and eventually moved to your OneDrive. Documents you've opened from your OneDrive are cached locally on your iPad and can be opened even if you don't have access to the Internet. Unfortunately, I could not find a way of moving a document from my OneDrive to my iPad.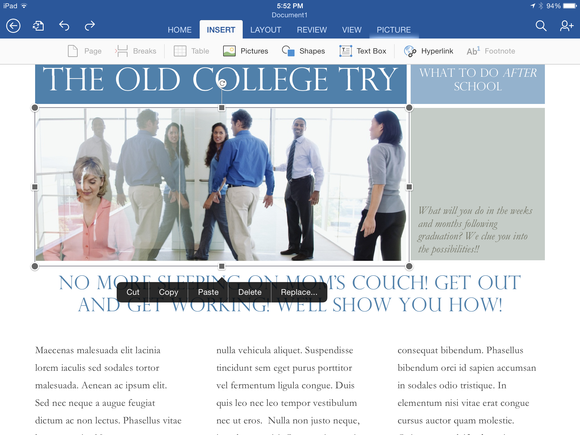 Editing documents in Word on the iPad was extremely enjoyable. Even compared to to Word on the Web, Word for iPad has an "essentials only" look and feel that should not be mistaken for a stripped down version of the app. While it doesn't offer everything you'll find in Word for the Mac—there aren't as many templates and you won't find any scripting tools—this is not Word on the iPhone. I found all the editing tools to be robust and capable. Which is to say, you should be able to do everything you need to and more using Word on the iPad.
Word's document editor sports a single, simplified toolbar that has five tabs at the top: Home, Insert, Layout, Review, and View. Additional tabs appear depending on the types of elements you're working with. So, if you're working within a table, a tab appears containing tools for adding removing and formatting cells. Tapping a tab once reveals the tools available from that tab. Tapping it again hides the tools from view, giving you a little extra room for editing your document.
Word for iPad offers a complete set of text editing tools, including nearly 120 fonts and the usual tools for formatting those fonts. You'll also find paragraph alignment, list, spacing, and indentation tools, as well as a Style menu for quickly changing paragraph styles. The styles tool is a great feature, but you are limited to the styles that are already part of the document. There is no way to create new styles from changes you make to formatting within your document.
Documents you create with the app can be shared with others by tapping a Share button that appears at the upper left of the toolbar. Because these documents are being stored in your OneDrive, documents can be edited and updated simultaneously and you can track changes made to the document by users editing on other devices. In my testing, I found that simultaneous editing worked well enough, but because your documents need to be refreshed manually for you to see updates made by others while you're editing a document, both you and your co-editors may find, after a refresh, that where you were expecting your changes to be are in a slightly different location. That said, I did not see any lost data, just paragraphs below or above where I thought I'd typed them.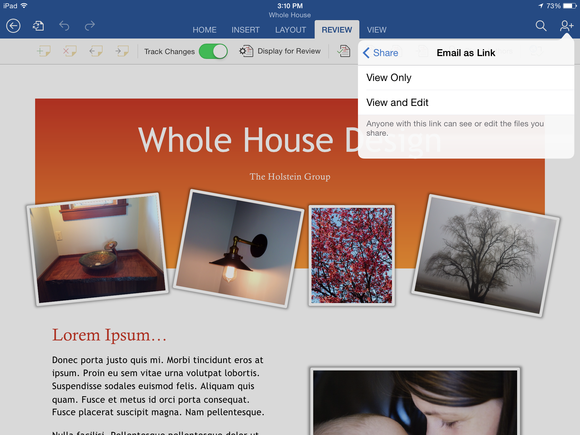 There are some minor limitations to Word on the iPad, particularly if you've created your original document using Word on your Mac or PC. While the app does a great job of handling document formatting, in some cases the fonts you've used on your Mac may not be available on the iPad. I also found that, when using templates, objects I was working with were not what I expected them to be. I initially spent about 5 minutes trying to resize what I thought was a colored text box in a document when it was actually a table with a colored cell. It was only when I saw the toolbar tab add the Table option that I realized my error. Otherwise, I had no complaints.
Bottom line
Word for iPad's required Office 365 subscription may make it a non-starter for some users, but, that aside, Word for iPad is an impressive app. While you won't find all the tools you're used to having in Word for Mac, that's not a bad thing. Word for iPad is streamlined, fast, and beautiful—exactly what I'd like to see on my Mac. If your business doesn't require access to Office apps, but you're still looking for a great Word processor for your iPad, there's no question that Word for iPad can punch that ticket, too.