The Wolf Among Us is an adventure in five parts where you play Bigby Wolf, sheriff of Fabletown and once the Big Bad Wolf. Episode Two: Smoke and Mirrors picks up directly after the events of Episode One and largely focuses on dealing with the fallout.
With another grisly murder on his hands, Bigby Wolf must investigate more crime-scenes, question suspects and manage the frequently complicated relationships he has with other Fables. This leads to some great character development and more top-notch writing.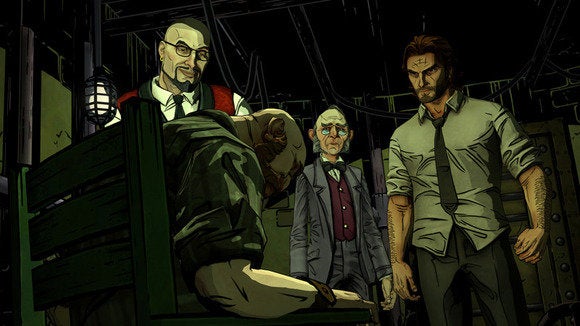 One of the best parts of the game remains how personalized the story feels as all your choices directly impact events and outcomes. When I reviewed the first episode I noted how this affects the story, but I couldn't tell then how much this would translate into the future episodes.
After completing Episode Two, I can safely say the consequences and details from before are well represented. For example, who you arrested in the bar or how violent or not you were to the various characters ("Fables") is all shown. It's great to see the world react to Bigby with hostility or grudging respect based on your actions.
Kudos to the comic-book source material for continuing to use our notion of fairy tales in delightfully unexpected ways. We get to meet the Little Mermaid, Jack (of beanstalk fame), Georgie the Pimp, as well as get drawn into Beauty and Beasts problems.
Smoke and Mirrors is a shorter entry and will probably only take you around 90 minutes to complete. It can feel rushed at times and is somewhat light on gameplay in some sections. Still, it offers replayability through numerous decisions, big and small.
Episode Two seems to nudge the player into being nice, and there are many opportunities to be compassionate or monstrous. To Bigby's credit, the Fables of the world seem to enjoy pushing his buttons just to get a rise out of him. The story inevitably moves forward however, but whether through violence or persuasion is often up to you. Bigby is a great character and you can feel his frustration at struggling to do the right thing and his battle against his more brutal nature.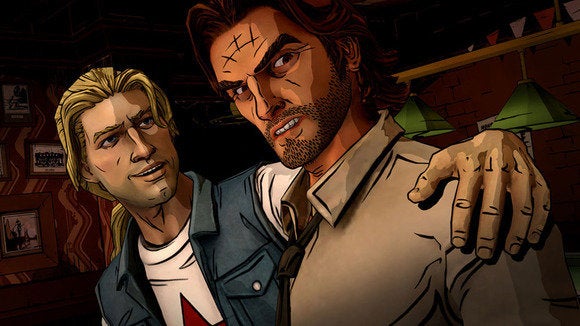 Situations are variable enough that you will want to play through every episode twice. There is a recap at the start of this second episode, but it was still difficult to focus on remembering everything that happened in Episode One. This second episode was delayed; shorter wait times would provide a more immersive experience. Such is the price of episodic gaming.
The visuals continue to present a brooding atmosphere that pulls you in. An excellent soundtrack and good animations once again contribute to making Fabletown feel authentic and believable. No one crafts a story-based adventure game like developer Telltale and this remains a showcase for how it should be done.
Smoke and Mirrors isn't the better episode, but it is still very entertaining and suffices to hold your attention. Future episodes need to take us to different locations and let us do more in the world presented to us. The Wolf Among Us deserves to be treated spectacularly and needs to end in a satisfying manner.
Bottom line
The Wolf Among Us Episode Two: Smoke and Mirrors is a compelling Mac game, with its mixture of character exploration, crime-scene solving, humour and violence. It can feel rushed at times and not as full as the first episode, but is still worth your time.