The 2014 National Association of Broadcasters (NAB) show in Las Vegas is in full swing . As usual, the opening day of this annual gathering brings a host of product announcements aiming to excite this group of performance-hungry video professionals.
LaCie
LaCie took the opportunity to announce three new storage products, Each features Thunderbolt 2 and can be configured to use the latest 6TB hard drives from LaCie's parent company, Seagate.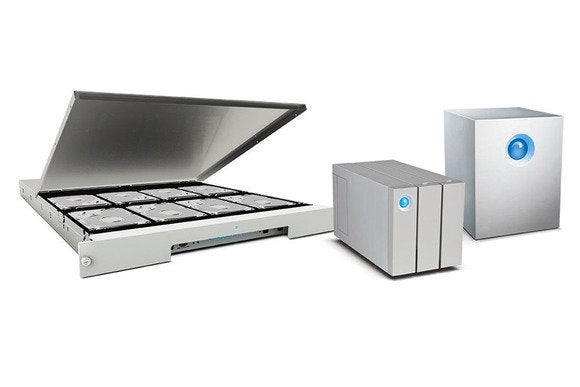 The LaCie 2big Thunderbolt 2 is an external, two-drive hardware RAID that connects via Thunderbolt 2 or USB and can be set to work as either a striped or mirrored array. It has two Thunderbolt 2 ports to enable daisy chaining Thunderbolt devices and its two hot swappable drive bays make it easy to move drives in and out of the enclosure. The 2big will be available in capacities of 6TB, 8TB, and 12TB, and are expected to begin shipping sometime this quarter.
LaCie also announced its 8big Rack Thunderbolt 2, an eight-drive rackmount storage enclosure that promises speeds up to 1330 MBps; and the 5big Thunderbolt 2, a five-drive RAID 5 with transfer speeds as high as 1050 MBps.
Promise Technology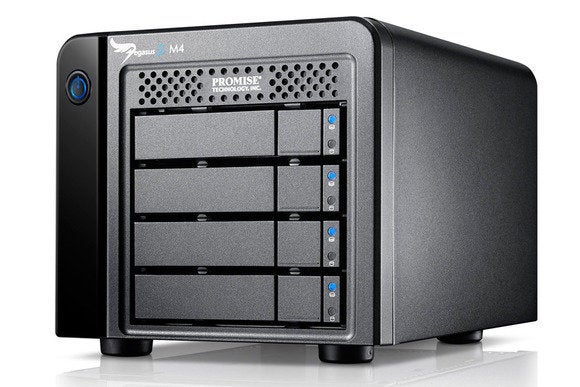 Promise announced a new member of its Pegasus2 series of Thunderbolt 2-enabled, external hardware RAID enclosures, the Pegasus2 M4. Unlike the Pegasus2 R6 we've previously reviewed, the smaller and more portable M4 holds up to four hard drives and is limited to using 2.5-inch hard drives and solid-state drives (SSDs_) The Pegasus2 M4 is due to ship sometime in the second quarter of this year.
G-Technology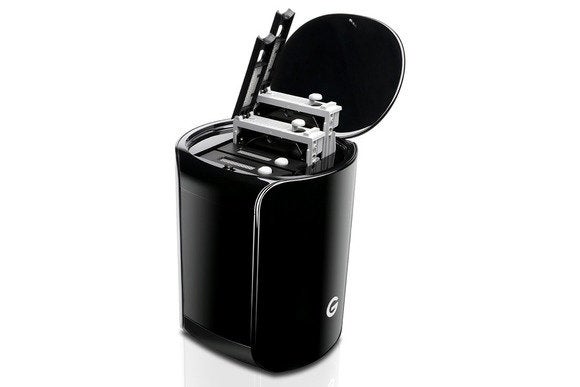 G-Technology took the wraps off of its new G-RAID Studio series of Thunderbolt 2 enclosures. The new all-black Studio series uses enterprise-class, 7200-rpm hard drives in capacities of up to 6TB each. The G-RAID Studio and the new G-Speed Studio can hold up to four and six drives, respectively. Both feature hardware RAID and can be configured as RAID 0, 1, or JBOD. The four-drive G-Speed Studio also supports RAID levels 5, 6, and 10. Both have dual Thunderbolt 2 ports to support daisy chaining of Thunderbolt devices. Prices for the G-RAID start at $700 for a 6TB version. Prices of the G-Speed start at $2200 for a 12TB configuration.
HP
NAB isn't just about storage. HP chose the NAB Show to announce updates to its DreamColor displays. Available in both 24 and 27-inch screen sizes, the new Z24x and Z27x displays are available today. The DreamColor Z27x ($1499) features 10-bit color and a 2560 by 1440 resolution anti-glare screen. It can accept 4K input, which it displays either scaled to fit the screen or natively, allowing you to scroll around the larger image. The Z27x uses high quality IPS panels, 100 percent of sRGB, Adobe RGB, and presets for seven common color space settings. New to the Z27x is the ability to connect hardware calibration devices directly to the display and to calibrate without the need to have software running on the host computer.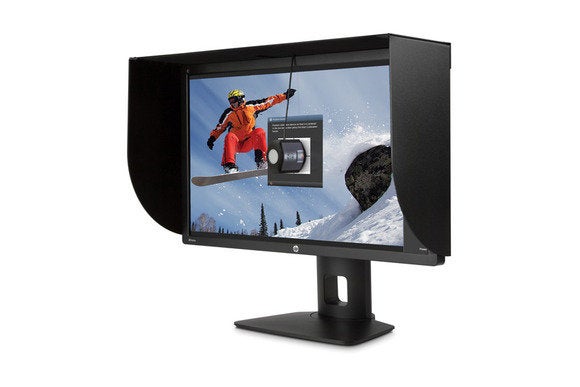 The 1920 by 1200 resolution DreamColor Z24x also features an IPS screen and 10-bit color, but doesn't support no-host software calibration or 4K input. The new DreamColor Z24x costs $599, while the first DreamColor display, the LP2480xz had a list price of $3499 when it launched back in 2008.
Check back with Macworld for full reviews of many of these new products.