In 2013, Adobe's Tom Hogarty teased an iOS app that could edit raw-formatted photos on an iPad. Nearly a year later, that proof of concept has matured into Lightroom mobile 1.0, an iOS extension of Adobe Photoshop Lightroom 5 that both syncs your images and offers many of the editing features found in the desktop version.
The basics
If you have an iPad 2 or later running iOS 7 or later, you can run Lightroom mobile. (According to Adobe, an iPhone version will appear later this year; an Android version is also in the works, but the company gave no release window.)
While you can download the app for free, using it requires one of Adobe's Creative Cloud plans (Photoshop Photography Program, Complete, Student and Teacher Edition, and Complete for Teams); there is no option to purchase the app on its own without a subscription. (The least expensive option is the Photoshop Photography Program, which at $9.99 per month includes Photoshop CC, Lightroom 5, and Lightroom mobile.) If you're not sure you want to commit to a Creative Cloud plan just yet, you can always sign up for a 30-day trial.
Simple synchronicity
Lightroom mobile's key feature is its synchronization with the desktop version of Lightroom (which I'll refer to from here on as "Lightroom desktop" for clarity). Version 5.4 for OS X or Windows, available now, introduces a new option to wirelessly sync individual collections—but not Smart Collections, alas—to Lightroom mobile.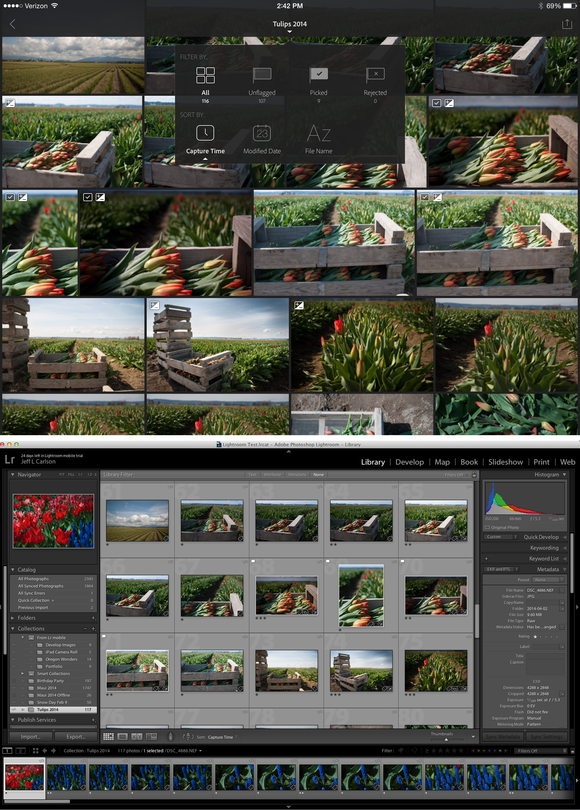 Behind the scenes, Lightroom desktop creates Smart Previews of photos marked for sync and uploads them to the Creative Cloud servers. Smart Previews retain much of the editability and detail of the source images (even raw files) but occupy much less storage space. In Lightroom mobile, the app downloads low-resolution previews for display in its Grid layout, and when an image is opened it pulls down the higher-resolution Smart Preview file (enabling you to zoom in to check details if needed).
Make a change to a photo on the iPad, and that change should appear in Lightroom desktop within seconds, removing the need to export or import images. Edits you make to the photo synchronize back to Creative Cloud and Lightroom desktop when you close the image—in fact, only a small XML file describing the edits is transmitted, which is why updates appear in the desktop and mobile applications quickly.
Lightroom mobile can also import images from the iPad's Camera Roll and sync them back to Lightroom desktop, saving you the effort of manually importing those photos via USB. There's even an Auto Import option that grabs and syncs any new photos from your Camera Roll added since you last opened Lightroom mobile.
Of course, to have this conversation between desktop, cloud, and mobile repositories, you need an active Internet connection. If you know you'll be without access but you still want to work on certain images, you can enable a collection for offline editing, which copies Smart Previews of all its images to Lightroom mobile. Once you're back online, any updates you've made will sync back to Lightroom desktop.
All aboard the mobile editing train
Lightroom mobile wouldn't be nearly as interesting if all it did was sync photos for viewing on the iPad, which is why the app includes most basic tools you'd need for editing photos on the go. It contains all the image adjustments found in the Basic pane of Lightroom desktop's Develop module, such as white balance, exposure, contrast, clarity, and vibrance. It also includes several presets for applying black-and-white and color filters, specific looks, and tones; and a crop tool that can straighten, rotate, or lock the photo's visible area to specific aspect ratios. (Hint: When you tap an aspect ratio, such as 5 x 4, tap the button again to toggle the crop area between landscape and portrait orientation.) The app doesn't recognize user-created presets, but I can imagine that option being incorporated in the future.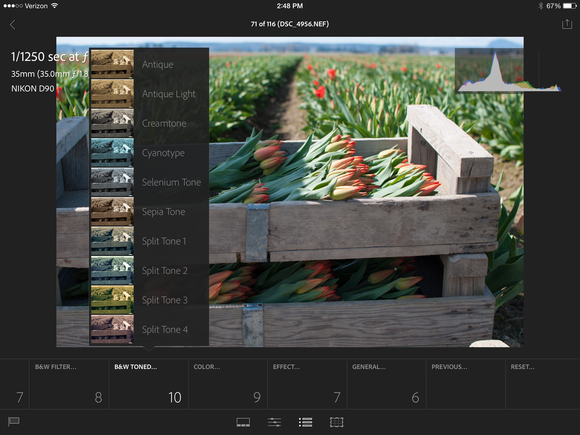 In place of some granular settings, Lightroom mobile offers effects presets; for example, "Vignette 2" gives your picture a noticeable dark halo, but you can't control the halo amount or the feathering of that effect until you work on the image in Lightroom desktop. Similarly, there are only two sharpening controls—found in photos containing faces and photos that are "scenic."
Rather than try to replicate Lightroom desktop's interface by cramming controls into an onscreen box, the app's tools appear in a sliding row at the bottom of the screen. Lightroom mobile takes advantage of the touch interface for many of these controls: For example, you can tap the screen with two fingers to hide or reveal additional information such as a histogram and metadata (the capture settings, lens, and camera model) in the editing interface, or badges and metadata in the Grid view.

Adjustments you make in Lightroom mobile remain editable in Lightroom desktop, and vice-versa. For example, increasing Vibrance to +14 on the iPad sets that control at the same point for that image on the desktop. The mobile app doesn't include a detailed History pane, but you can reset an image back to its imported original state or to basic tones; additionally, touching the screen with three fingers switches to a Before mode so you can compare your edits with the original version.
The app also incorporates a minimal-but-effective version of Lightroom's adjustment sync between photos (such as when you want to apply the same settings to multiple similar shots). Start at your reference image, then move to the photo you want to edit and tap the Previous button at the bottom of the screen to apply either all adjustments or basic tones from that first image.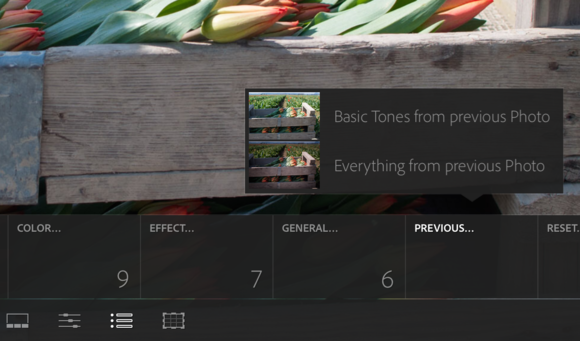 Despite Lightroom mobile's editing features, it's important to keep in mind that the iPad isn't a color-managed device. If your projects rely on a high degree of color accuracy, you'll want to do your finishing work in Lightroom desktop using color-calibrated equipment. For most people, I don't anticipate this to be a problem, but some pros require finer precision that the iPad can't provide.
One editing area Lightroom mobile is currently lacking is user-specified metadata. You can flag a photo as a Pick or a Reject (or leave it unflagged), but that's it. Titles, captions, keywords, ratings, and color labels must be handled in Lightroom desktop.
Sharing with the world
Lightroom mobile can share images via any of iOS's core services, including Messages, Mail, Twitter, Facebook, Flickr, and AirDrop. A slideshow feature is also built-in, which turns the app into a spontaneous portfolio.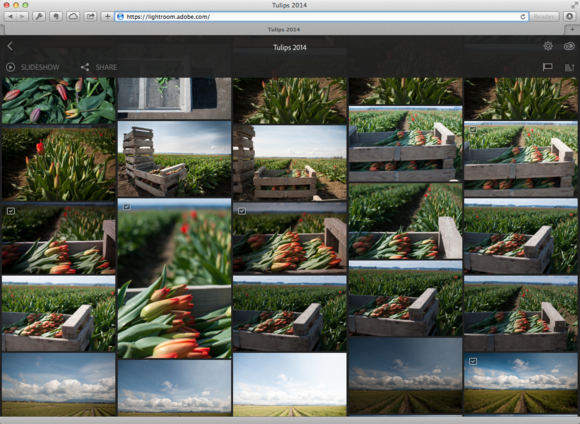 Adobe is also introducing Lightroom Web View, which makes your synced collection available on the Web. The implementation is pretty bare-bones, offering only the ability to view photos or play slideshows, but it's an easy way to share a group of photos without exporting and publishing them online via a social service like Flickr or 500px.
Disclaimer: Before Macworld asked me to write this article, I provided a quote for the Lightroom mobile press release. To avoid any appearance of a conflict of interest, this article is strictly a first look at the software, and not a review.