Reader Ed Dorroh, like many people, is perplexed by what goes on when moving images out of iPhoto. He writes:
When I add a title to a photo in iPhoto and then drag that photo to the desktop, the file name reverts back to its original name—"IMG_0697.jpg" for example. Is there any way to title a photo in iPhoto and make it "stick" when I export it?
There is, and you've unwittingly uttered the key word—export. As you've observed, when you drag a file from iPhoto to the desktop it retains its original file name. In the case of images that were originally in the JPEG or PNG formats, it also retains those formats. Raw images are converted to JPEG images. Any metadata you've attached to an image—title and description, for example—are lost.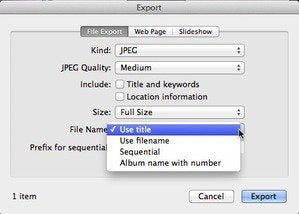 However, if you instead use the Export command (File > Export) you can choose to export images with this information. Choose that command and in the resulting Export window make sure the File Export tab is selected and from the File Name pop-up menu choose Use title. If you'd additionally like to embed title, keyword, and location metadata in the image, enable the appropriate checkboxes. When everything's configured to your liking, click on Export. Selected images will be exported and each will bear the title you've assigned to it.