Let's face it: Despite all the technology at our fingertips, scheduling and planning meetings is still a pain in the neck. Nobody can agree on where to meet or when. When meetings do get scheduled, people forget or show up unprepared. You'd think we could do better.
Using your Mac, iPhone and the Web, of course, you can, but you have to use them right. Here are four tricks I've learned that use technology to plan meetings better.
Automate the meeting confirmation
Quite often, meetings I attend are set far in advance. This sometimes results in plans changing or people forgetting. I try to avoid these problems by sending out meeting confirmations the day before. Every day, I look at any meetings I've got set for the next day and send out emails to all the participants.
Typing out these confirmations every day quickly grew tiresome, so I automated it with a fill-in TextExpander snippet. When I type meetingconfirm in an email window, TextExpander creates a custom email message that lets me fill in the recipient name, meeting agenda points, and anticipated length. It is a great way to remind everyone of the meeting and what we intend to accomplish. It also makes me look scary-organized.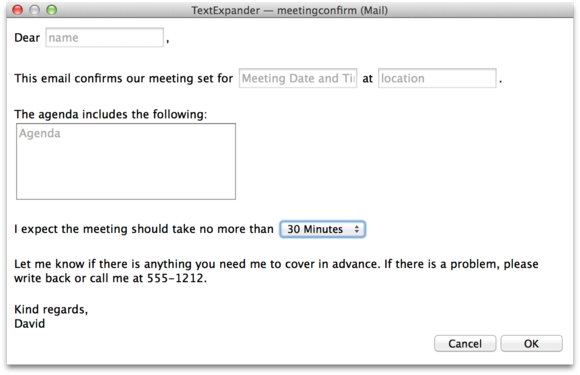 Don't be afraid to use alarms
Built in to Calendar on both the Mac and iOS is the ability to set alarms for events. Use these often. I set alarms for nearly every appointment I attend. This way, I don't have to deal with the mental overhead of remembering to leave; my technology will do it for me.
When setting alarms, think about including time for meeting preparation. If you need 45 minutes to get ready for an important meeting, set the alarm appropriately. Also, if you are going to spend a lot of time preparing for a meeting, set a second alarm for when the meeting begins or when you need to leave if there is travel time involved, so you don't get so absorbed in preparations that you miss the meeting itself.
Reserve time for hypothetical meetings
There is a certain dance that goes on between people trying to set a meeting via email that makes me crazy:
David to Hans: "Let's do lunch" Hans to David: "Great. When is good?" David to Hans: "I'm not sure. You go first." Hans to David: "I've got some time next week." David to Hans: "How about Tuesday at noon." Hans to David: "That doesn't work. Give me another day."
This just goes on and on. Instead, when I'm setting a meeting with a single person, I write and say, "Let's have lunch together. How about next Wednesday at Cardiac's House of Cheese at 11:45AM?" By putting not only the idea of lunch in the first email but also the details, I'm usually able to cut out a lot of later email traffic. The surprising thing is that most people accept my proposal in their very first reply.
Another trick I use is to immediately save the proposed meeting time when I send out that first email. That way, I don't schedule some other meeting at that time while I'm waiting to hear back. For these hypothetical meeting times, I put a question mark in front of the event name. Later, when I'm looking at my calendar I'll know exactly which events are booked and which are still hypothetical by the existence of that question mark. If the other person writes back and accepts, I remove the question mark. If the person declines, I delete the event.
Use the web to set a big meeting
Every time I receive one of those emails sent to six people asking to set a meeting, I cringe inside. I know that for the next week I'm going to see a seemingly endless stream of emails that say something like, "I know Tuesday at 10:00 a.m. works for everyone but I've got a basket-weaving class at that time so looks like we are back to the drawing board."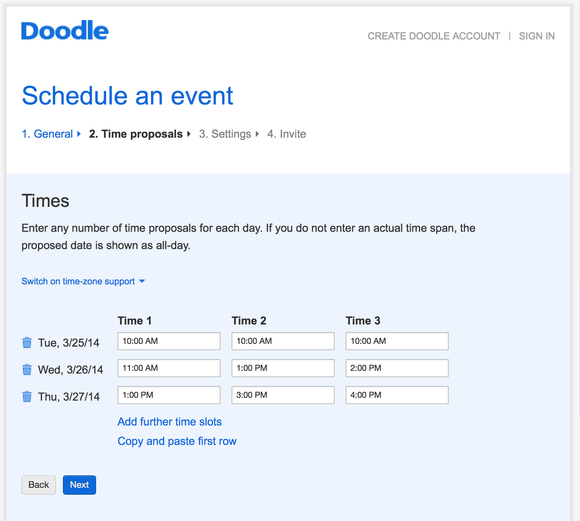 Setting a meeting with a group of people via email feels a lot like herding cats in a room full of mice. Instead, use an online meeting-planning site to do it for you.
My favorite is Doodle.com. Doodle lets you, as the meeting organizer, set several potential blocks of time aside for a meeting. Doodle then will either send emails to the meeting participants for you or give you a link you can send out yourself. The meeting participants can then log on to Doodle and pick which of those blocks are available to them. When everyone is done, you will know exactly when everyone is available. This works so well (and I dislike endless meeting-setting emails so much) that I even set up Doodle events for other people's group meetings that I'm invited to, just to avoid the grief.
These techniques won't get rid of every meeting headache. But they will make the whole process a whole lot smoother.