Waking up and finding your productivity stride in the morning can be the absolute hardest part of your day, which is why so many of us turn to coffee to get us started. (Personally, I like coffee or espresso in the morning and a bit of tea later in the day to power me through the afternoon slump.)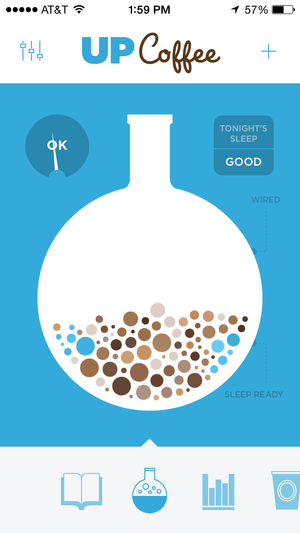 The problem, of course, is figuring out when to stop the caffeine intake so you can wind down in the evening. If you get enough sleep at night, it might even end the caffeine drinking cycle once and for all. But for the rest of us, Up Coffee can help us take control of our favorite vice.
Up Coffee is a new app from Jawbone—yep, the makers of the Jawbone Up wearable activity tracker—that monitors your coffee habit and tells you when you've had enough, with the end goal of helping you get a better night of sleep. It follows a simple calculation based on your personal stats: Your gender, height, weight, target bedtime, and how sensitive to caffeine you think you are.
Every time you drink a caffeinated beverage, launch Up Coffee and select your drink to log it. It has options for basic coffee or tea, espresso drinks, sodas, energy drinks, supplements, and two surprising entries—snacks and over-the-counter medication. It also includes popular drinks from mega-chains Starbucks and Dunkin' Donuts. Each drink shows how many milligrams of caffeine a serving has, so if you're trying to cut back, you might want to choose a less potent beverage.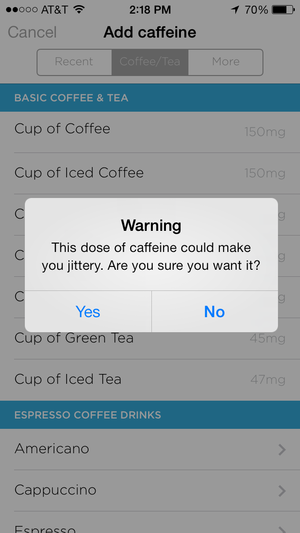 Although Up Coffee realizes that everyone metabolizes caffeine differently, it shows you how alert you are based on the personal stats you've entered and how much coffee (or other beverages!) you've had to drink. Your intake levels are displayed in a virtual coffee siphon, so try to keep your caffeine below the "wired" level to avoid the uncomfortable coffee jitters. With every drink you log, Up Coffee will show you how long that caffeine will stay in your system, which can help determine when enough is enough. When bedtime rolls around, you should be in the "Sleep Ready" zone if you want to fall asleep quickly.
The more drinks you log, the more Up Coffee will learn your habits. It presents handy stats, like how much you consume per day on average and how you stack up against the rest of the Up community. If you use an Up band, you can even monitor how your consumption affects your sleep patterns. Still, it's a handy app even if you don't have the band.
Up Coffee is free, and available now in the App Store for iOS devices.