Microsoft's OneNote for Mac is a tool designed to help you quickly and easily collect, organize, and share notes, random (or not so random) thoughts, images, and other information. It is a product aimed squarely at the information collection sweet spot where Evernote is currently king of the hill. This initial Mac offering is unlikely to unseat the current king, but I have no doubts that Evernote has a true competitor in OneNote for Mac.
Free. That's one of the first things you should know about OneNote for Mac. It's free and includes 7GB of storage on Microsoft's servers with no limit on the amount of data you can upload or download in a given time period. If you choose to purchase a subscription to an Office 365 account—not required to use the app—you get 20GB of storage and can purchase up to 200GB of additional storage. Any document you create in the free version of the app can be shared with and simultaneously edited by others. Changes made by others appear nearly instantaneously. But, while simultaneous editing is possible, there is presently no way for you to track changes made by others, although you can see who made changes to the document. You also have offline access to your documents at no extra charge.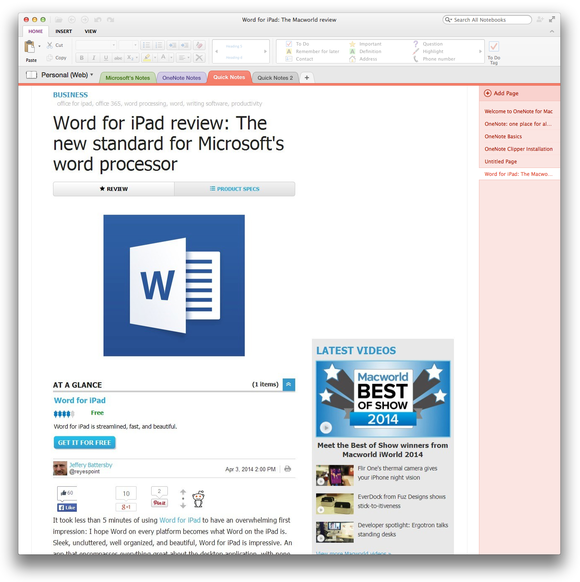 OneNote's editing environment is amazingly easy to use. The app has the feel of the new batch of Microsoft Office products for iOS, which is to say that the interface is clean and uncluttered.
Documents in OneNote are called notebooks. You can create as many notebooks as you want and, like real notebooks, you can break your notebooks up into sections using tabs. There is also no limit to the number of tabs you can create in each notebook and each tab can contain an unlimited number of pages. You can color code and name these tabs and rearrange as you please.
The beauty of OneNote lies in how you enter your notes. Click anywhere on a notebook page and begin typing and your text appears right where you clicked. This text can be formatted in the same way you format it using a normal text editor. The text you type is contained in a text box and these boxes can be moved and rearranged anywhere you want ont he page. This freeform style makes it easy to organize your notes in any fashion you please. The app also supports paragraph styles, lists, highlighting and the usual font formatting. Unfortunately, there's no way to create, save, and reuse changes you make to styles.
In addition to text you can also insert and add data to tables. Text within table cells can be formatted using OneNote's formatting tools and numbers within table cells can also be used to perform basic calculations, although not in the way that you expect from a spreadsheet. Instead of combining cells like you would in a normal spreadsheet, like A1 + B1 = C1, you can type an entire calculation in a single cell followed by an equal sign. So, in a single cell, if you type something like (5*3)/3 and then type a "=", a 5 will appear after the equal sign. It's a little odd, and, unlike a normal spreadsheet, your calculation is not hidden, but the the cells do support fairly sophisticated calculations limited to—as far as I can tell—addition, subtraction, multiplication, and division.
You can also insert images into your notes, although this doesn't include PDF files. Short of resizing, the app offers no options for making changes to the images you've inserted in the document. And, unfortunately, there is no way within the app to associate your favorite image editor with images double-clicked in the document.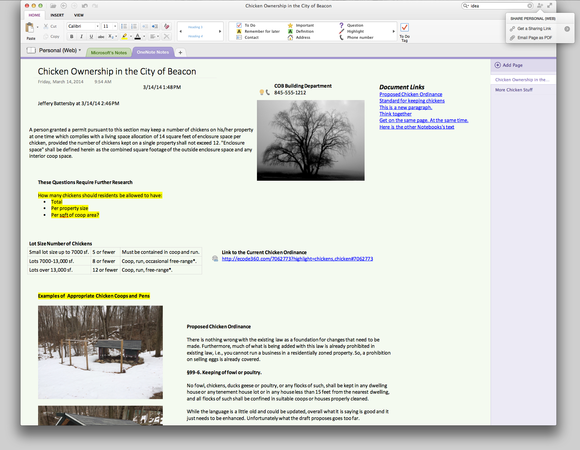 OneNote does have flaws. A long list of flaws that, at this point in time, make it a questionable replacement for Evernote, if that's something you're considering. You can't open existing OneNote files you may have saved on a local disk. You cannot print directly from the app, although it is possible to email yourself a PDF file and print that. Other than images, there is no way to add a PDF file or any other document created with other applications to your OneNote notes. This includes Microsoft Office documents. A feature currently available in the Windows version of the app. You can only insert Web links, not Web pages, a feat you can accomplish using the OneNote Web clipper. Drag-and-drop is not supported from the Finder, so your only option for adding text from an external document is copying the text and pasting it into a text field. Pasting data from an existing table into a new table in your notebook does not behave as expected as well. Instead of being distributed to all the cells in your table, the data is pasted into the first cell. You get the picture… not yet what it needs to be. But don't let this deter you. Microsoft states that these features, and more, will be added at regular intervals.
Bottom line
OneNote for Mac may not yet be all it needs to be, but it is a compelling note creation tool that makes the creation of notes simple and intuitive. If you're using Evernote for all that it's worth, OneNote won't offer you enough to want to make the change. But, if collaboration, freeform text entry, simultaneous note editing, and the promise of far more features in the very near future seems intriguing, OneNote for Mac is exactly what you need.