At a Glance
Expert's Rating
Pros
Outstanding print quality with pigment inks
Bundled Print Studio Pro software's Pro Mode makes expert color management easier than ever
Wi-Fi, ethernet, and USB connectivity
Cons
Initial software installation process can be confusing
Print Studio Pro printing app doesn't work with Aperture
Our Verdict
The Canon Pixma Pro-10 is a printer aimed at professionals and dedicated enthusiasts who value beautiful photographic prints and want to make them themselves. Sending your prints out to a pro lab will probably cost less and give you more options (like very large prints). But doing it yourself is much more satisfying. It can even produce better results, especially if you're using a printer like the Pro-10.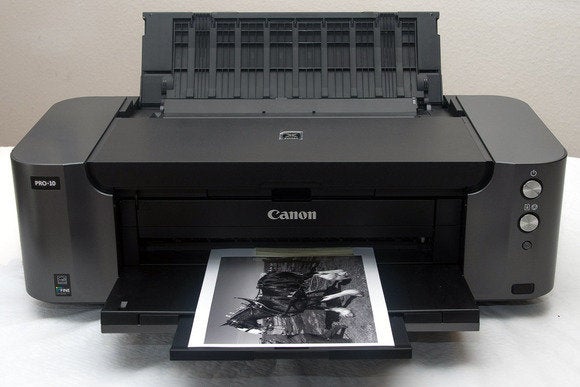 Hardware and software setup
The Pro-10 is big and heavy—it weighs over 40 pounds and measures 27.2 by 15.2 by 8.5 inches. With the help of a strong assistant, I managed to get the printer out of the box and on a table. The rest of the hardware setup was a breeze, thanks to a easy-to-follow quick setup sheet.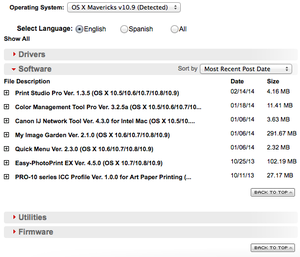 Installing the software was not so easy. The installer on the bundled CD said the software was not compatible with OS X Mavericks and it suggested I go to Canon's website for the latest versions. But then I faced the problem of figuring out what I needed. I finally figured out that the main progams I needed were the driver, Print Studio Pro, and the Canon IJ Network Tool.
When using the IJ Network Tool to setup Wi-Fi printing, you need to have the printer connected via USB, or you'll get an error message, an instruction I would've like to have seen at the start.
The good news is that, if you're lucky, the setup will only have to be done once. Canon should do a better job helping users with the installation of the software by making it clear what items are needed.
Printing with the Pixma Pro-10
For the last couple of years, I've been printing to a Canon Pixma Pro9000 Mark II from either Lightroom or Aperture. Printing from these apps to the Pro-10 presented no new challenges, once I installed the right ICC profiles for the papers I use. Soft proofing inside Lightroom and Aperture also worked as usual.
But the Pro-10 has introduced me to a new and possibly better way to print. Canon's Print Studio Pro installs as a plug-in for Adobe Photoshop or Lightroom (sorry, die-hard Aperture users), and works with all three of Canon's current Pro-line printers: the Pro-1, Pro-10 and Pro-100. When printing from Lightroom, I have to make some decisions (for example, ICC profile, resolution, watermark, print border) inside Lightroom, and some decisions in the standard printer dialog. Some of those decisions (for example, paper size) have to be made twice. Print Studio Pro lets me do everything in one place. It is full-featured and well-designed.
Especially if you are using Canon's own excellent papers, Print Studio Pro has one big advantage: Pro Mode color management. Experienced photographers know that maintaining color fidelity—from reality to camera to computer to paper—is a major technical problem. You are still going to have to worry about white balance and calibrating your display; but using Pro Mode in Print Studio Pro, you can forget about ICC profiles and "rendering intents", at least a lot of the time. Print Studio Pro will analyze your image specifically for printing to the target Canon printer and paper, then map the color gamut for optimum balance of brightness, saturation, and color fidelity.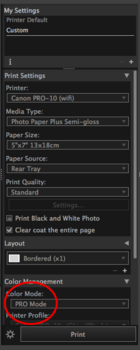 I made dozens of double prints of the same images, using both Pro Mode and the appropriate ICC profile with my experienced guess about the correct rendering intent for the image (perceptual or relative colorimetric). In one or two cases, I preferred the print made with my choice about rendering intent, but in those couple cases, the Pro Mode print was still excellent. And in the majority of the cases, the Pro Mode result was either indistinguishable from the result of my choice about rendering intent, or was noticeably better.
On the other hand, printing from Lightroom lets you select output sharpening, while Print Studio Pro doesn't. Looking closely (but without a magnifying glass) I was able to see a small difference in some prints. But using Print Studio Pro doesn't mean that I can't also use Lightroom. On images that really need maximum sharpness, I might want to use Lightroom's print options. The rest of the time, I think I'd be printing with Print Studio Pro.
I also tested the Pro-10's ability to print on printable optical discs. This required downloading another app, Canon's My Image Garden, and it's a bit harder to use than Print Studio Pro. It has some minor annoyances in the user interface that won't long bother somebody who uses the printer regularly. The printed disc was very satisfactory.
Print quality
In my tests, I printed a number of photos on the Pro-10, as well as from the Pro 9000 Mark II and a Canon Pixma Pro-100. I used Canon's papers, as well as third-party papers and the proper ICC profiles.
The output from the Pro-10 is outstanding. Printing from a carefully calibrated iMac, color fidelity, brilliance, and saturation are superb. At all sizes, even viewed under a magnifying glass, fine detail and tonal gradations look natural, without banding or pixelation.
Thanks in part to the presence of two black inks, a gray ink, and the chroma optimizer, the Pro-10's black and white prints are the best I've ever made, with deep, true blacks and subtle grays. As for color prints, the Pro-10 occasionally produces a print that seems a bit darker than the prints from the dye-based Pro-100 and Pro 9000 Mark II but I didn't notice that in most prints. It isn't necessarily a drawback.
Pigment and dye
In most respects, the Pro-10 I tested is almost identical to the much less expensive Pro-100. The Pro-10 uses ten inks and the Pro-100 only eight. The key difference is that the Pro-10 uses pigment inks, while the Pro-100 uses dye-based inks.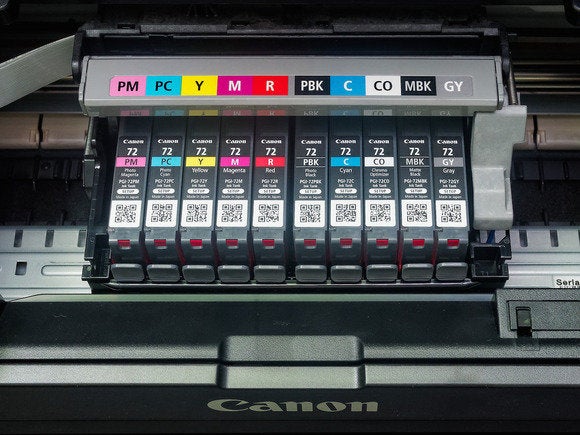 There's a technical difference in the way the two types of ink are laid down on paper, and because of that, pigment inks used to be subject to some odd problems that dye inks don't have, like bronzing (a sort of glare effect that occurs when a print on glossy paper is viewed from a bad angle) and metameric failure (colors shifting when a print is viewed under different lighting conditions). Because of their very different chemical composition, pigment inks are generally less vivid than dye inks; pigment inks in the past also were more prone to clogging print heads. The upside of pigment inks is that they last longer without fading than dye inks.
However, the performance gaps between dye inks and pigment inks aren't as marked today as they were even a couple of years ago. Like other high-end pigment inkjet printers, the Pro-10 applies a clear coating with a "chrome optimizer" that is supposed to minimize glare and maximize color vibrancy. The Pro-10's automatic print head cleaning routine helps prevent nozzle clogs. And while cheap dye inks do still fade fairly quickly, good inks like those used in the Pro-100 are now expected to hold their color for a century or more; so the fact that the pigment inks used by the Pro-10 are expected to last even longer seems a bit less compelling, especially if you're not shipping your prints directly to the National Archive.
Bottom line
The choice is not an easy one. The Pixma Pro-10 costs more than the Pixma Pro-100 initially, and will continue to cost more with each print you make. And in most of my test prints, I found it hard to tell the difference between the Pro-10's prints and the Pro-100's. On the other hand, while the Pro-10 initially lists for about twice the cost of the Pro-100, we're still only talking about a few hundred dollars—about the cost of two complete ink cartridge replacements. Amortize that difference over the 100-plus year life of a print, and, well, what kind of cheapskate are you?
If you're on a tight budget, get the superb Pro-100 and be happy, but if you can afford it, I'd definitely say go for the super superb Pro-10. It might be a little too much of a good thing. But as the late, great Mae West quipped, "Too much of a good thing can be wonderful."