Grab your sunscreen, high-rise cutoff shorts, and favorite satchel: Coachella kicked off this week, which marks the unofficial ushering in of music festival season. Hundreds of thousands of people flock to music fests all around the country, and for some, summer just wouldn't be the same without attending one of these mega events. With beautiful weather (most of the time), camaraderie with other attendees, an interesting array of food and art, and of course killer bands, there's a lot to experience.
However, getting organized for a major festival involves some thinking ahead, especially if there's travel or camping involved. I attend at least one music festival a year, and I always rely on my smartphone to help me plan and navigate. Here are some apps that can make your music fest a success.
Start with the basics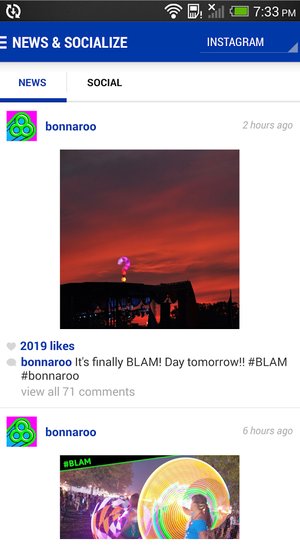 To start, download the festival's official app. Most major music festivals have their own apps, which is crucial for planning which bands to see and staying on top of schedule changes on the fly. (Without the official Coachella app, I would have missed one of my favorite bands had the app not notified me of a last-minute time change.) These apps often include maps of the venue, food options, schedules, information about artists, parking reminders, news, or updates.
Some other festivals with official apps include:
Plan ahead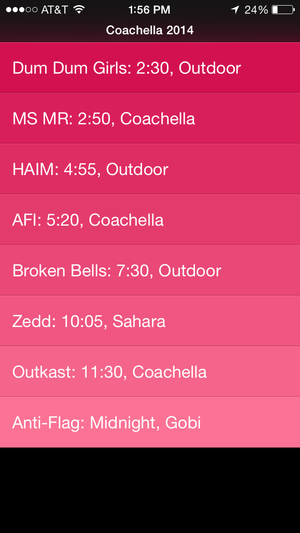 Unfortunately, lots of people in a remote location can often lead to an overcrowded cell network, so your connectivity might not be that great. Notifications have been spotty at times for me, so I'd also suggest making a list of must-see acts in a simple to-do list app like Clear ($2; iOS). Set the time, stage, and day that the artist will be performing, and cross it off when complete. Or, if you'd like to share your list with friends (again, this can be a gamble depending on network reception), Wunderlist (free; iOS and Android) allows for robust lists that can be managed by multiple users.
Get organized
If you're off to a multiday festival, or will be traveling out of town, use a packing app to help you get organized. Packing Pro ($3; iOS) breaks down what you probably need based on the number of days you'll be gone based on sample lists, which you can then customize by adding individual items. Items are sorted into categories, like Essentials, Clothing, and Accessories, and you can specify the number of each type of item you'd like to pack. Check items off as you toss them into your suitcase to track what still needs to be done. Packing Pro also lets you share lists, so you can create a group packing list to eliminate dupes and over packing.
Keep an eye on the weather forecast—you'll want to dress comfortably and bring the right gear, lest a rainstorm interrupts the day's headliner. Dark Sky ($4; iOS) is probably the most gorgeous weather app in the App Store, and shows a lot more info than just a simple forecast. It shows you the current temperature, feels-like temperature, and the closest storm to your location. Tap on the temperature for more detail, like wind, humidity, and atmospheric pressure, and keep an eye on Dark Sky's animated radar map to view how things will change over the next few days.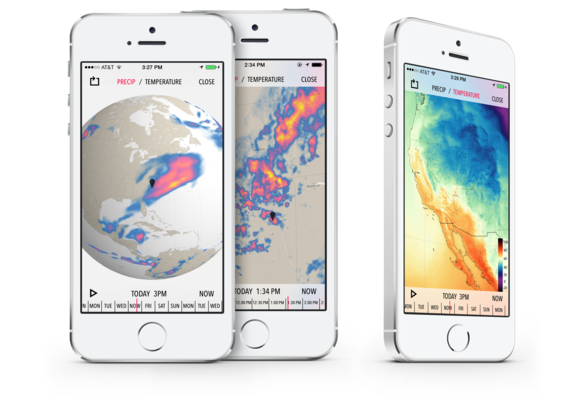 Android and Windows Phone owners, you can install Forecast.io as a bookmarklet on your home screen: This web service is optimized for mobile devices and made by the same developers and pulls the same data as Dark Sky, so the information is just as thorough.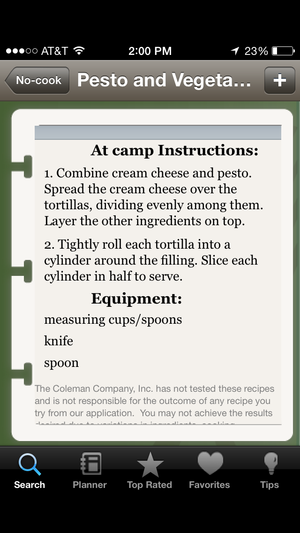 Because festivals are all-day affairs, look into food options before you get there. I spent a fortune on food at Coachella—meals on the festival grounds and groceries at the festival campgrounds' general store were not wallet-friendly. If you're camping, bringing your own food is a good way to cut down on costs. (Just check the campground rules for what types of items can be brought in. Glass containers were a no-no, for example.)
Coleman's Classic Camping Cookbook & Meal Planner (free; iOS) is a handy app to have for preparing campsite cuisine. Select recipes by cooking method (campfire, grill, none), type of meal, or available ingredients for yummy suggestions on things you can make yourself. I just wish it were updated more frequently with more recipes and to better fit the iPhone 5/5s/5c's larger screen.
Not all festivals have camping options—many of them are in metropolitan areas where camping is close to impossible. Hotels can fill up fast if the festival brings in a lot of visitors, so if you find yourself stuck in a city with no place to sleep, Airbnb (free; iOS and Android) can help you out. I used Airbnb to find a place to stay during South by Southwest in Austin last spring.
In case you're unfamiliar with this popular service that has practically pioneered the sharing economy, Airbnb is a network of hosts who have opened part (or all) of their homes to travelers. You can browse the available listings, select a room to rent, and communicate with your host directly through the app. You could also try Couchsurfing (free; iOS and Android), if you don't mind roughing it and possibly sleeping on a stranger's floor, or Hotel Tonight (free; iOS and Android) for last-minute hotel openings.
Stay connected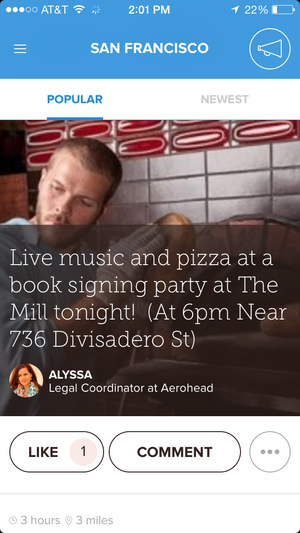 Festival venues are massive, and when you add thousands of other festivalgoers to the mix, it can be hard to find friends and organize a meeting spot.
While you should always be wary of using location-aware services that broadcast where you are, they can be helpful in noisy situations where cell service is jammed. For iPhone users, there's Find My Friends, but for a more-inclusive offering, try Circle (free; iOS and Android).
Circle is local discovery network that coordinates all nearby activity into one beautifully designed feed. When you get to a new stage or area of the festival grounds, snap a photo, tag it with your location, and leave a simple note for all to see. Not only can you see where your friends are and what they're up to, but you can look at posts from other festival attendees—a great way to not miss out on any unexpected appearances or surprises.
Another great way to keep in contact with friends is GroupMe (free; iOS, Android, and Windows Phone), a multiplatform group messaging system. If everyone in your party installs this free app, you can create a group just for your fellow festival attendees. It uses data instead of cell signal, and offers a wide range of features. Broadcast your location, coordinate a meet-up, and check in with your friends throughout the day.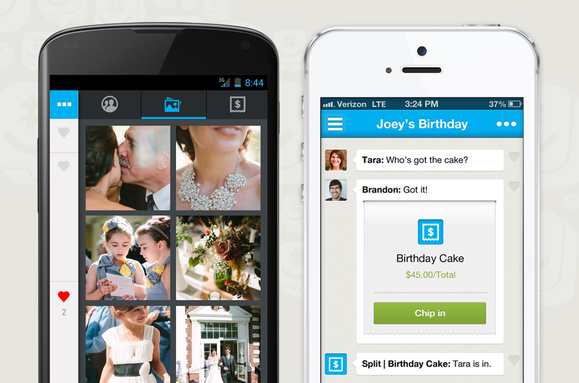 Multi-day festivals can be pricey if you're attending from out of town, so it's best to keep track of who is paying for what if you're sharing a hotel room or campsite with friends. One big plus to GroupMe is the app's Split feature, which lets group members keep track of shared expenses and send funds to friends who have picked up the tab.
FireChat takes a different approach: You can message anyone nearby who has the app over your smartphone's Multipeer Connectivity Framework. It supports connections using Wi-Fi and Bluetooth, and maintains that connection even when your phone can't access the Internet. The only downside is that, at least as of this writing, FireChat messages are anonymous and are displayed as one large group chat. Trying to contact a specific friend through FireChat could be difficult, but you could log in and chat with people nearby to see if your friends are at least at the same stage as you are.
Enjoy the show!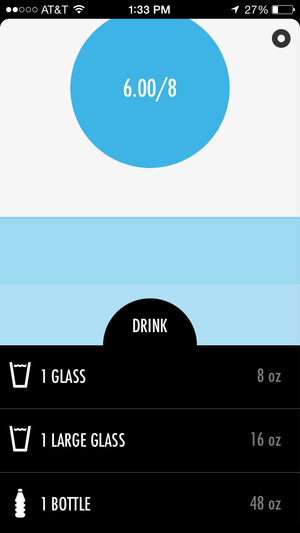 Once you get to the festival, remember to play it safe. Keeping hydrated is essential in the summer heat, and I'm not talking about alcohol.
WaterIn (free; iOS and Android) is a simple little app designed to help you remember to drink water at regular intervals throughout the day. When you take a drink, log the amount (a small glass, large glass, or bottle), and watch your chart fill up. If it's been a little while since you've last logged any water, you'll get a sweet notification.
There will be lots of photographic moments as the festival progresses, so make sure your smartphone has the best app possible to make the most of its built-in camera. VSCO Cam (free; iOS and Android) is an excellent choice.
VSCO Cam lets you set your area of focus by just a tap on the screen, which you can then pair with one of the app's ten presets—a filter-like feature that's a bit more elegant. You can then make other editing adjustments—like temperature, contrast, exposure, and rotation—and compare your edits to the original before sharing with the world.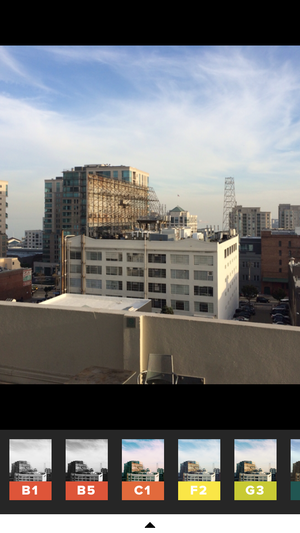 Festivals are the perfect place to discover new music. While you may love what you hear, learning the band name can be surprisingly difficult. Some stages don't have an updated schedule or indicate who is currently playing. You might be too far away from the stage to see the band's name, or you may have missed the introduction. In this case, use SoundHound (free; iOS, Android, and Windows Phone) to fill in the gaps.
SoundHound is a great recognition app that listens to a song and matches it to a track in its database. The app will identify the band and the name of the song that the band is playing. It will then display more information, like where to purchase a recording of the track and the song's lyrics. It has singing and humming recognition, so it should work well in a live setting.
You might want to consider recording video of moments you won't want to forget. For a solid all-in-one video recorder and editor that's easy as pie to use, try Lightt (free; iOS and Android). Lightt is perfect for a music festival, because you can shoot individual videos throughout the day and then stitch your favorite pieces together to create one beautiful compilation of shots. You can record video straight from within Lightt, or import video from your Camera Roll.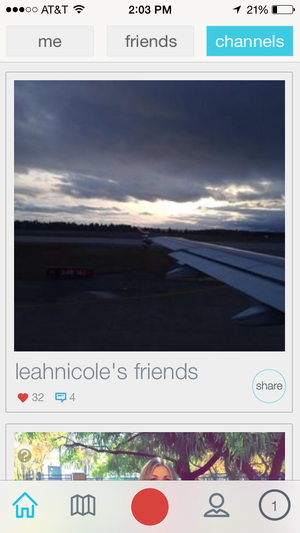 If you shoot with Lightt, you can add filters and editing effects while you record. You can also hold your phone in landscape orientation for wide shots, or in portrait orientation for square shots, and Lightt will automatically adjust the view to give your videos the best look.
Videos are stored in Lightt's social feed, which looks a lot like Instagram, but you can also share your videos with your other social media accounts. If your friends use Lightt, too, you can even create a group video of everyone's footage of the day.
Share your memories
When the festival wraps up, make sure you save and share all of your footage into one neatly organized spot. Dropbox recently launched Carousel (free; iOS and Android), a new photo-managing app that automatically saves photos to your Dropbox account. It's also a great way to share your photos with friends: Create a collection of photos to share, and send them to friends within Carousel's messaging tool. Those photos will then save to your friends' Dropbox accounts, and any photos they share with you will save to your account, too.
Carousel can also handle videos, but RealPlayer Cloud (free; iOS, Android, and Windows Phone) is specifically for videos. The app correctly formats your videos to fit any device to assure that you get the best playback possible when watching, and stores them in the cloud for easy sharing.
With these simple storage apps, you can relive your favorite moments over and over again while counting down the days until your next festival experience.