Only One is a retro-looking fantasy brawler that takes place entirely on a vertiginous cliff top. Little pixellated enemies—swordsmen, archers, and annoying wizards who shoot fireballs—spawn periodically, and it's up to you to chase them around and either slice them to death or knock them off. A green virtual joystick appears wherever you plonk your left thumb, and an attack button sits on the right. The combat's surprisingly well-realized, too, with satisfying sound effects and a smidgen of tactical depth.
As they die, these enemies drop goodies for you to pick up: heart refills and shield power-ups, but most importantly power tokens that you spend on the upgrades (extra heart capacity, for example, and special powers such as a Jedi-esque force push) that quickly become vital to your survival.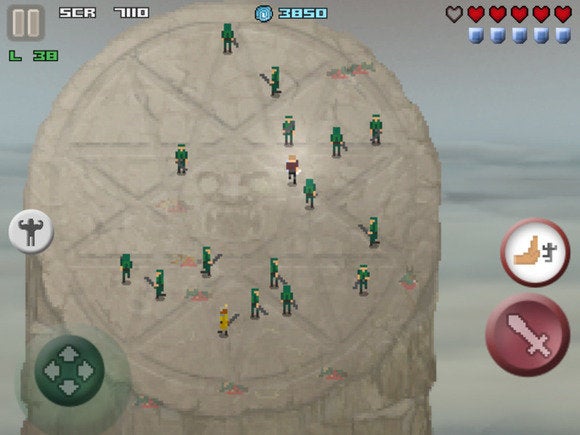 Power is the currency of Only One, and its driving motivation, to the extent that it influences your combat tactics: shoving baddies over the cliff is usually an easy kill, but since a foe slain in this way will take most of their trinkets down with them, the connoisseur tries to do most of his work more centrally. Knocking people off is still handy (and satisfying) for bringing down the numbers when a big mob appears.
And so you slash, shove, pick up, and die every now and then. The simplicity of all this is livened up by silly jokes and references—often shouted out by falling enemies—and the gradual introduction of new villains and purchasable abilities. A real highlight is that every 10 levels you fight a boss, with visible health, an amusing name, and a unique appearance and fighting style. (Beat the boss and from then on you'll restart from that point.)
All of which is excellent. The only problem is the way Onoly One is weighted, which is quite obviously intended to open a few reluctant wallets. There just isn't enough power on offer. Even diligent collectors will find that their supply of power is vastly exceeded by the cost of most upgrades, which leaves the obvious temptation of buying the stuff with real money.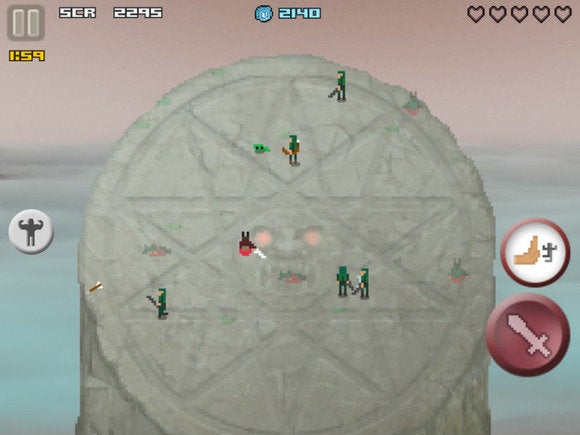 There are two aspects to this that we applaud, however. One is that the prices are low; far too often developers merrily add buying options that only a madman, or someone in the throes of crippling addiction, would countenance.
The other is the inclusion of a sensible compromise option. Buy Ultimate Power and your power is subject to a permanent 2x multiplier, and you get access to the full range of abilities, many of which are otherwise locked. Our advice would be to think of the game as a 1.99 purchase rather than free, and pay up. Most won't, of course.
Mind you, some of the less savory aspects of modern freemium gaming do make an unwelcome appearance. Only One fairly often requests a rating, and offers 500 power in return—a grubby (if understandable) approach, and one that sullies the game's own values. At least it doesn't specify a good rating.
Only One is shameless about laying on the guilt trip when you try to close the menu where you buy power. "Buying power helps improve the game and supports the developer!" it says. Then you have to click the green tick to exit, even though you'd previously used the red cross—a tiny bit desperate, even if we really do understand how difficult a market the App Store is for small developers.
Let's look past these small reservations and enjoy this for what it is: a nice, straightforward and quite funny fighting game that's free without constantly begging for money. If we can't get rid of freemium, it would be nice if we could at least have freemium games that are like this one.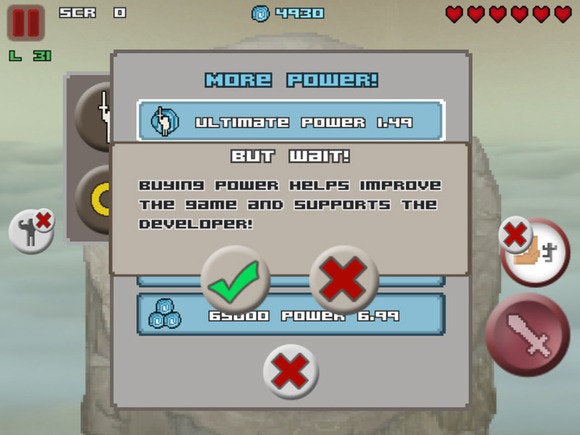 Bottom line
Only One is great fun, silly and characterful, and while we wish they'd simply charged $1.99 and tilt the power collection side more in favor of the player, it manages to avoid most of the worst aspects of freemium. It made this reviewer's thumb sore, which is usually a good sign.