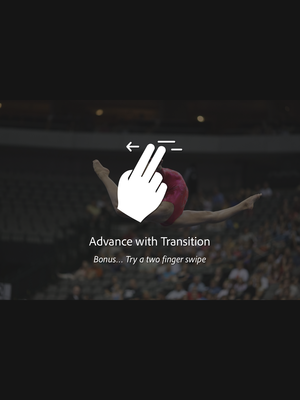 For as many image editing and organizing apps as we've seen on iOS, none has come close to rivaling what you can do on your computer. Until now. Adobe Lightroom, long the gold standard for desktop digital image workflow, now brings its core capabilities to iOS in a companion app, Lightroom mobile 1.0 for iPad (and soon iPhone). In so doing, Adobe successfully reimagines Lightroom for touch. But as this 1.0 version shows, Lightroom mobile has much room to grow, both in features and in resolving first version hiccups.
The Lightroom mobile app itself is free. To use it, you'll need the latest version of Adobe's $149 Lightroom software, updated to version 5.4 to provide support for Lightroom mobile. (Adobe Creative Cloud users also have access to Lightroom.)
Getting started with Lightroom mobile is simple enough. I downloaded the app from Apple's App store, and signed in using my Creative Cloud account. Meanwhile, on my laptop, I updated Lightroom to 5.4, then followed the prompt at the upper left to get started with Lightroom mobile. Tap the arrow, and it reveals a pop-up menu for signing in. Pay close attention to this area, since when you're signed in, your Creative Cloud account name appears at the top; this will be your only cue that you're signed in, as you'll get no warning when you've been signed out by the system.
How it works
Adobe uses the cloud as the intermediary to transfer images between Lightroom on the desktop and Lightroom mobile. Lightroom mobile is its own self-contained environment for syncing images from your Lightroom catalog with your iPad. You can also edit images imported from your camera roll, and send them back to your desktop.
This process doesn't use Adobe's Creative Cloud, but rather a separate Lightroom cloud infrastructure that enables you to sync as many images as you want without impacting your 20GB of Creative Cloud storage. Adobe says there's a natural limit, though, based on the iPad's maximum available storage: A 128GB iPad can hold up to 60,000 images, according to Adobe. You'll need to first add your images to a collection on your desktop Lightroom; then, click a tiny Sync button to the left of the collection's name to send that collection to your iPad.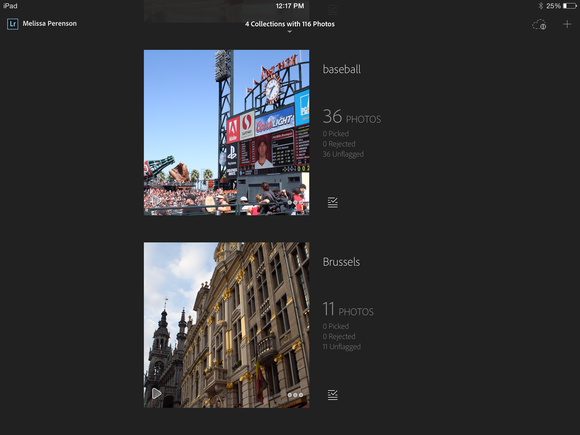 Editing and organizing magic
The magic that is Lightroom mobile is that you can edit your collections on the fly, and changes will be visible back on your desktop once you sync again (or in near real-time if you're connected). Collections appear stacked on top of each other, with the most recently changed one at top. Tap on the three dots in the lower right corner to reveal available actions for that collection: Add images to it from your camera roll manually or automatically, enable offline editing, rename collection, or remove collection. You can also add new collections on the device, be it for importing images from the camera roll or for reorganizing images from existing collections.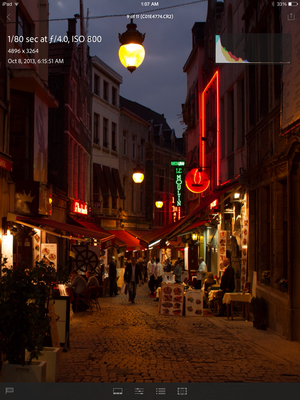 Enter a collection, and you'll see image thumbnails crammed side-by-side on the display. Tap any image to view it; tap again to bring up basic image information, the histogram, and the navigation chrome, with its four navigation buttons at bottom and its upload and share button at top right. One of these buttons brings up a filmstrip view of all images, so you don't have to go back a screen to find another image; the next two run through the gamut of adjustable controls; and the final one provides cropping and image rotation.
I really liked the overall presentation and operation of Lightroom mobile. I found it mostly efficient and finger friendly. As I scanned through my images, I appreciated that I could see, at a glance, the shutter speed, aperture, ISO, and resolution of an image at a glance. I also appreciated the fluid, touch interface; the touch and the gestures made selecting, editing, cropping, and sharing images a breeze. For example, tap and hold an image, then assign a rating by a simple finger flick to reject, unflag, or pick an image. The touch interface is a good start, and hopefully we'll see some of this cross over to the PC version soon, given the prevalence of touch on Windows 8.x tablets and laptops.
The editing engine covers all of the components in the Basic panel of the Lightroom Develop module. There are two edit menus, accessible via the navigation chrome beneath an image. One handles tone, color, and exposure; another effects and filters. Both menus offer editing options in a horizontal scrollbar; then, tap on a selection to call up a touch-friendly slider adjustment. Once you've edited an image, you can output the image to Twitter or Facebook, or send it via email.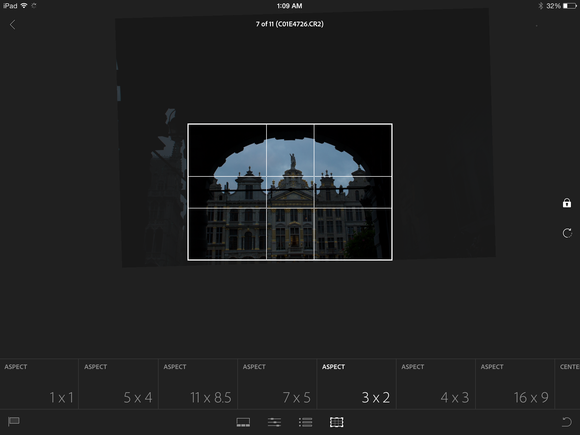 As much as I could do in Lightroom mobile—and do more easily than on Lightroom on my laptop—I found myself wanting more. Yes, it was super-easy to make tweaks, but sometimes I wished I could easily enter a starting value instead of dragging my finger along the slider. I also wanted a way to add a custom crop and output resolution, which would be useful for images destined for use on the Web. I also wanted a more easily accessible way to apply my adjustments from a previous image to the current one. (Right now you have to tap on one of the two edits menus, then scroll to the far right, far more motions than should be required for a simple operation that you'd want to initiate before attempting additional edits to further tweak the settings for a given image.)
What's clearly missing from Lightroom mobile is the Detail module, which allowed adjustments such as sharpening, lens correction, and noise reduction. The app lacks curves and histogram adjustments, as well.
Real-world syncing
Sadly, even experienced Lightroom users will find the syncing interface very much a weak link in Lightroom mobile. In my use of Lightroom in a variety of real-world environments, with varying speeds and types of Internet connections, I encountered several issues with Lightroom mobile.
I discussed my experiences at length with Adobe, but as of this writing Adobe had not identified what caused the problem. My educated suspicion is that Lightroom mobile had difficulty navigating inconsistent or interrupted Internet connections, such as those that I experienced at a hotel, and at a sporting venue.
Another disappointment: Images aren't automatically available for viewing offline. This requires an extra step, for each album, and then requires you wait for the images to download. I'd have preferred to see it as part of the initial sync, just so it was part of the sync itself, not anything else.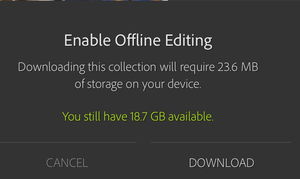 When you do save a collection to the iPad, you're not saving the original RAW, JPEG, or TIFF file, but rather Adobe's Smart Preview version. If you shoot RAW, Lightroom's Smart Previews reduces resolution to 2560 pixels on the long edge, and the file size to 95 to 97 percent of the original image (to 1MB to 2MB). JPEG images get reduced to 80 to 85 percent of their original size (to about 1.5MB).
Bottom line
It's hard to find an app these days that shakes up the status quo, but Lightroom mobile achieves just that for digital imaging on the iPad. It's the first app that makes me feel the iPad can be a serious, useful companion in the image editing and selection process. That said, the syncing issues I experienced were very frustrating, some interface choices confound, and many features just don't go far enough to satisfy. Still, in spite of its limitations and flaws, Lightroom mobile is the new must-have app for photographers and photo enthusiasts alike.