I admit it. I'm a proud member of the Cult of Outliners. Outlines are the best tool I've ever found to create my book and other writing projects, presentations, business plans, and more. My love for outlining programs goes back to MORE and Acta, running on classic Macs, and I roll my eyes at inferior attempts like Microsoft Word's Outline view.
For many years, my outliner of choice has been OmniOutliner Pro ( Mac App Store link), from The Omni Group. The current release, version 4, is long-awaited (version 3 was released in 2005) and provides a welcome user interface refresh, as well as many tweaks to make working with outlines easier. But work remains to be done to use outlines in other programs, and you should try before you buy the Pro version.
Facelift
The biggest change in OmniOutliner is the refreshed user interface that's cleaner and easier to use. The previous version's drawer, which held a miniature view of your whole outline, along with a pane for row styles, has been changed to a sidebar that can be hidden. The Inspector, where you make style changes and specify how the outline displays, has been overhauled and reorganized, to good effect. OmniOutliner has always been unusual in that it supported not just outline rows, but also columns, and you can now hide columns you don't need to see. The program also automatically populates pop-up lists to make data entry faster, and parses date entries such as "next Wednesday," "tomorrow," and "+5d (for 5 days ahead)." A new favorite feature is the ability to zoom the outline to view it larger or smaller.
Creating outlines is faster with the addition of the Resource Browser, which contains more than a dozen premade templates to help you get started. Of course, you can save your own outlines as templates. You can now also add the styles from a template—its theme—to your own outlines.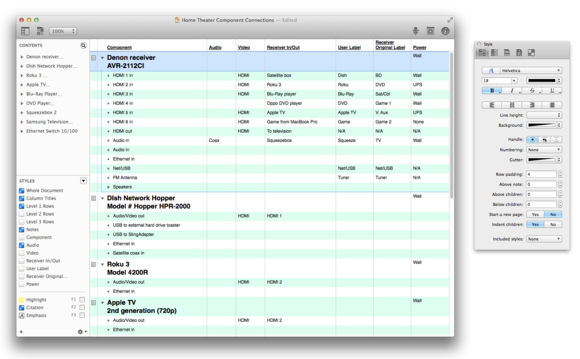 Along with the user interface changes come changes to familiar terminology. In previous versions, the Hoist command allowed you to display only the current topic and its subtopics, hiding the rest of the outline so you can work on the current topic without distraction. OmniOutliner 4 takes a cue from the company's OmniFocus task manager, and renames Hoist to Focus.
Smooth sharing between devices
There are versions of OmniOutliner for both Mac and iPad, and rather than struggle with implementing iCloud syncing across platforms, OmniGroup created their own synchronization app, OmniPresence. This app syncs documents in a local folder on your Mac with documents in OmniGroup's iOS apps (OmniOutliner and OmniGraffle).
After installing and launching OmniPresence on your Mac, you must specify a cloud location, either the free Omni Sync Server service or your own WebDAV-based server. Once you're set up, files and folders placed in the OmniPresence local folder are available and automatically synced to your iOS devices, and to other Macs that also have OmniPresence installed.
Though OmniPresence provides similar syncing as services such as Dropbox or Box, Omni Group says that it is more compatible with OS X's Versions and Auto Save, and that it better handles file structures such as OS X's package files. I found OmniPresence worked exactly as claimed, synchronizing items effortlessly between devices.
Export woes
After you have created and styled the perfect outline, you might want to export it for use in other documents, such as a Word or Pages file—in fact, Microsoft Word export is one of the Pro features. However, I found it to not work very well. Plain-text outlines exported fairly well (though outlines exported to Word are limited to only the left-most column), but if you spent lots of time fancying up your outlines with OmniOutliner's styling tools, those styles will not export well to Word. Some outlines ended up in Word with unacceptable background colors, and I even had styled text appear in Word as invisible white text.
RTF export is little better; though Word is a common target for RTF files, OmniOutliner's RTF files showed styled text with better fidelity in TextEdit than in Word.
Though an outline is a perfect way to create the structure for a presentation, OmniOutliner's Keynote export creates a file in a version older than the superseded iWork '09 format, not to mention the current Keynote 6 format.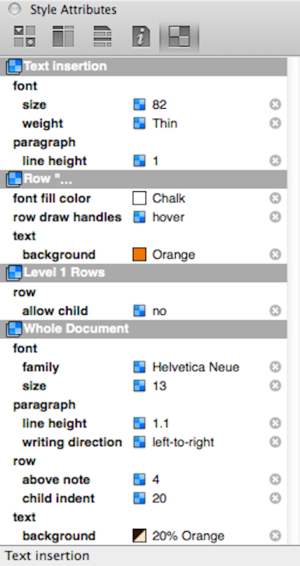 Pro and Standard
You can purchase OmniOutliner 4 from the Mac App Store or from The Omni Group. I suggest you try before you buy, and download a 14-day trial from the company's Web site. During the trial, there's a handy toggle in the OmniOutliner menu that allows you to set the program to Standard or Pro mode, so you can get a good trial of just the version you are interested in.
The Pro version costs $50 more than the Standard version, and provides several additional features, including expanded styling options, more control over indentation and line heights, the ability to hide and show columns, AppleScript support, manual page breaks, create customized toolbars for particular documents, and different ways to customize and display notes. Many of these features you can live without, and I'd suggest that you audition both versions before you spring for the Pro features, because you can upgrade to Pro after purchasing Standard.
OmniOutliner 4 requires OS X 10.9 Mavericks, so if you haven't upgraded to the latest version of the OS, you can't run it. If you purchase the 4.x program from the Mac App Store and aren't yet running Mavericks, you'll be offered the 3.x version, and once you upgrade the OS, you may then upgrade OmniOutliner at no further charge. The Omni Group says that Mavericks is required because the user interface upgrades they implemented in OmniOutliner didn't work well in Mountain Lion, and since Mavericks is a free upgrade that runs on almost the same hardware as Mountain Lion, they chose to exclusively support the current OS.
Bottom line
OmniOutliner is the outlining tool of choice for people who prefer this method of organization. The current version makes creating and styling outlines easier, and improves the process of getting thoughts out of your head and into a document. There isn't a better outline program for your Mac.