My preferred method of shopping is online, and I know I'm not alone here. The ease of browsing, clicking a few buttons, and then having your purchase just magically show up at your doorstep a few days later is so much simpler than dealing with the crowds at your local chain retailer. But one problem I often have is that I lose track of what I purchased and when it's supposed to show up… which then leads to oh-so-fun mystery boxes and digging through my email archive. What's in this Ticketmaster envelope? What did I order from Amazon, again? How long did that Etsy seller from Japan say the shipment would take?
I discovered Slice, a free app for Android and iOS devices, around the holiday season, and it was an absolute lifesaver. Slice connects to your email account and scans your mail to find shipment info, receipts, tickets, and other expenses. It's smart, and knows the difference between a tracking ticket and a confirmation number.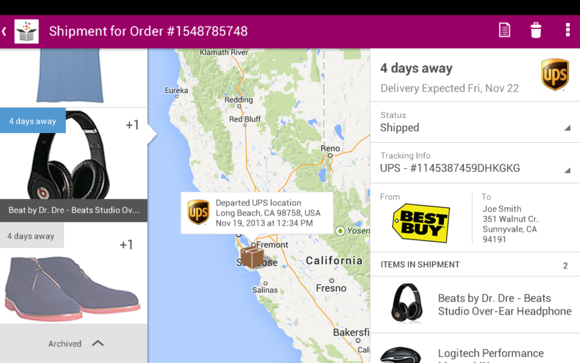 With that info, Slice tracks all of your incoming packages for you, showing their current en-route spot on a map. Just tap the cute little truck icon to learn more about the shipment details. You'll get a status update whenever something with your order changes, like when a package arrives at the post office for processing or when it finally reaches the delivery truck. You can decide whether or not you'd like push notifications for those updates as well.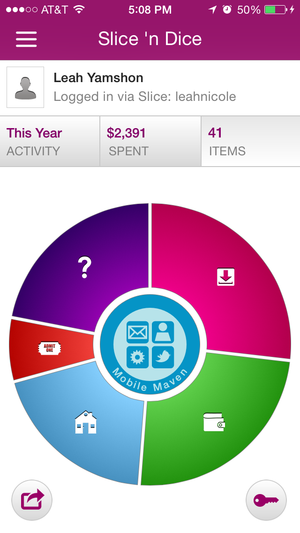 Slice monitors much more than just your shipping info. It keeps all of your receipts in one place, too, including receipts for food and restaurant orders and business expenses. It even keeps tabs on your LivingSocial and Groupon deals, perhaps as a reminder to actually use them before they expire.
Deal hunters will love Slice's price drop feature. It keeps an eye on the prices of items you've recently purchased, and if the price drops, Slice will let you know if you're eligible for a price adjustment so you can get your money back. Similarly, if something you've ordered gets recalled, Slice will keep you in the loop.
The part I simultaneously love and hate the most about Slice is that it categorizes each of your purchases, which is really eye-opening if you're trying to stick to a budget. It shows how much you've spent in each category—which it calls the Slice 'n Dice—and pulls out each purchase from an entire transaction to categorize it properly. For example, Slice will dissect your latest trip to Target and show you how much you spent on clothing versus household goods.
In my experience, Slice has never missed a beat, but just in case it misses something, you can manually add a shipment to monitor. And also keep an eye out for PayPal transactions: Sometimes Slice thinks that a package is coming from both PayPal and the vendor who uses PayPal, so you'll get a duplicate entry.
Slice is available for Android and iOS, plus as a web tool, and it's a brilliant utility to try. Now, if only it could prevent me from clicking "purchase" in the first place…