As someone who runs a freelance consulting business, it's important to track my time accurately so that I can bill my clients properly, and there just so happens to be a plethora of standalone timekeeping apps available for iOS.
How do you wade through this crowded category in order to find an app that's right for you? Fortunately, I've done some leg work for you, but time tracking can be rather detailed and everyone has different needs and preferences. My criteria may not exactly match yours. Luckily, many of these apps provide limited free versions so that you can try them out before making a commitment of time and money.
What to look for
Here's a list of requirements I look for in an iOS timekeeping app (your list may vary):
A standalone app and not simply a companion to a paid subscription service.
The ability to manage both clients and projects.
Different task categories and billing rates, along with a way to handle fixed-price items.
Manual time entries as well as a timer that can be started and stopped multiple times.
Produce invoices, preferably as PDF files.
Backup and restore your data as well as a way to export data for offline reports.
Sync data among multiple devices.
Top choice: TimeWerks Pro Billing with PDF Invoice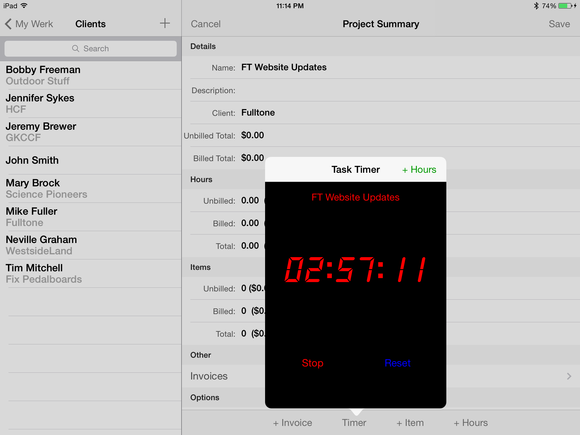 TimeWerks Pro Billing with PDF Invoice by Sorth LLC is a universal iOS app that is a great choice for freelancers and other business users for tracking clients, projects, time, expenses and billing. It requires a little bit of setup before you can start using it, but this seems reasonable considering that you're using it to help run your business. It comes in three flavors: a free lite version which you can use to try-before-you-buy, a $3 version with some optional features available as in-app purchases and a $5 version with those features included. (Note: I have been using the $5 version.)
If you already have your clients set up in your Contacts app, then you can link that info with the client profiles you create in TimeWerks. Then, for each client, you can record one or more projects that includes, among other parameters, how you want to your record time. For example, in one project you may want to list the start/stop times and bill to the closest minute while in another project you may prefer to list just the day a task was performed and round your time up or down in 15-minute increments.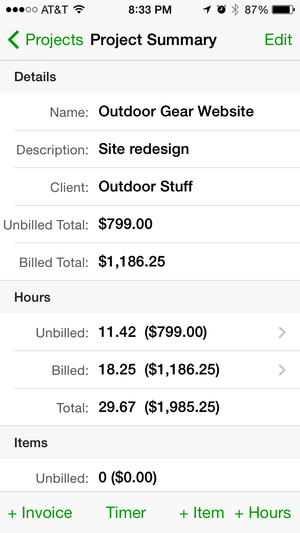 Work Items are the tasks that appear on your invoice, and they can be defined with either a fixed-price or an hourly rate. They're available to choose from within in all your projects, which differs from some of the other apps where each client or project might have its own unique set of tasks and rates. I prefer TimeWerks' approach since my task categories and rates tend to be consistent among all my clients' projects.
To record your time, you can either enter it manually or use the running timer. To add a time record manually, simply tap on the project's name, then tap on the +Hours button. Enter the start/end dates, the number hours and select a work item, then add any notes. (Adding a fixed-price item is a similar process.) If you prefer to use the timer, once you've gotten it started, you can dismiss it and it'll continue running in the background. You can stop and restart it as many times as you want and, when you're finished, it will add the cumulative time to the task.
If a client has paid you a deposit or retainer, you can track that and then draw upon the balance when you create your invoices. You can setup all the info that's included on your invoices in advance, including a logo and whether you want to send your invoices as HTML-formatted emails or as PDF email attachments. (The logo and PDF options are included with the $5 app but are available as an in-app purchase in the $3 version.) Creating an invoice is easy: you simply go to the project's detail screen and tap on +Invoice, then select the work items to be included and tap Save. Once you're satisfied, you can then preview the invoice and send it via email.
The app doesn't provide much in the way of reporting features, but you can easily export your data to work with offline, using an app such as Excel, Numbers or any app that can read CSV or TSV files.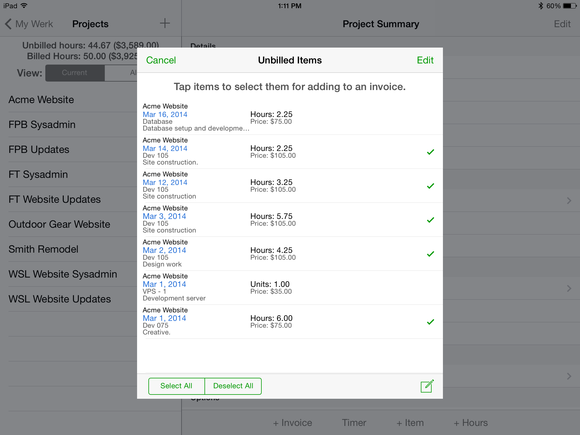 To help protect against data loss should your device ever get lost, broken, or stolen, you can use TimeWerks' cloud-based backup service, which is included with the $5 app but requires a $2 in-app purchase in the other version. There's also a cloud-based syncing service available that lets you keep your data in sync across multiple devices. It's an in-app purchase of either $3 per month or $25 per year for either version of the app. While I would prefer either iCloud or Dropbox syncing, my experience with the developer's solution has still been very positive.
TimeWerks Pro is a universal app, so it runs on the iPhone, iPod touch and iPad, and has a special interface that's optimized for the iPad's larger screen. The app takes good advantage of the extra screen size, but the more compact iPhone interface is quite usable as well. The app seems very solid; I've had a few occasional crashes during backing up and syncing, but I've never lost any data.
Although there's no free version you can try first, at only $5 for the pro version—and even allowing for the extra fee for backup and syncing—TimeWerks Pro is an economical choice for freelancers and small businesses who need to track time and invoice clients.
Top contenders
TimeSheet Pro
Like TimeWerks Pro, Appxy's $2 TimeSheet Pro lets you can track clients, projects and tasks. You can assign an hourly rate to each task, but TimeSheet Pro does this a bit differently in that each project contains its own set of tasks and rates. So, for example, if you have a common task of "Copy Editing" that you use among all your projects, you must set up that task in every one of them separately. While I prefer the way TimeWerks makes a common list of tasks available to all your projects, I understand why some may prefer TimeSheet Pro's method.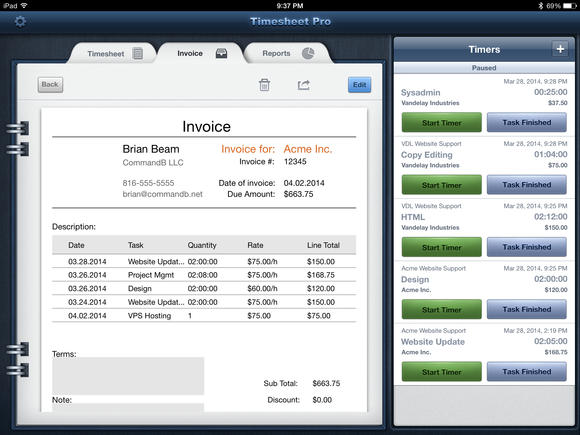 While both apps let you enter time manually or via a timer, I prefer the way TimeSheet Pro will display multiple timers on a single screen, with each connected to a different project and task. You can then easily start and stop timers throughout the day from a single screen and, when finished, add a consolidated time entry to each project. This is very handy for people who spread their time among many projects throughout the day.
Creating an invoice is fairly easy, but requires a little more effort than TimeWerks since you need to drill down into each task category rather than choosing billable items from a single list of entries. You can include a logo on your invoice, but its shape must be square-ish or else it will get distorted. Otherwise, the PDF invoice it produces looks just fine.
The app provides simple built-in reports that TimeWerks lacks, although they're limited to pie charts categorized by time, hours, amount, and project. Unfortunately, there's no option to export your data for offline analysis.
Timesheet Pro is a universal app with an iPad-enhanced display. However, if you work between an iPhone and iPad, the app isn't very conducive to keeping your data in sync between them. While it's possible to backup and restore your data via direct Wi-Fi connection—a nice protection against a lost or broken device—that's not a practical solution for working among multiple devices. If that's a deal breaker, then TimeWerks Pro is your better bet.
Hours Keeper Pro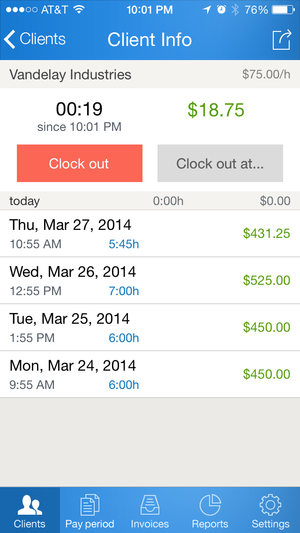 Hours Keeper Pro is a $6 universal timekeeping app by the same developer of TimeSheet Pro. The app has a very clean and simple-to-use interface. Like the other two apps, you can record time either by using the timer or entering it manually. The app can generate some basic reports, but it also lets you export your data so that you can use it offline, if you want. You can also produce simple invoices that can be output as PDF files. You can also sync your data among devices via Dropbox, which is extremely handy and works very well.
I'm a little confused as to why the developer offers two different timekeeping apps, and why Hours Keeper Pro is more expensive than its sibling. Regardless, I would like to see them integrate the best features of both into a single app. A free version of Hours Keeper with limited features is available so that you can try before you buy.
The rest of the pack
There are several other time tracking apps that are worth mentioning. Although they're not as high on my list of features, they function just fine for those who may have simpler time-tracking needs.
HoursTracker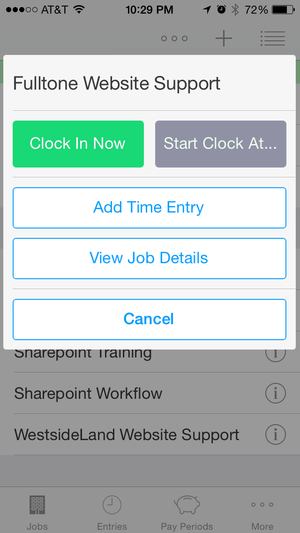 HourTracker, by Carlos Ribas, comes in two flavors: HoursTracker Pro for iPhone and iPod touch and HoursTracker HD for the iPad. With the exception of the iPad-enhanced screen of the HD version, each app is priced at $7 and works similarly. You can get started quickly by simply creating jobs and assigning each a billing rate. Then you can start entering time manually or use the timer. An in-app purchase of $1 will add "location awareness" that workers who travel to different job sites might find very useful. This lets you set a location for each job site so that the app can either prompt you as you come and go, or even clock you in or out automatically.
If you need to produce invoices within the app, though, then this is not the one for you, although you can export your data in CSV format for external reporting or invoicing. You can also export your data as a native SQLite file, which can be used to restore your data if necessary. A cloud-based backup solution is available via an in-app purchase of either $2 per month or $15 per year. If you own both apps, you can use either method to help keep your data in sync between devices, but it's still an awkward substitute for a true syncing solution. A free lite version of each app is available.
Time Tracker Pro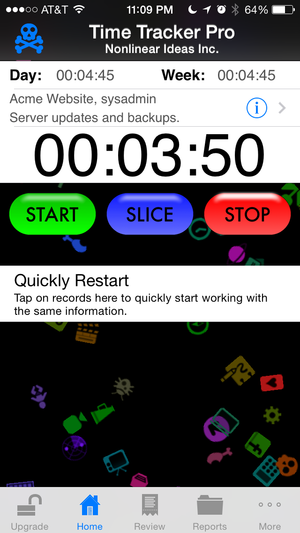 Time Tracker Pro, by Nonlinear Ideas, is a $3 universal app that does exactly what it says. The app's main screen lets you have several timers visible at once and quickly alternate among them. While you can track the total time spent on projects and tasks, the app doesn't create invoices. However, you can produce time reports and graphs that can be exported. While I appreciate unique designs, the app's quirky interface may not be to everyone's liking. A $1 in-app upgrade will let you back up your data in case you should need to restore it to another device.
Bottom line
If you're a freelancer or small business person who needs to track your time and invoice your clients for both time and expenses, then the $5 universal TimeWerks Pro is a great choice. Keeping your data backed up and in sync among your devices adds $25 per year to the cost of the app, but that's still a far cry from the cost of web-based time tracking services that may offer more features than you need. If you're a multi-tasker who splits your time amongst various projects throughout the day, then Timesheet Pro with its easy access to multiple-timers may be more up your alley. It's not as strong on task management or invoicing, but still holds its own if your needs aren't too fancy. If you only need a simple way to track your time, and invoicing's not your thing, then any of the other apps may fit the bill.
Editor's note: Updated on 4/23/14 to correct the price of Time Tracker Pro.