Many Mavericks users report that their MacBooks take an irritatingly long time to reconnect to their local Wi-Fi network after waking from sleep. While this symptom had been occasionally reported prior to Mavericks, there has been a resurgence of complaints following the release of OS X 10.9. Something new seems to be at fault.
I am one of the users who have this symptom. In my case (13-inch MacBook Pro with Retina display), the length of the delay varies. Sometimes it's just a few seconds longer than I would otherwise expect. At other times, it can take a few minutes before I'm back online.
When I initially check the Wi-Fi menu while waiting for a reconnect, no network names appear. After a while, my previously connected network—as well as any other nearby networks—eventually do show up. A successful reconnect typically occurs shortly thereafter.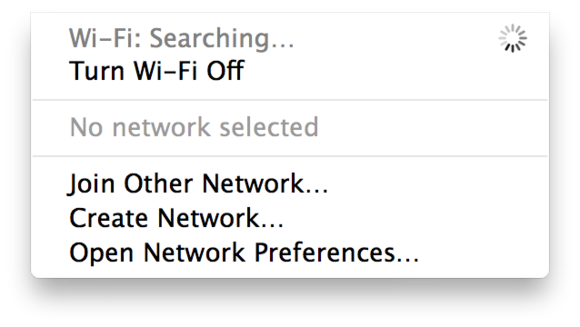 At first, I thought the variation might be linked to how long the MacBook had been asleep, and the possible "deeper" sleep modes that might ensue. But I could not find any consistent pattern here.
After some further experimentation I found that, if I use the Wi-Fi menu commands to turn Wi-Fi off and back on, a successful connection occurs almost immediately. That's good to know but it's not an acceptable long-term solution.
My next step was to check Apple's Community Support Forums. Here I found several threads confirming the symptom. From reading through the lengthiest of the threads, I learned of a surprising alternative work-around: Turn off Bluetooth. This worked for most (although not all) people posting in the thread. Count me among those who found it helpful. Again, while good to know, it's not a practical long-term solution, especially for those who otherwise need Bluetooth to connect to such peripherals as speakers and input devices.
A few people reported that if you delete the com.apple.Bluetooth.plist file (located at /Library/Preferences/) this eradicates the symptom entirely, at least for awhile. I did not test this.
The thread offers numerous other potential work-arounds. These include resetting the System Management Controller, deleting the /Library/Preferences/System Configuration folder or adjusting the sleep settings in Energy Saver System Preferences. As none of these generated anything close to unanimous confirmation of success, I've omitted the details here.
Several people found that a reconnect delay occurred only if their local network used a non-Apple router. With an AirPort Base Station (other than perhaps the older "flying saucer" models), all worked well. In my case, although the difference is not black-and-white, delays definitely trend longer when I'm away from my home AirPort-based network.
A few postings reported the results of contacting Apple support. While helpful, Apple did not offer a definitive solution. In the end, permanently eradicating the problem will almost certainly require a bug-fix update to OS X. I've seen rumors that suggest such a fix is already in the works.