At a Glance
Expert's Rating
Pros
Good sounding, portable audio interface
Includes all necessary cables plus mic stand mount
Can record two inputs simultaneously
Cons
Good, but not great, sounding internal microphone
Single knob control means some extra fiddling
Our Verdict
Larger than its predecessor the extra features—iOS compatibility, optional battery power, and multi-source input—make for a flexible audio interface.
Apogee, makers of audio gear for the studio and home, has taken its popular One USB audio interface and, in a second iteration, expanded both its size and capabilities. Where the original One is compatible only with the Mac, the $349 One for iPad and Mac can be used with both Apple computers and supported iOS devices (including iPhone 4 and later, iPad 2 and later, iPad mini, and iPod touch 4th generation and later running iOS 6 and beyond). It additionally offers simultaneous recording from two input sources, can be battery powered for more flexible mobile recording, charges iOS devices when used with the included power supply, and, like the original, allows recording through XLR and 1/4-inch inputs as well as via its internal microphone.
What's in the box
Whereas the original One was the size of a large candy bar, One for iPad and Mac is sized more like a remote control for a modern-day AV component (though thicker). The top of the interface features a power port, a port for the included breakout cable (XLR and 1/4-inch instrument inputs), and a mini USB port for attaching the device to a Mac or iOS device. The bottom of the interface sports an audio out port that can be used with headphones or powered speakers. On the back of the box is a compartment for the two AA batteries you'd use when recording to an iOS device without the power supply. (If you use the power supply with the One connected to an iOS device, that supply additionally charges the iPhone, iPad, or iPod touch.) The power supply is unnecessary when you use the One with a Mac as it draws its power over the USB connection.
The face, like the original One, bears both the device's internal omnidirectional condenser microphone and a large knob that you press for switching between inputs (internal microphone, XRL, or instrument) or choosing the output volume setting. When you've selected an input source you turn the knob to adjust that source's gain. When output is selected, twisting the knob does exactly what you'd expect—adjusts the output volume. The knob makes for a sleek design, but having just the one control means occasionally fiddling with it when moving between inputs and adjusting gain (although you can also do these things via an app).
Included in the box are three USB cables—one for the Mac, another for an iOS device's 30-pin connector, and a third for a Lightning connector), the breakout cable, a universal power supply, and a microphone-stand clip.
One for iPad and Mac's converters support up to 24-bit/96kHz audio and the interface will supply phantom power to those microphones that require it. The latest One, like the earlier model, supports any Core Audio compatible apps on the Mac or iOS devices, meaning that it works with just about any audio app you throw at it. Apogee offers versions of its free Maestro software for controlling the device's inputs, output, and mixes between inputs in both OS X and iOS versions. With the iOS version I found that I had to restart my iPad before the app recognized that the One was attached. Afterwards I had no problems.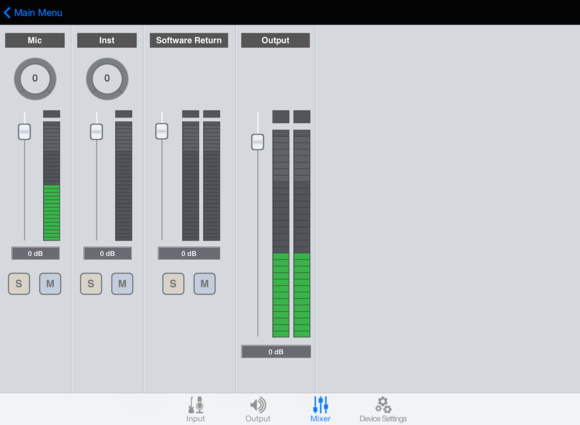 In use
I employed the One with both Macs and iOS devices in a variety of setups. For a week it acted as the DAC (digital audio converter) between my Mac Pro and Adam F5 powered speakers as well as the output I used with my headphones. I lived with the sound rather than studied its minute detail and it sounded clean and uncolored.
I tested the new One with a couple of different microphones—an AKG 414 (a condenser microphone that requires phantom power) and an Electro Voice RE20, a dynamic mic often used for voice-over work that has notoriously low gain. As I expected, the latest One had plenty of gain to handle the AKG. When testing the RE20 I was pleasantly surprised to find that this version of the One offered better gain than the original One. I found that even with the gain cranked all the way up on the original One, my average gain was only around –15dB. With the latest One, that average was approximately –7 dB. The recorded results were clean on each.
I also tested the One's internal microphone in a couple of different situations. Comparing it to the AKG mic I recited the Gettysburg address into each microphone as well as recorded an acoustic piano. The differences between the two were evident (as they should be considering that the AKG microphone retails for around $800). A realtime analyzer confirmed what my ears heard—the more expensive AKG mic exhibited a broader bottom end and was more balanced overall. The One's microphone falls off at around 100Hz and emphasizes the middle frequencies more than the AKG.
That said, it sounds solidly okay. While that may seem like faint praise, I've heard far worse standalone USB microphones that people routinely use for podcasting. While it's not the One's strongest feature, the internal microphone is good enough for recording voice and acoustic instruments for music demos, interviews, and podcasts where capturing pristine audio isn't paramount.
Lastly, I checked the One's ability to use two input sources simultaneously by jacking a guitar into the instrument input and attaching a microphone to the XLR connector. I first tried this with GarageBand for iOS. Regrettably, GarageBand can record only one track at a time, so while it did record both inputs, they were placed together in a single track. Wavemachine Labs' $25 Auria LE app, however, can record multiple tracks. I record-enabled two tracks in that app, assigned the instrument input to one and the XLR input to the other, and was able to record the guitar and microphone to separate tracks. I also tested using a microphone that requires phantom power with the One running on batteries and it recorded as expected.
Bottom line
Those who want the convenience of a small Apogee interface but intend to record and listen only with their Macs can save a hundred dollars by purchasing the original One for $249. It remains a great small audio interface though its converters are limited to 44.1/48kHz audio and it doesn't offer the same kind of gain as the new model. However, if you're a musician or podcaster after a more flexible interface that works with both a Mac and compatible iOS device—and that additionally supports two inputs and sports a good (but not outstanding) microphone—the One for Mac and iPad is well worth your consideration.