After its success on the iPhone and iPad, Mail Pilot Mac App Store link made an impressive debut on the Mac. But while version 1.0 boasted style and innovation to spare, it suffered from a few glaring feature gaps. With version 1.1, Mail Pilot has plugged those holes and polished up its remaining rough edges, becoming a smart and solid choice for users who want to manage their email more productively.
Mail Pilot 1.1 retains its predecessor's sharp look, clean and functional design, and David Allen-inspired approach to getting things done in your inbox. With intuitive and clearly labeled keystrokes, you can swiftly set aside a message to work on it when you have time; set a reminder for that message to reappear in your inbox at a later date; move it to a custom list; or mark it as completed, which whisks it into your archives. Mail Pilot wants to help you get to inbox zero, and will even congratulate you when you've emptied out your incoming messages.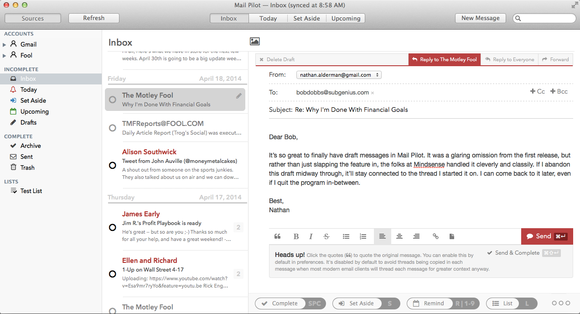 Draft messages are the new version's biggest and most crucial addition. You can now start working on a message, wander away, and come back to it later. Drafts are saved automatically, and even if you quit the program and restart it, you'll still find what you typed waiting for you. Rather than storing your draft in a separate folder, Mail Pilot keeps drafts attached to their respective message threads. It'll even add a pencil icon to those threads in the message list to remind you when you've got a work in progress.
Version 1.1 has also made big improvements to its search feature. Where its predecessor could only search by contacts and subject lines, the new edition adds whole-message search as well. In my tests, searches were fast and accurate – although they occasionally got a bit jittery. Sometimes searches would show results before I was finished typing, or inexplicably jump back to the last term I'd searched for. Other times, quickly attempting two different searches in a row would bring up a list of blank message headers. (Mindsense was able to replicate this glitch, and says it'll be fixed in the next update.) These hiccups weren't frequent, and posed only a minor inconvenience.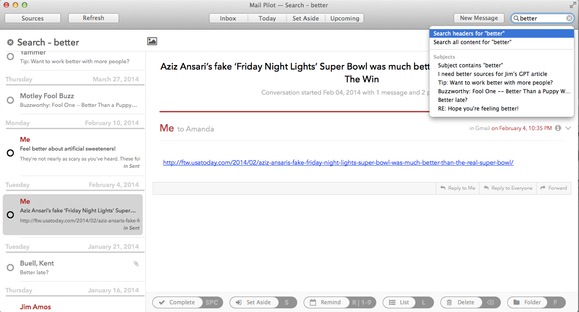 Indeed, Mail Pilot 1.1 kept thwarting my reviewerly attempts to find fault with it. I initially worried that the program contained too few protections against phony or malicious emails. Then I checked the Preferences, where I found options to display the URL of links within emails, turn off all hotlinked images by default, and load previews only for certain types of messages, among other abilities.
That said, Mail Pilot still does fall short in a few areas. The Outlook IMAP account I'd set up in a previous version initially didn't work when I fired up this one. Despite checking and rechecking the correct settings in Mail Pilot's excellent help files, I ultimately had to delete the account and set it up from scratch again to get it working.
I also had a hard time telling which messages were read or unread, because Mail Pilot cares more about whether you've completed them or not. In addition, you can view and move messages to existing IMAP folders, but you can't create new ones. And if you're a grizzled old email dinosaur like me, know that there's still no POP support—Mindsense explains that POP would prevent them from implementing some of Mail Pilot's features—although Exchange compatibility's planned for a future release.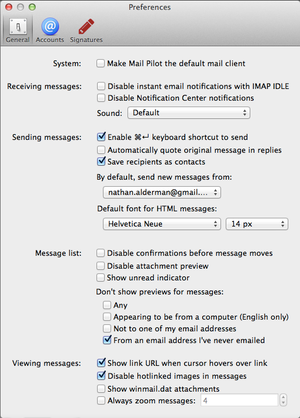 Don't go to Mail Pilot looking for fancy OS X integration, calendar tools, or other bells and whistles. It's entirely devoted to its task-list approach to email, and as part of that mindset, it will squirrel away your completed or set-aside messages in its own elaborate system of IMAP folders. (As I mentioned in my previous review, the very considerate help files tell you where to find those messages, should you wish to retrieve them in another client.) This focus doesn't diminish Mail Pilot's quality, but it does potentially limit the program's audience.
Bottom line
$20 seems like a reasonable price for this well-made client, especially now that it's added drafts and beefed up its search skills. There are equally eye-pleasing, fun, and useful email clients that cost less; several are also more versatile and feature-packed. But none offers Mail Pilot's singular dedication to clearing out your cluttered inbox. If your email needs a productivity power boost, and you're on board with Mail Pilot's approach to handling your messages, you'll find a lot to like about this program.