As usual, the aisles at last month's Macworld/iWorld show were chock full of vendors hawking iPhone cases.
After years of such shows, along with countless press releases in our inboxes each day, Macworld editors are pretty jaded about cases. But while browsing the booths on the Expo floor, one particular case caught my eye—initially because of its seemingly outrageous price tag, but then, after a closer look, because of its design.
Squair is a Japanese brand that currently has physical retailers in only its home country and Hong Kong, though it does sell to the U.S. via an Amazon storefront. The company was exhibiting at Macworld/iWorld to introduce its brand and products to potential U.S. customers.
Among a slew of Japanese-inspired cases and accessories, including a tiered display of phone-charging batteries with adorable faces and shapes, Squair's booth featured a small, raised platform with a sign that read something to the effect of "Regular price: $240 Show special: $120." (Who says you can't find great bargains on the Expo floor any more?)

Looking more closely, I expected to discover Swarovski-crystal-encrusted cases, or high-end, hand-sewn leather coverings. Instead, I saw several iPhone 5s models that looked almost bare. I realized that Squair wasn't selling a traditional case, but rather a bumper (a protective accessory that wraps around the sides of the phone). Specifically, Squair was selling its Curvacious Bumper—a name that, besides being misspelled, doesn't really do the bumper justice. True, it's rounded, but it's about as sleek and svelte a bumper as you'll find. The company dubs it "the ultimate 'Made in Japan'" product for its design and craftsmanship.
Let's get this out of the way up front: Unless you're a pretty wealthy person, $240 is a crazy sum of money to spend on an iPhone case, let alone a bumper. Even at the show price of $120, it's pricey. But I was curious what, exactly, that $120—for the lucky show-goer—would get you, so we asked Squair for a sample to test.
The Bumper is undeniably impressive. Like Apple's own designs, it's precision machined from a single piece of duralumin metal. The company says it uses airplane-grade duralumin A7075, which is an aluminum alloy made with copper, manganese, and magnesium. The result is a smooth, near-seamless accessory that's surprisingly rugged (Hv400 on the Vickers hardness scale, twice that of the iPhone 5s body, says Squair) while weighing only 14 grams. (Squair claims 18 grams, but we weighed our sample. It's 14.)
The company uses a special anodic-oxide coating procedure it calls "Cani-Mite" to offer the Bumper in versions that exactly match the three colors of the iPhone 5s: black, white (actually silver, for the white iPhone), or gold. (We received the black version.) As you can see from the images here, each bumper almost looks like it's part of the phone. Squair claims this special coating also never shows fingerprints. I don't know about never, but our black sample remained fingerprint free, despite a semi-matte finish that looks like it would easily show skin oil.
I called the Bumper "near-seamless," as it does have one seam. The bottom half-inch separates from the rest of the Bumper to allow for installation. You slide your iPhone up into the main section of the Bumper, being careful not to dislodge the volume-button overlays and the Ring/Silent pass-through switch. You then install the bottom piece and secure it using two tiny screws. (Squair includes the appropriate precision screwdriver in the box.) Once you've done this, there's absolutely no movement or flexing. It's a fantastic fit, and even after several (unintentional) drops onto tile, asphalt, and concrete, the Bumper still felt like an extension of the phone itself.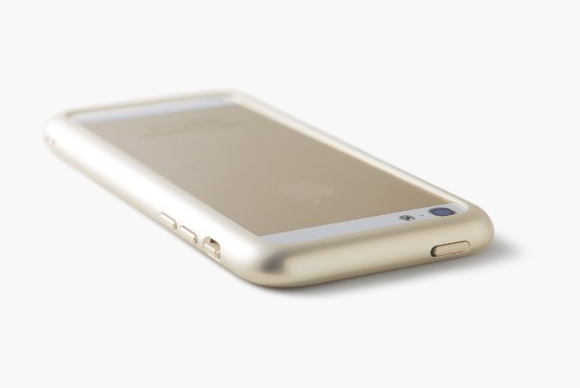 Speaking of feel, with the Bumper on, the iPhone 5s feels a bit wider and taller, but smoother and more streamlined—the Bumper sits perfectly flush with the front of the phone. You could imagine this being the actual shape of a phone (think 2014 iPhone 3S), rather than a phone with a bumper. It also feels nice in the hand, although the smooth finish does make the phone quite a bit more slippery—it's easier to slide in and out of pockets and purses, but it requires a firmer grip. On the back, there's a slight recession between the bumper and the back of the phone. This recessed design feels a bit odd at first, especially in comparison with the flush front, but it doesn't look wrong, and it means that the back of your phone is protected from scratching when you set the phone down.
The Bumper features precision-cut overlays, also made of duralumin, for the Sleep/Wake button, Ring/Silent switch, and volume buttons. These feel like actual hardware buttons on a phone, and they all worked perfectly in my testing. My only complaint here is that the volume-button overlays protrude ever-so-slightly more than the iPhone's actual volume buttons, so I sometimes accidentally squeezed the volume buttons when grabbing the phone—not an issue if the phone is asleep, but an occasional inconvenience if I forgot to sleep the phone before carrying it in my hand with other items.
The bottom of the case features a cutout that exposes the iPhone's Lightning-connector port, speakers, microphone, and headphone jack. The cutout is small enough that large headphone plugs won't fit, but those that match the size of the plug on Apple's stock earbuds fit fine. In order to preserve the Bumper's profile, Squair uses a recessed cutout, rather than simply exposing the entire bottom of the phone. It's an attractive approach, but it does have one drawback: If, like me, you tend to hold your phone with your pinky along the bottom edge, you may find the bottom edge of the Bumper, where it's cut away, to be uncomfortably sharp.
Squair claims that its Cani-Mite procedure infuses the dye compound deeply enough that even if you manage to scratch the hard metal, you shouldn't see the uncolored metal underneath. As I mentioned above, I accidentally dropped my phone several times while testing the black Bumper—dropping phones is a thing for me—and it was only the third of those drops, onto concrete, that resulted in a scratch deep enough to pass through the black-dyed layer.
All of that is to say that the Curvacious Bumper is an impressive bit of work, though one that, like even the best iPhone cases, has a few flaws. Is it worth $240? Probably not to most people, though I know more than a few people with deep pockets who'd consider splurging at the $120 show-special price—after all, many "luxury" iPhone cases sell for $70 or $80 and completely obscure the the iPhone's attractive appearance, while the Bumper offers very good edge protection and largely preserves the iPhone's design (some might even say improves it). Still, $100 is halfway to an iPhone 5s on U.S. carriers, and $200 is all the way there.