After I drag myself out of bed, my morning routine is pretty set in stone, and really doesn't vary much. After I put my contacts in, feed my roommates (my pet guinea pigs, of course), and get mostly ready, I sit down for breakfast. Breakfast is the time when I check my email and schedule for the day to see what's in store, but that requires hopping back and forth between a couple of different apps on my phone and browser tabs on my MacBook.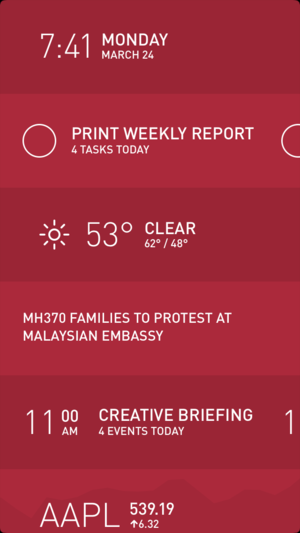 Morning, a nifty utility for iOS, consolidates all of these things into one app, which eliminates the need to switch between apps a zillion times to get a clear grasp on what's ahead. It keeps your day beautifully organized in one glanceable screen that should simplify your morning routine. (Oh, so Morning makes your morning more manageable? I see what you did there.)
The app consists of different panels of must-know info: The date and time, your reminders, the weather forecast, a newsreader, your calendar, your daily stock info, your current commute time, and an event countdown. It connects to Apple's stock iOS apps to pull in all of that information.
After you select your overall color palette, edit each individual panel with your preferences to truly customize Morning and make it your own. For example, set your city for the weather panel, and indicate how you'd like your clock and calendar to be displayed. Panels are displayed as neatly organized horizontal tiles on the iPhone, and mismatched rectangular shapes on the iPad version. You can rearrange Morning's panels by simply dragging and dropping them into place.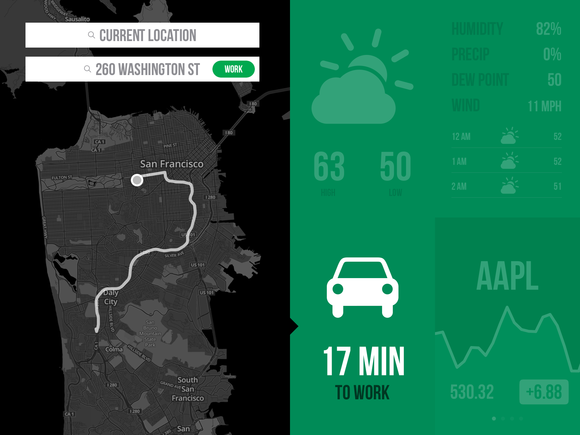 I particularly love Morning's news ticker. You can plug in any source that has an RSS feed, and Morning will show the day's latest headlines with links to the full story if you'd like to read more. Checking the news is a critical part of my morning routine, and this lets me swipe quickly through headlines to give me a taste of what's going on.
Morning is really all about simplicity. It cuts through the noise to only show you the things you absolutely need to know, and it keeps it all in one place. I'd eventually love the ability to keep this as a lock screen on my iPhone with a dash that's constantly up to date, but for now this exceedingly helpful little app has earned a spot in my morning routine.
Morning costs $4 and is available now in the App Store.