Just seven months ago, Wall Street was in a panic over Apple's China prospects, fearing that the company's newest iPhones were neither cheap enough nor exciting enough to drive sales.
Those investors and analysts may be singing a different tune now, as Apple's China earnings buoyed the company and helped it beat Wall Street estimates last quarter. And there are signs that the best is yet to come.
Growth market
According to Apple's Q2 2014 earnings statement, net sales in China reached a record $9.3 billion last quarter. That's a year-over-year increase of 13 percent in China, compared to just a 5 percent increase for revenues worldwide.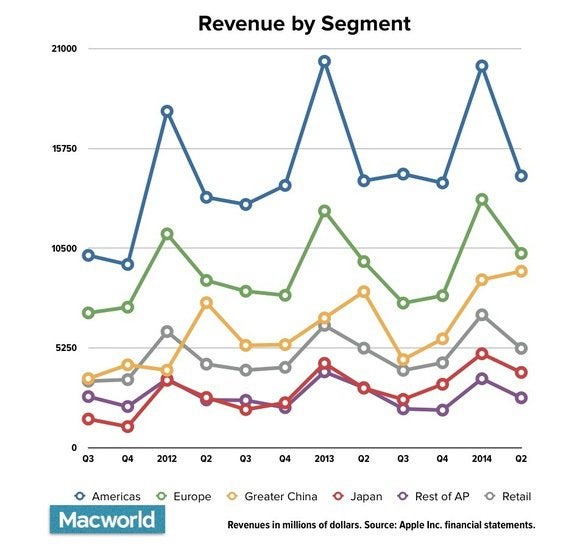 China revenues aren't a drop in the bucket, either. Greater China is Apple's third-largest geographic segment, making up 20 percent of the company's quarterly net sales. That's up from just 12 percent a few years ago, and it's not far behind second-place Europe (which fell by a point to 22 percent last quarter). (The Americas are still way out in front, at 31 percent of overall revenue; they were down, too, but only by a percentage point.)
Not surprisingly, the biggest driver for all that growth was Apple's iPhone. As CEO Tim Cook noted in an earnings call, iPhone sales in China were up 28 percent last quarter. Many of those sales were to first-time iPhone buyers; for both the iPhone 4S and iPhone 5C, at least 60 percent of buyers were switching from an Android phone.
Apple attributes the iPhone growth to the arrival of new iPhones last fall (at the same time that they launched in the United States), higher demand for Apple's entry-priced iPhone (presumably the 4s), and long-awaited support for the iPhone on China Mobile, the country's largest wireless carrier.
Again, these aren't shocking developments, at least among cooler-headed analysts who weren't expecting a dirt-cheap, emerging-market iPhone last fall. Instead, iPhone sales are a sign that Apple's steady approach to China is starting to pay off. And Apple isn't finished reaping the benefits of its China Mobile deal. As of January, Apple was selling the iPhone in 16 cities with China Mobile, but plans to be in over 300 cities by the end of the year.
Going legit?
What's more surprising is how iTunes sales grew last quarter. According to Cook, software and services revenue more than doubled in the second quarter.
While Cook didn't explain the revenue growth, it's possible that a sharp drop in jailbroken devices is helping bring more users into Apple's ecosystem. In January, analytics firm Umeng reported that iOS jailbreak rates were down to 12.7 percent in China, compared to 32 percent at the beginning of 2013.
As Technode reported at the time, China was among the first markets to receive the new iPhone 5s and 5c last fall. This helped boost sales through official channels, rather than gray market dealers who offer jailbreaking services. It's safe to assume that, the more official channels there are, the more likely customers are to get hooked on Apple's software and services, which may help explain why Apple plans to triple its number of China retail stores over the next two years.
Even Mac unit sales saw a boost last quarter, increasing by 13 percent while the rest of the PC market plummeted. It's yet another sign that Apple is building a customer base in China without stooping to lower-priced, lower-quality products.
Not all the news was cheery in China last quarter. Sales of Apple's iPad declined, though Apple blames the drop on "differences in timing of new product launches." Basically, because Apple launched new iPads near the end of Q1 2013 in China, it had to produce lots of units in Q2 2013 and sell them into the retail channel. But this year, Apple launched new iPads in the early part of Q1 and produced lots of new units that same quarter. By the time Q2 came around, Apple was reducing its channel inventory. Not counting changes in channel inventory, Cook said that demand for iPads rose by 6 percent in China year-over-year. That's better than IDC's forecast of a flat tablet market, but not a huge increase.
When we looked at Apple's history in China last fall, we concluded that the company can find success by pursuing the same strategy it does elsewhere: making premium products that people are willing to pay for, even if they're more expensive than some competitors. Some analysts may continue to call for Apple to produce cheaper products in pursuit of Chinese market share, but that would only result in short-term gains. As last quarter's results have shown, Apple is much more interested in positioning itself there for the long haul.