Maybe it's the recent release of Word, Excel, and PowerPoint apps for the iPad. Maybe you want to make sure you have access to the latest version of Microsoft's Office suite on your multiple Macs (and even PCs). Or perhaps you want the perks, such as 27GB of total OneDrive cloud storage per user and an hour of free Skype world minutes each month. Whatever the reason, you've weighed your options and decided that an Office 365 subscription makes sense for you.
So now you're stuck paying $10 a month or $100 a year for an Office 365 Home subscription, right? Not exactly. If you know a few tricks, you can get some free time on your subscription, and also save money over Microsoft's standard yearly rate. (We'll assume you don't want to go with Microsoft's Office 365 Personal subscription, which costs $7 a month or $70 a year, but limits you to use on one computer and one tablet.)
Get a free month
The first thing you should know is that anyone can sign up for a free one-month trial of Office 365 Home. You'll need to have or set up a free Microsoft account. If you already have a Windows Live ID—or Xbox Live, Outlook.com, or OneDrive account—you've already got what you need. You'll have to provide a credit card, and you'll be billed $10 if you don't cancel before the free month is up.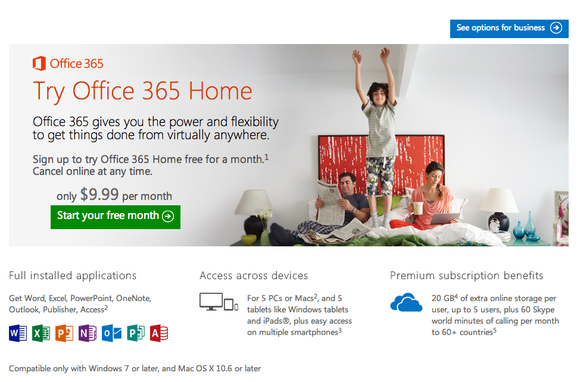 Don't buy from Microsoft
Before that trial period is up, you should have a pretty good sense of whether or not you're ready to commit to a full year of Office 365 (which, as indicated earlier, provides a savings over the month-to-month option). But instead of subscribing from Microsoft's website, or making a $100 in-app purchase via one of the Office for iPad apps, look elsewhere.
The cheapest way to subscribe to Office 365 is by purchasing a discounted subscription key card—a plastic card with a 25-digit product key printed on the back. As of this writing, you could buy such a card on Amazon for around $68 plus shipping.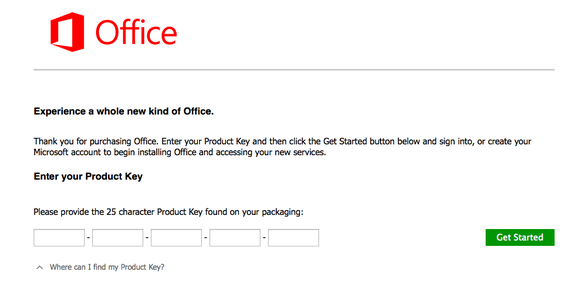 Once you receive the card in the mail, you'll need to activate your subscription. To do so, log into your Microsoft account, click your name in the upper right corner of the screen, and select My Account from the drop-down menu. Now scroll down to the bottom of your account page, and in the Payment and Billing section look under Renewal Information.
There you'll find a Activate Office with a Product Key link. Click it and you'll be taken to a page where you can enter your product key. (You can also go directly to officesetup.getmicrosoftkey.com.) Enter the 25-digit code found on your card and click the Get Started button to activate. You'll then have to choose your country/region and language on the next page. Click Continue and you now have 13 months of Office 365 for more than 30 percent off the cost of a single year.
Stock up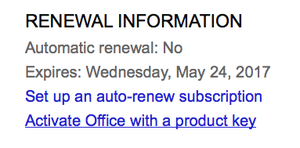 Looking to extend your subscription even further into the future? Microsoft doesn't advertise it, but you can in fact stack up codes in order to subscribe for multiple years. Just buy two or more cards, and revisit the activation page to enter the codes for each one. After submitting each, you'll see your subscription extended by another 12 months.
For example, I bought three product-key cards from Amazon for a total of $216.30. Figuring in the free trial I mentioned, that comes out to $5.85 a month for three years of Office 365 Home. Or you can buy one year, and then keep an eye out for a good deal on a product key card in the future—you can add its code to extend your subscription at any time while your subscription is active.