At a Glance
Expert's Rating
Pros
Almost as many features asa DSLR
Excellent build quality
Perhaps you already own a Canon digital SLR but want something a bit more portable. If you'd be happy with a high-end fixed lens camera, then the Canon PowerShot G16 is the one to go for. This brick-like, aluminum compact camera is thankfully every inch the professional's back up.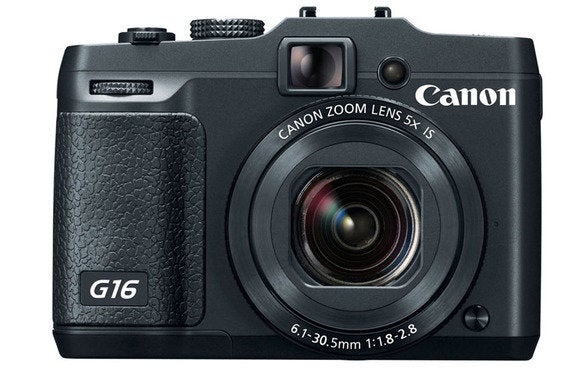 Imagine a DSLR that has been placed in a car compacter, and you end up with a boxy chunk of metal, though size-wise the G16 is closer to fitting in a roomy jacket pocket than a trouser pocket. The camera feels reassuringly solid in the palm, and it has a rubber-padded handgrip for a firm hold.
The G16's 12.1-megapixel resolution is initially modest sounding, but the camera has a back-illuminated 1/1.7-inch CMOS sensor that's physically larger than average for a compact camera. This is married to a 5x optical zoom, providing a focal range equivalent to 28 to 140mm in 35mm film terms.
The maximum aperture is a fast f/1.8 at the lens's widest setting. Even at maximum zoom, the G16 offers a bright f/2.8 aperture. Handy, if you like shooting with a shallow depth of field (where your subject is sharp but whatever's in front or behind it is subtly blurred) so that your subject really pops out of the frame.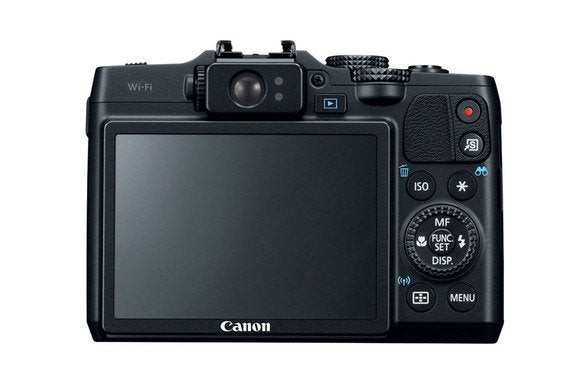 Overlapping dials on the top plate allow manual control of exposure (+/- 3EV) and selection of shooting modes without having to delve into on-screen menus. A dedicated button at the back of the G16 can be used for adjusting light sensitivity settings between ISO 80 and ISO 12800—an extra and welcome shortcut.
The G16 has an eye-level viewfinder for framing shots, in addition to the standard 3-inch LCD for arm's length image taking, plus Wi-Fi connectivity for sharing your pics.
Thanks to Canon's latest generation Digic 6 processor, the camera is no slouch in the speed stakes, managing an impressive 12.2 frames per second in continuous shooting mode, and up to 60 fps when shooting 1920-by-1080 video.
The pictures the G16 produces are worth treasuring, with colors beautifully realistic and detail pin sharp. Just stick to under ISO settings under 6400 to avoid an obvious deterioration of fine detail.
Up to 480 shots can be eked out of a full charge of its lithium ion battery if operating in eco mode, which isn't bad.
Bottom line
The PowerShot G16 is a compact workhorse camera that's hard to beat. It has a rock-solid build quality, a DSLR-like feature set, and great-looking picture quality.