Reader Lowell Brown contacted me on Twitter with the idea of helping a kinsperson with their email. He tweets:
I'm going to help a family member move from a PC to a new Mac. How can we convert Outlook .pst archives to a format compatible with Apple's Mail?
Microsoft uses the PST (Personal Storage Table) file format for Outlook's messages and events. Although the format is accessible to Outlook for Mac, Apple's Mail won't deal with such archives. Therefore you have to convert them.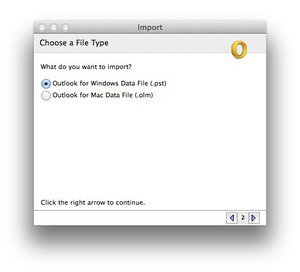 There are a couple of ways to do this. If you already have a copy of Outlook for Mac, simply launch it, choose File > Import, select Outlook Data File (.pst or .olm) in the first Import window, click the Next button, select Outlook for Windows Data File (.pst), click Next again, navigate to the .pst file you've copied to your Mac, select it, and click Import. As promised, those messages will be imported into Outlook and filed under the On My Computer heading. Drag the folder that contains these messages to the desktop and it will be turned into an mbox file that you can import into Mail.
"But dude!," you blurt with a shocking informality, "I don't have a copy of Outlook for Mac!"
Yes, but you could—free for 30 days—if you punch the Try Now button on Microsoft's Office 365 Home page. As the previous sentence hints, this gives you 30-days of Office for nothing. After you've converted your files it's entirely up to you whether you wish to hang on to Office and pay the $10-per-month subscription price when your trial ends.
If that sounds like a bother (and yes, it kind of is, but hey, it's free!), you can go with a dedicated utility such as Gladwev's $25 PST Converter Pro (Mac App Store direct link). It couldn't be much easier to operate. Just select the .pst file you've exported from Outlook on the PC, choose what you want to convert (mail, contacts, calendars), select the output format (mbox or eml for mail messages), and click Start. The messages will be converted to a form that you can import into Mail. Personally, I'd choose mbox.
Now launch Mail, choose File > Import Mailboxes, select File in mbox format in the resulting window, click Continue, navigate to the exported mbox file, and click Choose. The messages will be added to Mail and found under the On My Mac heading within an Import folder.
Is something about your Mac or iOS device puzzling you? Send your questions to Mac 911 and help may be on the way.