Selfies have met their match, people. It's time to stop being so egocentric with your snaps and invite your friends to get in on the heavily filtered images you'll soon blast to your entire social network. That's right, the "groufie" is here—group selfies that follow the same principle but have more people. (So that must mean more fun, right? Right?)
Whatever your portrait preference may be, most selfies lack the same thing: Context. One of the coolest (okay, maybe most interesting) photo collage apps out there is Frontback, which helps with the context problem and adds a bit of a storytelling element to the picture.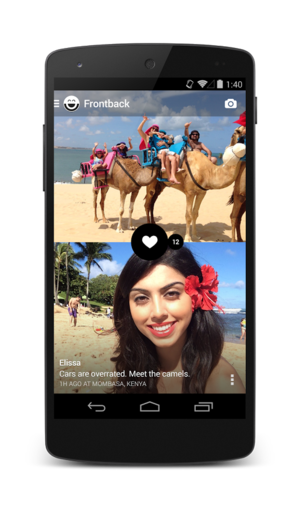 Frontback is a social photo app that takes advantage of your phone's front and back cameras. It snaps a photo with each back to back, and stitches them together in a two-photo collage. That way, each selfie you take gives a little insight as to where you are and what you're looking at, or what else is around you.
When you launch Frontback, you'll see a horizontally split screen that will eventually house a photo in each section: One taken with your phone's front-facing camera—the traditional selfie cam—and one snapped with the back camera. By default, the back-facing camera turns on first, and the view is displayed in the top window.
Then, Frontback swaps cameras for the bottom photo. You can set a timer, so that the app automatically switches cameras and takes the next photo without you having to set anything up. Or, just freehand it by pressing the center button to take the second photo.
If you don't like one of the photos, just swipe across the image to retake it. When you're finally happy with your mini collage, add a caption and share it. Frontback has its own social feed of users, but you can also share your collage via Instagram, Facebook, Twitter, and other social channels.
And that's the gist! It doesn't have any fancy filters or complex editing tools, but that's not the point: Frontback gives you a quick and easy way to share what you're doing in just a few steps. Plus, now you show off that beautiful sunset or rolling hillside or famous landmark and your gorgeous mug at the same time—without blocking the view.