Around the office I'm known (among other things) as the Guy Who Won't Shut Up About Music Subscription Services. Since the mid-2000s I've cheerfully pungled up my monthly subscription fees for such services as Rhapsody, Napster, Spotify, Rdio, Mog, Pandora, Slacker, and, most recently, Beats Music. And, with a little less cheer, my colleagues (and some readers) have cocked a curious eye and inquired, "Why would you rent your music rather than own it?" With rumors circulating that Apple is talking to Beats Music about a change of ownership—and given that Beats happens to be my current favorite among the subscription services—I thought it time to revisit the topic.
The times, they are a-changin'
The point of a music subscription is to allow you to listen to any music ever recorded, available wherever you are. This music floats in the ether and whether through computer, AV component, automobile, or mobile device, you have the ability to turn on the tap and push that music into your waiting ears. Yet for years the idea has been discounted. And who better to discount any idea than Steve Jobs?
In 2003, Apple's CEO had this to say about subscription services:
Well, they've failed. They've completely failed. Nobody wants to rent their music. They have hardly any subscribers.
But the digital landscape has changed since then. Subscription media streaming has become a far more acceptable notion thanks to video services such as Netflix and Hulu, as many people now "rent" their access to movies and TV shows. Pandora remains a popular music streaming service (though more people take advantage of the free plan rather than pay for it). And when Spotify finally emigrated to the U.S., many stopped heaping scorn on music subscriptions and tuned in to try it. Some liked what they heard.
An additional factor that has made streaming services more attractive can be laid firmly at Apple's doorstep—the devaluation of the album as listening unit. Back in the day, if a band had one or two hits on the radio you sprung for the 14-song LP rather than the 45. The audio CD did nothing to change this: You simply paid more for your music.
Then the iTunes Store came along and popularized the playlist. Rather than being stuck with weak material necessary to fill out an album, you could purchase just those songs you wanted and arrange them in an order of your choosing. Listening to an artist's "work" from beginning to end—particularly among younger listeners—became the exception, not the norm. And to put issues of limited shelf space aside and shop for your singles at the largest virtual record store on earth? Amazing.
For many of us, the next logical step was to wonder what it might be like if we had browsing rights to that store. Just walk in and, for a reasonable monthly fee, put on anything you like (and download a copy to your devices). This is what I appreciate about music subscription services. It satisfies the 17-year-old within who would have loved to have an after-hours pass to Tower Records.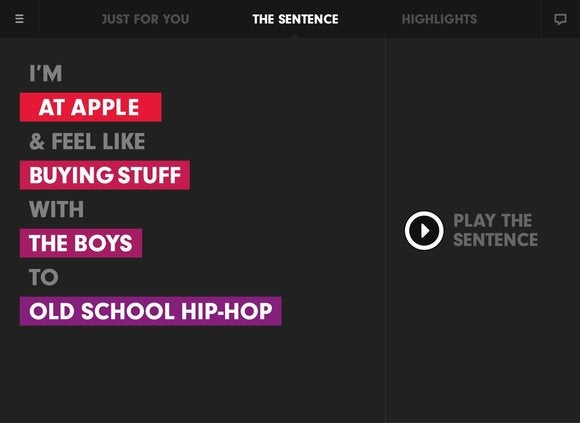 When choice is a burden
Miraculous as access to millions of tracks is, it doesn't take long before you're overwhelmed by choices. If you can listen to absolutely anything, where do you begin? I suspect that many people taking subscription services for a test drive head directly to the I Already Own This aisle. For many people, music is like comfort food. We tend to glom on to music that had/has an emotional impact on us and we like to revisit those emotions from time to time. But on repeated play, those emotions can get tamped down with familiarity. Enough of that and you get bored and leave.
The point of music subscription is that it broadens your musical horizons—it takes you somewhere outside the familiar yet still delivers the goods by introducing you to new music that evokes those same kinds of emotions. As long as you remain musically engaged, the more likely you are to cough up those monthly fees.
That's largely the idea behind Pandora (and, less successfully, iTunes Radio). But what about the larger services? All of them have tried—through channels, stations, and social networking schemes—but their bread-and-butter remains quantity rather than curation.
And then along came Beats Music. As I tried to point out in my first look at the service, Beats has approached the problem from a different angle. Rather than rely on algorithms, Beats has hired professional listeners—experts in particular musical genres. Their job is to not only know sometimes-obscure genres from front to back, but also to produce playlists that present the most appropriate work of a genre or artist or even an emotion. Done right, this begins to address the "What Do I Listen To Now?" issue. There remains room for algorithmic answers, but at its core Beats is real people listening to real music addressing real listeners' needs.
If you accept that there's room in this world for both ownership and subscription, curation is key. And currently, Beats Music has the edge.
Where from here?
I'm the last person on earth to comment on the valuation of services. While I think music streaming will become increasingly important in the future (and ownership less so), is paying $3.2 billion for Beats any less sane than Facebook dropping $19 billion on WhatsApp? Again, no clue. But I do see areas where Beats and Apple make sense together.
Apple has been known for years as the company that acquires those considered best-in-class in their particular field. Specifically in regard to music, in 2002 Apple acquired Emagic, the German company responsible for the Logic digital audio workstation (DAW) application. While dense, Logic was considered the most powerful DAW of its time. Since that acquisition Apple has significantly cleaned up Logic's interface and released GarageBand, which, at its heart, is a form of Logic lite.
In my view, Beats is a similar standout in its field. However, as I've watched Beats grow over the past months I've noticed that its curation efforts are so broad that its playlists are starting to become unwieldy. If you go into its Find It area and tap Genres you'll find that some genres have hundreds of playlists—Hip-Hop has 835 of the things and Alternative, 553. On an iOS device, swiping through these lists becomes tiresome in a hurry. There are plenty of other ways to find music—through algorithmic recommendations based on what you've listened to and prefer, The Sentence (a playlist generator based on mood and activity), and featured music—but curation seems to be at the core.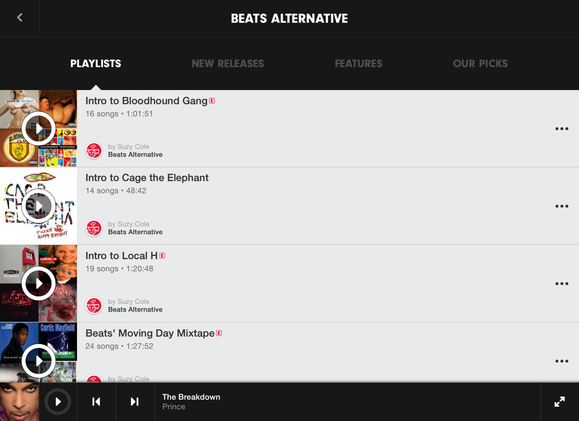 While Apple hasn't shown much leadership in social networking in regard to music or algorithmic playlist generation, the company certainly knows interface design as demonstrated in its taming of the Logic interface. With a Beats/Apple conglomerate, similar order could be brought to the service's curation efforts.
Then there's Beats' hardware business. Again, I'm not impressed with its headphones, but who says that the Beats technology would be confined to such intimate listening? Among Apple's audio efforts is AirPlay, a terrific technology for streaming music from the company's devices to receiving units. Among those units are iOS devices, Apple TV, Macs, AirPort Express, and compatible speakers and receivers. Yet none of them are great whole-home audio solutions. Yes, you can play the same music in multiple rooms from your Mac, but try doing it from an iPhone. Or attempt to play different music in different rooms, as you can with Sonos. Perhaps an Apple-and-Beats-branded home audio system would be attractive enough for people to justify the cost.
And of course as Beats is run by music insiders, it has the power to talk directly to artists, producers, and labels. Apple prides itself on the exclusives it offers on the iTunes Store. With Beats in its arsenal, this power could only increase.
It's possible that all this will come to nothing—that the Beats acquisition rumors were just that. However, whether or not Apple buys into subscription at this point, I'm fairly certain some kind of streaming service (and one far more powerful than the current implementation of iTunes Radio) is in the company's future and best interests. Ownership among younger listeners simply isn't as important as it was to their parents. Nor is the value of music particularly respected among a large number of people. The future is something other than clicking a Buy button on the iTunes Store. Perhaps this is the time Apple has chosen to think ahead and march to a different beat.