In this week's column, I take a look at a number of questions covering the full range of iTunes conundrums. How do you mass-delete music on an iOS device? What playlist is a song in? Why aren't my Harry Potter movies in order? And how can I find tracks where the Year tag is empty?
Can't delete, won't delete
Q: I use iTunes Match and I want to delete music from my iOS device to clear up space. I can't seem to do it from iTunes, and on my iPhone I'm only able to delete one track at a time. It there a way to delete whole albums or multiple tracks?
No. You used to be able to delete entire albums, but with iOS 7, Apple removed that feature. It's a shame as now you have to swipe-and-tap for each track you want to delete.
You can, however, delete all your music if you want. To do this, go to Settings > General > Usage, then tap Music. On the Music screen tap Edit, swipe the All Music item to the left, and tap Delete. You can't undo this, so make sure you really want to.
And, yea, I think it's pretty stupid that you can't delete albums on iOS; this is the case whether you use iTunes Match or not. If you need to make room to download a large app or a movie, it's a long, painful process deleting songs one at a time.
Where's that song?
Q: I listen to my music in iTunes in shuffle mode most of the time. Sometimes I hear a song but don't know which playlist it's in (or if it's in any playlist at all). How can I find out which playlists a song belongs to without manually looking through my hundreds of playlists?
If you Control-click (right-click) on a song—in any location in your Music library or in a playlist—and then choose Show in Playlist, you'll see all the playlists that contain that song.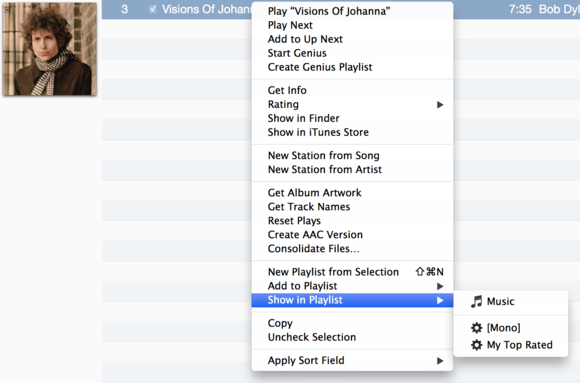 Potter in order
Q: I bought the complete Harry Potter movie collection but I can't seem to find a way to sort them chronologically. When I select a movie and press Command-I to view its tags, iTunes shows each movie as 1 of 8, 2 of 8 and so on but still displays them in alphabetical order. Is there any way to view them in order?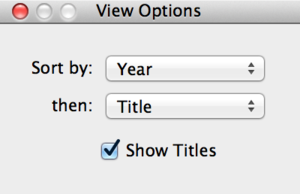 There are two ways, and you might want to use each. When you're in your Movies library, if you choose View > View Options (Command-J) you can choose to sort the movies by Year. You can then choose a second sort condition, such as Title. In that case your movies will be displayed in chronological order, and, within a given year, in alphabetical order.
This works if you have the Year tag filled in for each movie. If you don't, all the movies with empty Year tags go at the beginning of the list, in alphabetical order. It's worth noting, however, that the original tags in the Harry Potter movies downloaded from the iTunes Store don't have the correct dates. My copy of the first movie in the series was tagged with the year 2012 when it was actually released in 2001. So you might want to check the year tags if you choose to use this method.
Another way—which I find more useful because it carries over to the Apple TV—is simply to add numbers before the titles of the movies. So, in my iTunes library, the first of this series is titled 1 – Harry Potter and the Sorcerer's Stone.
Finding empty years
Q: I've been trying to make a smart playlist to find all the tracks in my iTunes library where the year tag is empty. When I do this, trying the condition Year Is Less Than ___, iTunes fills in the year, setting it to 2014. How can I find tracks where there's no Year tag?
iTunes lets you create smart playlists where certain conditions are empty, but you're right; for some reason iTunes won't let you do that with the Year tag.
What you can do, however, is enter a year that's lower than any years in your music library. So just enter Year Is Less Than 1. An empty Year tag is considered to be 0, so this smart playlist will find your undated tracks.
Note that if you wish to enter year tags for your movies, this playlist will find them too. If you want to restrict the smart playlist to movies only, add a second condition: Media Kind is Movie. But that only finds movies with empty Year tags, not ones with incorrect tags, such as my Harry Potter movies.
Have questions of your own for the iTunes Guy? Send them alongfor his consideration.