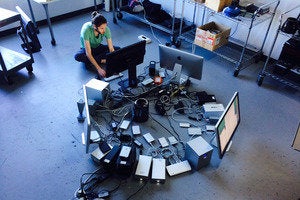 Thunderbolt has many practical uses, but this article is not about being practical. While reviewing the new Mac Pros, we in the Macworld Lab began thinking about fun things to do with those six included Thunderbolt ports.
We've already connected 42 devices to a single Mac Pro. What other mischief can we get into with Thunderbolt?
Laptop RAID
As you probably know, Thunderbolt Target Disk Mode lets you use your Mac like an external hard drive. Simply boot up your system while holding down the T key on the keyboard, and Thunderbolt's lightning bolt/arrow logo will appear and start floating around on the system's screen. You can then attach this Mac to another system and the internal storage from this targeted Mac will mount on its desktop just like any other connected hard drive.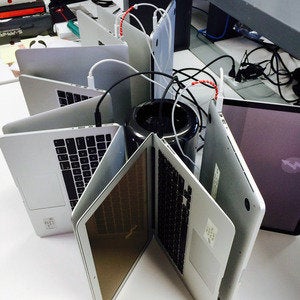 We decided that it might be fun to put six Mac laptops into Target Disk Mode and connect each to the Mac Pro via Thunderbolt. Then, using Disk Utility, we created 128GB partitions on each of the connected laptops and created a striped, RAID 0, array using these new partitions. The speed of the MacBook array was not very impressive, but its staggering price per gigabyte must make it the most expensive 750GB RAID we've ever tested.
Video wall
Internal drives aren't the only Mac component that can be targeted. You know those beautiful LED backlit, IPS displays found in iMacs? Pressing Command-F2 on your keyboard will put an iMac into Target Display Mode, which lets you use them as very expensive desktop monitors.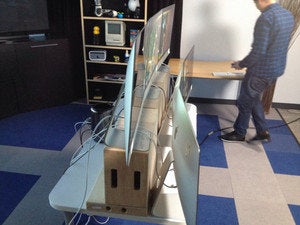 We took six 27-inch iMacs, connected them via Thunderbolt to a Mac Pro, and used Target Display Mode to turn them into a video wall. Unlike Target Disk Mode, Target Display Mode does not require a reboot and applications running on the iMac will continue to run even when the display is being used by another Mac.
We wanted to try and use this for Facetime video calls, but the iMac's camera isn't available when being used in Target Display Mode.
Cable length
Standard Thunderbolt cables are made with copper and have a maximum length of three meters. The Thunderbolt specification boasts 100-meter maximum cable length, but requires optical cables.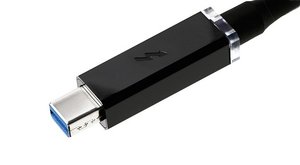 Corning makes optical Thunderbolt cables; we had a 10 meter (32.8 feet) optical cable in the lab that sells for around $300. Corning's optical cables are much thinner and lighter than the standard copper cables, but they don't provide the power that many portable drives rely on to operate. To use optical cables, the device needs to provide its own power.
Longer cable lengths can be helpful in situations like a recording studio, where noise from a hard drive or Mac might be picked up by microphones. We don't have that issue here in the Macworld Lab, but we did have one problem to solve. Our Daisy Chain Challenge test bed was located a room away, in our photo studio. Monitoring the test bed meant getting up and walking dozens of feet. With our handy Corning optical cable, however, we were able to start and stop tests while sitting comfortably at our desks. Hooray for technology!
Have more Funderbolt fantasies you'd like to see come to life? Tell us about them in the comments.
Mac Pro Quad-Core/3.7GHz (Late 2013)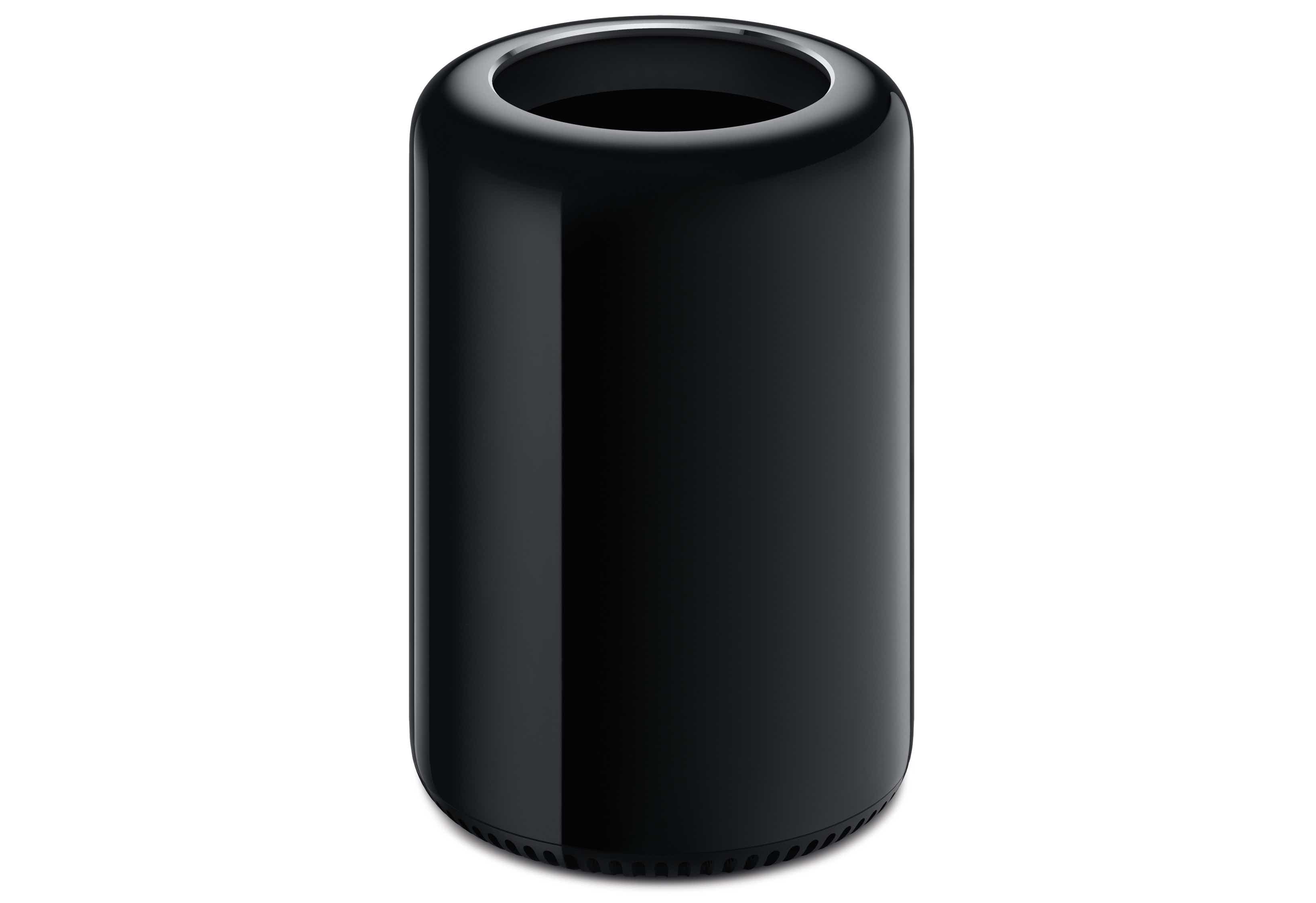 Price When Reviewed:
$2999
Read our full
Mac Pro Quad-Core/3.7GHz (Late 2013) review
Mac Pro (Late 2013)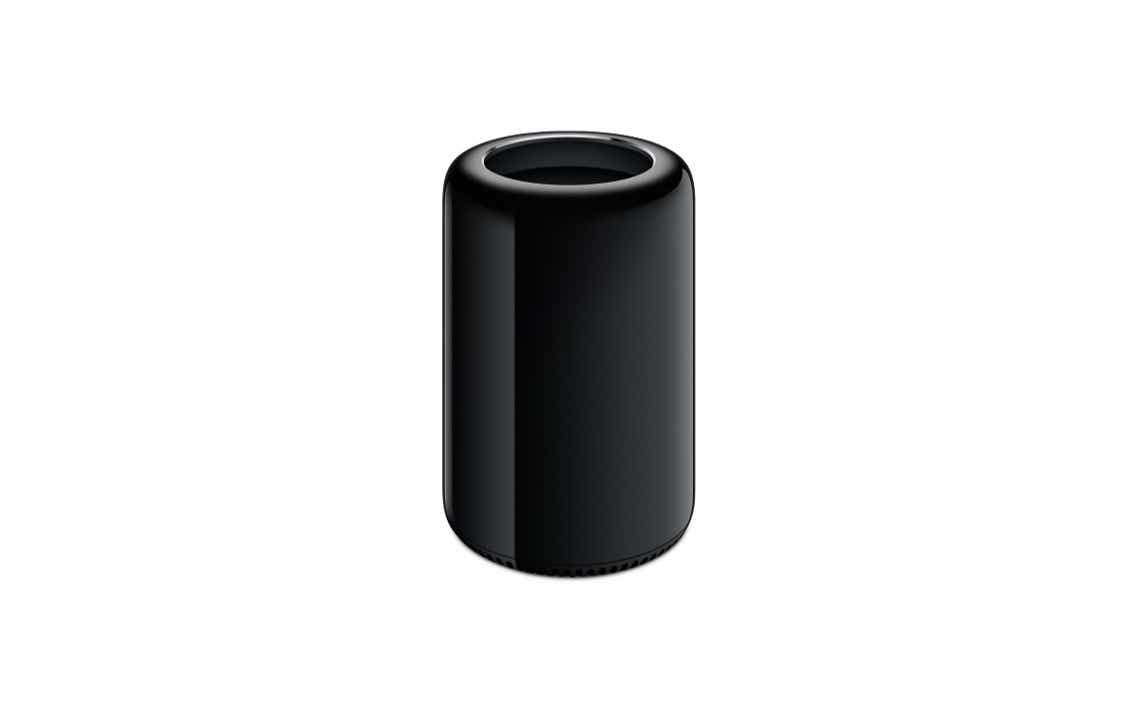 Read our full
Mac Pro (Late 2013) review
Mac Pro 6-Core/3.5GHz (Late 2013)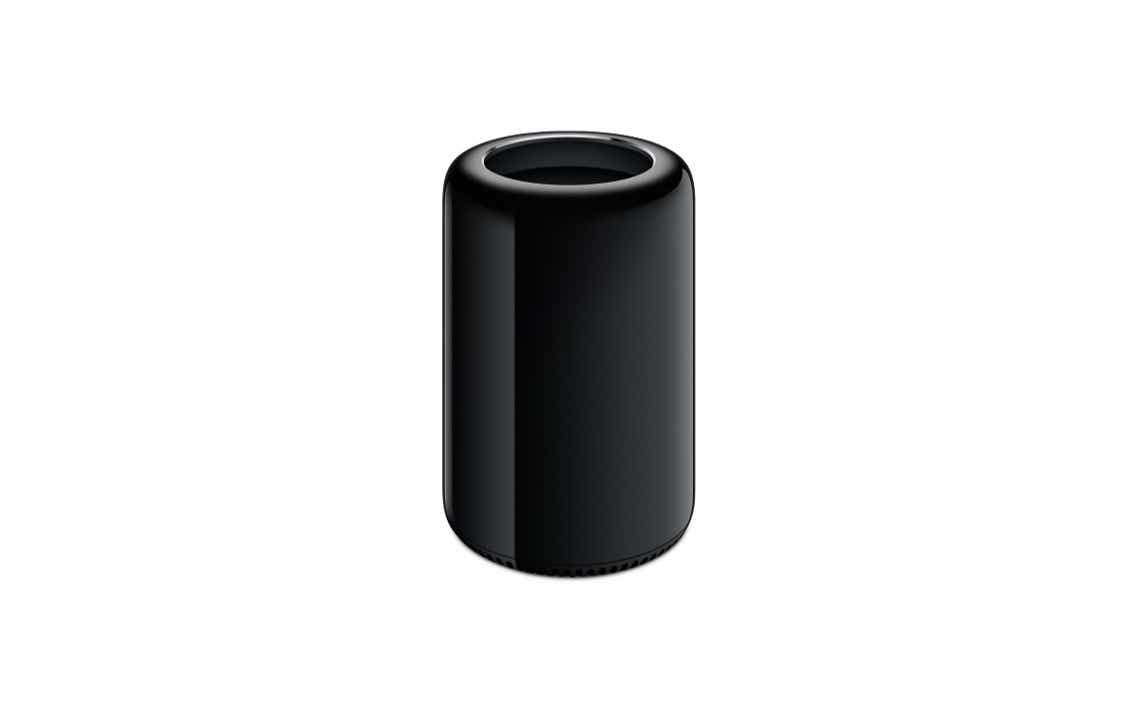 Price When Reviewed:
$3999
Read our full
Mac Pro 6-Core/3.5GHz (Late 2013) review