Workout buddies are awesome: They motivate you, inspire you, keep you accountable, and even offer up a little friendly competition. Having a workout buddy or a jogging partner is one of the easiest ways to stay on track and achieve your fitness goals.
But unless you're in a fitness-driven relationship—where your significant other pretty much has to hit the gym with you (because why else are you even together?)—it can be difficult to find a friend who shares your workout schedule and style. If you want a workout buddy but you're friendless and alone, don't fret: There are a couple of great options available to you. You can hire a personal trainer—hey, it's half the reason they have jobs—or you can download an app (which, let's be real, is a lot more affordable than the former).
That's right: An app. Thanks to social networks, you can sort of simulate the experience of having a work out partner with a fitness app that pits you against friends, acquaintances, and strangers.
No workout partner? No problem. Here are four apps that use social networking—and perhaps a teensy bit of competition—to motivate you to work out.
Pact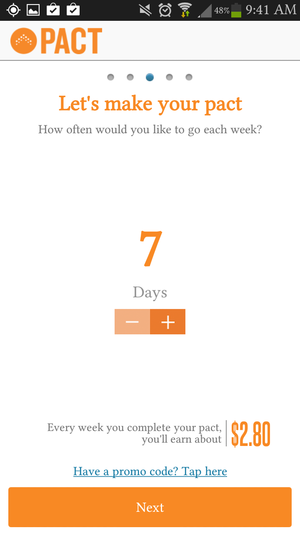 Pressure from friends is a great way to motivate your workout, but you know what's better? Money.
Pact, formerly known as Gym Pact (free; iOS and Android), is a free (sort of, but we'll get to that in a moment) app that challenges you to up your workout stakes by adding cash to the mix. Pact is maddeningly simple: You make a pact to work out, and if you fail to keep it, you pay. If you do keep your pact, you get money—paid from the pockets of members who failed to keep their pacts. You can customize your pact to suit your needs, which means you can choose the number of days you want to hit the gym, as well as how much you'll pay for each day you miss (with a $5 per day minimum). If you keep your pacts, the app pays you. If you don't…well, that's on you.
Pact offers three different types of pacts: A gym pact, a food logging pact, and a veggie pact. The gym pact keeps you accountable with GPS; to prove you worked out, you'll need to check in at your gym or track your run with GPS. The food logging pact and veggie pact are a little more forgiving: Food logging simply requires that you log your meals with My Fitness Pal, while veggie asks you to take photos of your veggie servings.
Although Pact doesn't let you work out directly with friends, it does use social networking to offer a powerful (read: money) incentive to hit the gym.
Fitocracy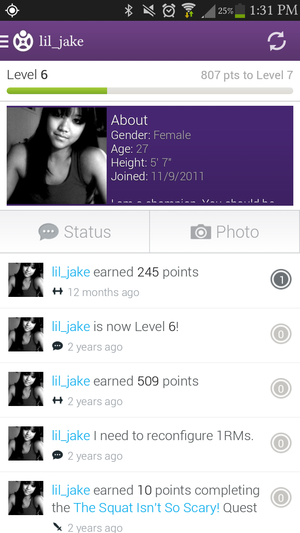 Nothing's more social than a social network, and that's exactly what Fitocracy is: A fitness social network. Like Facebook, Fitocracy (free; iOS and Android) is a full-fledged social media site with profiles, status updates, and friends—it just happens to have a fitness angle. Unlike Facebook, Fitocracy has a heavy gamification element. Each workout or exercise you perform and track on the social network earns you points, badges, and levels.
Fitocracy is essentially a workout tracker that ties into the social network. With the app, you can easily log your workouts (and earn points), discover new programs, and follow friends.
Unlike Pact, Fitocracy is both a community and a competition. So if you're the type of person who works out with friends because you enjoy collaboration, Fitocracy is a good fit—you can cheer friends on with props (similar to Facebook Likes) and comments. Of course, if you're more the competitive type, Fitocracy's gamification aspect allows you to compete against both yourself (for individual achievements and badges) and others (for a spot in the leaderboards).
RunKeeper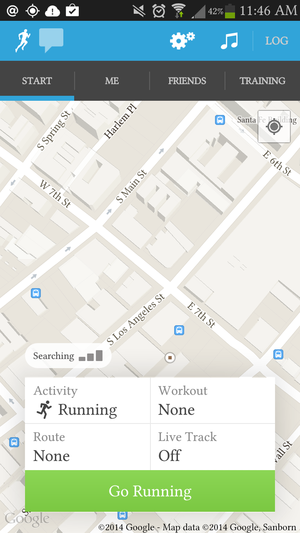 Running isn't fun (in my opinion), but it's more fun with friends! RunKeeper (free; iOS and Android) is a fitness tracking app that lets you map courses via GPS, log workouts, set goals, and track your progress. But it's more than just a workout log—it's also a social network that lets you follow, train with, and compete against your friends.
With RunKeeper, you can follow your friends and encourage them with comments and likes as they train. RunKeeper also has personal, custom leaderboards, so you can see how you stack up against your friends each month. For people who like to dabble in other social networks, the app also connects with Facebook and Twitter so you can share your workouts and maps.
RunKeeper is a nice catchall app for cardio freaks. Not only can you log all types of cardio workouts (including gym workouts), you can also use the app to discover goal-based training programs and keep a record of your personal bests. The app is compatible with a number of third-party apps and accessories, including My Fitness Pal, Garmin GPS watches, and Fitbit activity monitors, so it's easy to incorporate into your fitness plan.
BodySpace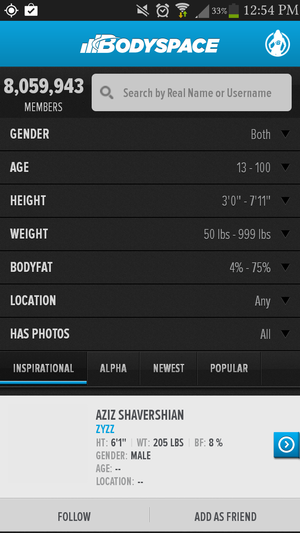 Most fitness apps and gadgets are skewed, at least slightly, toward runners. But there are a handful of useful apps for lifters out there. BodySpace— BodyBuilding.com's lifting social network—is one of them.
BodySpace (free; iOS and Android) is similar to Fitocracy and RunKeeper, but for weight lifters—not runners or general fitness people. The app offers social network-like features, such as "Fit Status" updates, motivation updates (tap a chart to record how motivated you are—think of it like a mood indicator), and photos (for recording your growing six pack, naturally). You can also add and follow friends, for motivation or inspiration on your fitness journey. Friends are different from followers: Anyone can follow you (and you can follow anyone), but only friends will share that mutual connection.
BodySpace isn't just a social network. It's also got an exercise database, a workout program database, and a direct link to the BodyBuilding.com store. And while there's no direct competition (no leaderboards or achievements), just seeing your friends log their lifts can certainly kick your competitive spirit into gear.
Your phone is your workout buddy
Working out with a partner is great, but working out with your phone can be even better. Think about it: These apps let you find people from all over the world who match you in strength, speed, and skill, which means you'll always feel challenged (no matter how good you get). They also let you work out with the partner of your choice, whether that partner lives one town over or across the world.
Just remember: The main reason workout buddies are so useful is that they force you to be accountable. So if you really want a fitness social network to help you out, make sure to maintain that accountability by filling out your profile, posting pictures, and adding as many friends and followers as you can. That way, you know you're letting someone down every time you miss a gym date.