My boyfriend and I have an almost out-of-control collection of Mickey Mouse Vinylmation. (Yes, I'm adult, and we all have our vices… one of mine just happens to be painted Mickey Mouse figurines.) And it's getting to the point where I sometimes forget everything we've amassed so far. Most of the time, that's never a problem—I can just consult my ever-growing bookshelf at home—but when I'm out on the hunt or trading with another collector, I find myself scrambling. Do I have the chaser from this set? Did we take Carl and Ellie out of the box? Which Dapper Dan am I missing?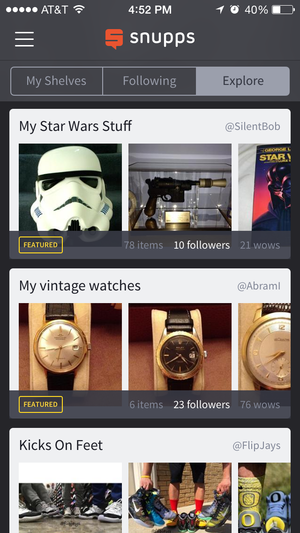 Snupps, a new stuff-organizing app for iOS, would be amazingly helpful in this situation. Its goal is to keep track of what you own, where things are stored, and what their value is. As we hoard—er, collect—more stuff, it's easy to lose tabs on the physical objects that we find most important, but Snupps won't forget.
The app consists of virtual shelves that keep a record of your favorite things. You can make shelves for whatever categories you want: Maybe one for your record collection, another for your favorite sneakers, and one for your childhood keepsakes that you have tucked away in the crawlspace under the stairs. Upload photos of each object you'd like to track and then place them on a shelf, adding info about it, like the date you got it and where it's from.
Snupps also has a Pinterest-esque social aspect, where you can follow shelves from other users that you like. Mark your own shelves as private or public, depending on if you want the members of the Snupps community to see what you've got.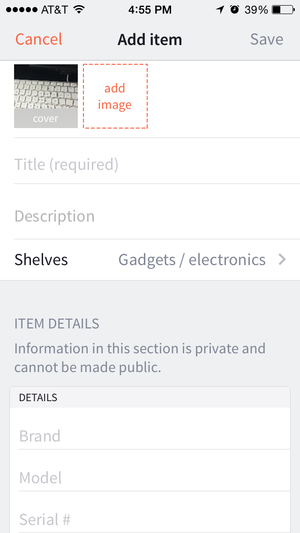 If all of that sounds pretty vague, it's because it is. Snupps can be used in several different ways For example, if you're packing for a trip, make a shelf for all of the items you're packing in your suitcase, just in case your luggage gets lots and you need to replace the items. You can also use Snupps to manage your closet, take note of what you're packing away during a move, and keep records of important documents. (And, you know, use it as a reminder to go easy on the toys during your next trip to Disneyland.)
Collectors will particularly like Snupps' community feed. If you're an avid collector of stamps, for instance, build a shelf with photos of your inventory and info about each piece, then mark that shelf as public. Other users can follow your stamps shelf and leave comments. This feature lets people meet other likeminded collectors, and you can easily share tips and recommendations through the app.
Snupps is new and is still growing its community, but I've already seen some cool, creative uses for it. Whether you want to use it to brag about your possessions and socialize with others, or if you'd rather use it strictly for organization, Snupps is there to keep your materialism in check, and actually encourages it.
Snupps is available now for iOS devices, and is coming soon to Android.