These days, keeping up with games can be a full-time job. So how do you separate the signal from the noise, the wheat from the chaff, the Temple Runs from the Temple Jumps? Allow us to help by regularly selecting a game You Should Play.
If you saw this game's title, rolled your eyes, and were ready to shrug it off forever, it's OK—I don't blame you. The craze surrounding Flappy Bird and the countless clones that spawned in its wake is one of the more confounding things to happen in the mobile market in some time—and that's really saying something.
We've already moved onto (and hopefully past) lazy clones of the amazing Threes, so why spend a second reliving the Flappy nonsense? Because Flappy Golf on iOS—currently titled Golfy Bird on Android, due to Google cracking down on "Flappy" titles—isn't a lazy cash grab, and besides the name, the only link it has to Flappy Bird is the flapping mechanic itself. And that is used to move a ball around fantastical 2D golf courses.
Flappy Golf is actually a spinoff of Noodlecake Studios' superb Super Stickman Golf—perhaps the best sports game available on a touch screen—and it maintains the spirit of the real-life activity by challenging you to sink the ball in each cup using a limited number of flaps. What surely started as a dumb idea feels smartly executed in action, and Flappy Golf offers a startling amount of fun without a price tag.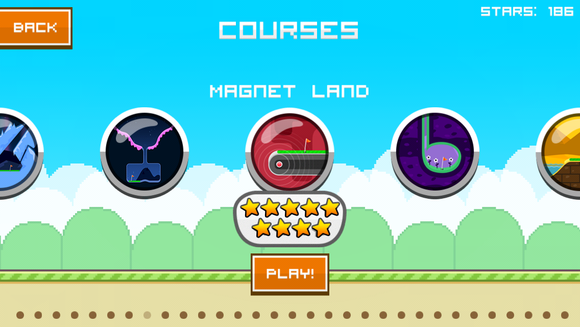 Still unsure about hitting the links with a bird-like ball? Here's what makes Flappy Golf a hole in one:
It's weird, but it totally works: Tapping virtual buttons to flap left or right on the way to the cup? Sure, it's an odd concept, but it's a great one. Maneuvering around the courses requires smart timing and momentum as you loop up and over hazards, deal with sticky surfaces, and try not to waste unnecessary flaps. It almost comes off like parkour, as you tap to gracefully overcome obstacles without killing your kinetic energy or getting snagged along the way. And yet it really does feel like a solid take on golf rules, at least in single-player mode (more on that shortly). You're awarded a gold, silver, or bronze star based on which flap target you hit, and anything less than gold will push you to do it over again as you learn the terrain.
It has tons of great, diverse courses: Were Flappy Golf a totally new, from-scratch release, it might have had just a handful of locales to play in. But luckily, it pulls in the library of amazing, distinctive courses created for Super Stickman Golf 2 over a long stretch of time, and thus offers a huge amount of content. The 31 included nine-hole courses span a wide array of terrain, ranging from the fairly straightforward Grassy Land to the totally insane, out-there Implausible Land. You'll also find crazy portals, spinning saw blades, and even massive magnets that'll repel your ball away. And 20 more courses are coming soon via an update.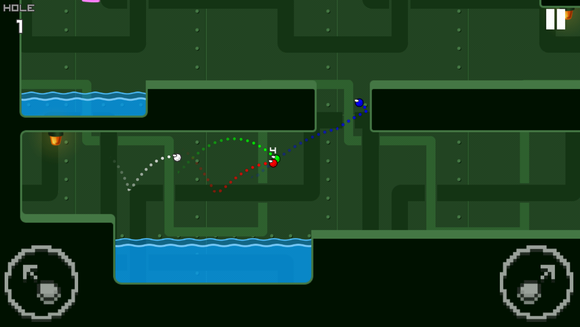 Multiplayer is masterful madness: As with Super Stickman Golf, the competitive side of Flappy Golf kicks the slow-paced, flap conserving approach to the curb and simply challenges all players to be first in the hole. Up to four players can take part online or locally via Bluetooth, and the result is hilarious mayhem. Sadly, the online play via Game Center is really inconsistent: I've frequently had games disconnect partway through or even while starting up, and the App Store reviews make it sound like I'm not alone in that. Hopefully it's fixed soon, but if you can get a few local mates together, the trash talking fun is tremendous indeed.
Best of all, Flappy Golf is legitimately free—none of the content is locked behind a paywall, and you don't have to wait for energy meters to fill or timers to wind down. Small ads appear, but you can kill them forever for a mere dollar within. That's a very small price to pay for several hours of potential fun, and well worth it to support a developer releasing amusing oddball gems like this.
Developer: Noodlecake Studios Platform: iOS (Universal), Android (Universal) Price: Free (or $1 to remove ads)