Word processing isn't the most amazing thing a Mac can do. But back in 1991, it was a word processor called Nisus that convinced me to buy my first Mac, because there was nothing like it for PCs. Nisus was my primary application for years, and now—after more than a decade in which it was all but useless to me—this app (now called Nisus Writer Pro) is back on my A-list. Here's why I've re-adopted it, and why I think more people should consider it.
The everything tool
You could say I have a bit of history with Nisus Writer. After learning about Nisus in grad school, I became a user, then a fan, and then a trainer. I later got a part-time job working for the developer, Nisus Software, and eventually became the product manager for Nisus Writer. (So, disclaimer: I worked for the company from 1994 to 1997.) And my first real book, published while I was still an employee, was called The Nisus Way. It was written both about and with Nisus Writer.
Back in the day, Nisus Writer was known as a specialist in multilingual word processing. It was also a favorite of academics, lawyers, scientists, and novelists. In addition to all the usual word-processing features, it had the most advanced find-and-replace capability I'd ever seen, an extensive macro language, and outstanding customizability. (One of my favorite features was sequential multi-key shortcuts—so, for example, you could assign the key combo Command-S-C-A to Save Copy As.)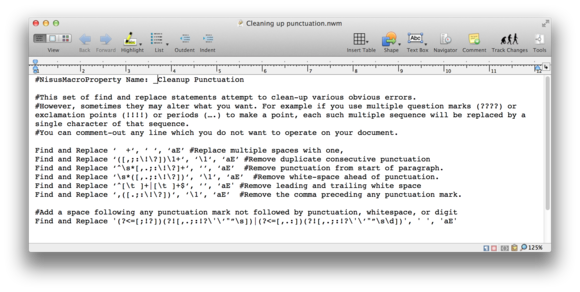 Nisus also pioneered unlimited Undo and Redo and noncontiguous text selection, two features that are commonplace today. And it offered capabilities like multiple, editable clipboards; highly flexible automatic numbering and cross-referencing; and a full suite of graphics tools. I thought of it not as a word processor but as a programmable everything tool.
The dark years
I would have been happy keeping Nisus Writer as my main writing tool indefinitely. But despite its many virtues, the Nisus Writer of the late 1990s lacked change-tracking and comments, which publishers and business users alike had by then come to depend on in Word. I could open and save Word documents in Nisus Writer, but because tracked changes and comments didn't survive the round trip, I was forced to use Word for most of my writing.
I actively disliked Word as a tool for writing books, and each version seemed to get more cumbersome. Apple's Pages was an improvement in some ways, but every time I used either app, I felt as though I were living in a time warp—word processing was to me considerably more awkward than it had been a decade earlier.
Back to Nisus Writer
Things turned around in 2011 with the release of Nisus Writer Pro 2.0. This was the first version of Nisus Writer to include both change-tracking and comments, plus most of my favorite features from Nisus Writer Classic and a bunch of new capabilities. All of a sudden I had my old toolkit back, in a modern package. It was as though I'd been limited to a machete and an open fire for all my cooking needs, and then walked into a fully equipped restaurant kitchen. In the years since, it has grown even more capable and reliable.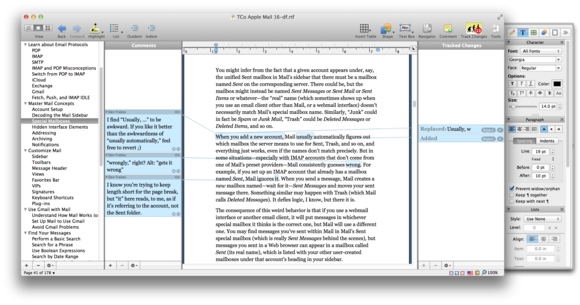 Eventually Take Control Books switched its entire operation over to Nisus Writer Pro, and I've already used it to write half a dozen books, plus new editions of several older titles. As an author, I can't overstate how much Nisus Writer Pro improves not only my productivity but also my attitude toward writing. It's fun again, and I no longer feel as though I must constantly fight with my word processor.
That's not to say Nisus Writer Pro is perfect. We've had to work around various bugs and limitations, but the macro language is sufficiently rich that I can frequently use it to solve my own problems, and I can go further by extending the app with entirely new features. Nisus Software has also been extremely responsive to our bug reports and feature requests—an advantage of being a small, agile team.
It's all about the words
I spend nearly all my work hours generating or editing text, and what I need most is a tool that lets me search, manipulate, reformat, and, you know, process that text any which way—quickly and painlessly. That's where Nisus Writer's power-user tools come in.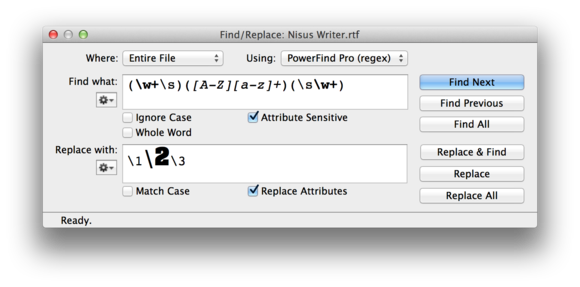 The find-and-replace feature I mentioned earlier is a prime example. It lets you describe search patterns using regular expressions, a powerful system for matching and replacing strings of characters. It also lets you apply styles to arbitrary portions of find and replace expressions, not just to the entire expression as in Word or Pages. For example, you could search for any capitalized word in italics surrounded by words in bold, and change the font of just the italic word, all in one operation.
If you're writing long books, academic papers, or other complex documents, that's the sort of capability (just one among many) that may save you countless hours of tedious work. And it's why I can't recommend Nisus Writer Pro strongly enough as a tool for people who use their words to make a living. It may not have the name recognition of Word or Pages. But, for me, it has something more important: word-processing power.