When I moved to Los Angeles last month, I signed a lease without ever seeing the actual apartment. In fact, I didn't see my new place until I arrived on move-in day with a 22-foot rental truck full of boxes and furniture.
Needless to say, this is not a moving strategy I recommend. But although I had little idea of what the place actually looked like (I had seen floor plans and photos), I didn't arrive completely clueless about what I wanted to do with the space. Instead of sitting around imagining how I wanted to decorate my new apartment, I'd spent hours browsing photos and ideas on interior design apps, honing in on design styles I liked, picking out color palettes, and even shopping for patio furniture. Whether you're moving, redecorating, or remodeling, these ten apps are sure to help you in the process.
Get inspired with Houzz
Is your interior decorating style modern and industrial or rustic and cottage-inspired? Do you want your bedroom to evoke Zen-like peace or sexy Hollywood glamour? Before you start tearing up tile or hanging large, heavy objects on your walls, use the inspiration app Houzz Interior Decorating Ideas (free; Android and iOS) to tap into your personal style.
I started using Houzz a couple of years ago when I was looking for home office ideas. It's sort of like Pinterest for interior design—it's a collaborative platform where anyone can upload design photos, create idea books, and shop for products. The website has thousands of professional photos categorized by style, room, budget, and size, and the app lets you easily browse and save photos for future projects.
If you can't find what you're looking for on Houzz, check out similar inspiration apps Interior Design Gallery HD (free; Android) and Dream Home HD ($1; Android).
Visualize with Ikea and Home Depot
Wouldn't it be awesome if you could see what furniture looked like before you brought it home (and spent three hours assembling it)? Now you can, thanks to a handful of impressive augmented reality apps from big box stores Ikea and Home Depot.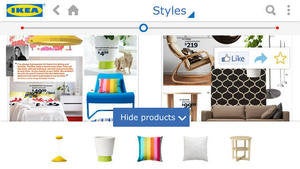 If you have a penchant for modern, affordable Swedish furniture, you're in luck: You can now try out select Ikea pieces in your home, using Ikea's 2014 paper catalog and its corresponding app (free; Android and iOS). It works like this: Place your catalog on the floor and point your smartphone camera at it. The app uses the catalog's dimensions to determine the room's scale, and places a sized-to-scale version of Ikea furniture in your room. If you don't have a catalog, you can print out the cover (for scaling purposes) from Ikea's website, or you can scale the furniture yourself using multi-touch gestures. Ikea offers this "preview" service for around 100 pieces of furniture, including beds, bookcases, and couches.
For non-Ikea furniture, check out Adornably (free; iOS), an augmented reality app that showcases higher-end pieces.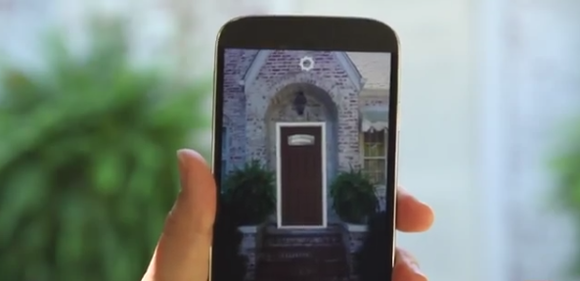 If you're remodeling, rather than re-furnishing, Home Depot offers similar AR features in its app (free; Android, iOS, Windows Phone) for doors, fixtures, and hardware. Home Depot's app is simpler than Ikea's, because scale isn't as important—chances are, you're looking at an actual door or fixture through the app's lens, and can therefore easily manually scale the product to correctly fit your space. With Home Depot's app, you can also find your nearest store (and see a map of its layout), check out product reviews, and shop directly from your mobile device.
Pick the perfect color with BEHR and Pantone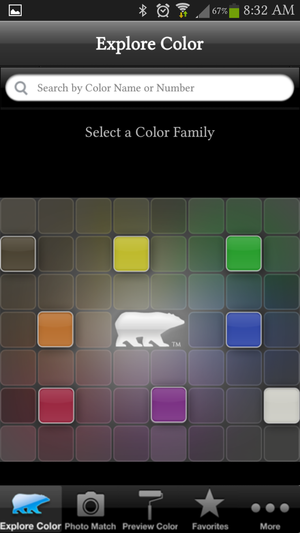 Choosing the perfect paint color can be difficult, but apps from popular paint manufacturers Behr and Pantone can help. Behr's ColorSmart (free; Android and iOS) has a variety of tools to help you find the right shade: You can browse colors in the app's Explore Color tab, match colors from a photo on your camera roll, preview colors in different rooms (all preset, but the app does offer multiple style options for each room type), and calculate how much paint you'll need based on room size. Once you've settled on a color (or multiple colors!), the app will direct you to the nearest store that stocks Behr paint.
Pantone's MyPantone app ($8, Android; $10, iOS) is pricier, but possibly worth it if you're looking for an entire color palette rather than just one shade.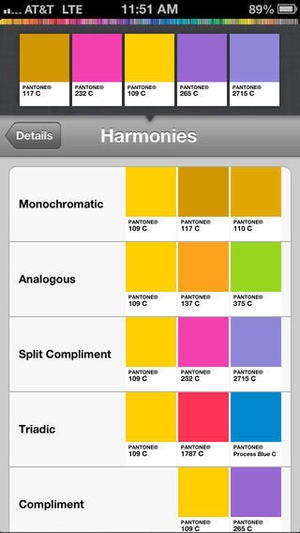 For those of us who are colorblind—literally or figuratively—MyPantone can be a lifesaver: The app lets you browse thousands of Pantone shades and then automatically generates harmonious color palettes from your choices. Like ColorSmart, MyPantone also lets you capture and extract colors from photos on your photo roll, which is a handy feature for people who are inspired by the world around them. Pantone's app also lets you annotate palettes (text and voice) and share them via email and social media, so it's a handy app for designers of all kinds.
Get everything just right with Photo Measures and iHandy Carpenter
You've done enough visualizing—now it's time to get down to business. First things first: Measuring your space. If you're just measuring one or two small spaces (for example, a nook that needs a bookshelf), you can use the old-fashioned pen and Post-It note method. But if you're measuring multiple rooms or you're looking for a contractor, an app like Photo Measures ($5, Android; $7, iOS) can be handy.
Instead of taking down measurements on paper, Photo Measures has you snap a photo of the space and draw measurements over the photo—along walls, cabinets, and baseboards. You can add as many measurements and text comments as you want, and catalog each photo by room type. The app also lets you export your photos as PDF files, so you can send them along to contractors, engineers, designers, or clients (if you happen to be on the other side of the business).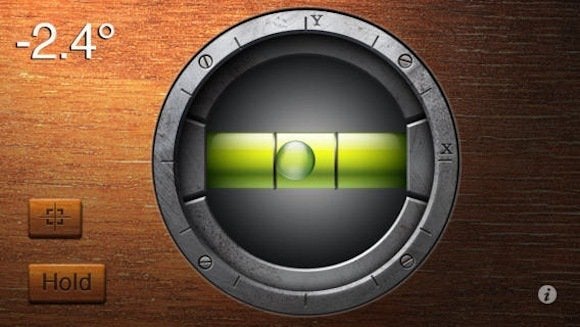 Photo Measures is just for organizing—you can't actually measure spaces using that app. But you can make some measurements with iHandy Carpenter ($2; Android and iOS), a toolkit app that features five beautifully designed digital carpenter tools: A plumb bob, a surface level, a bubble level, a protractor, and a ruler. Want to hang your pictures perfectly level? Use iHandy's bubble level to get the angle just right. Not sure if your floor is slanted? Open up iHandy's surface level and place your phone on a flat surface. iHandy's tools aren't perfect (though the app does include calibration instructions for maximum accuracy), but they're pretty accurate and good enough for the average, non-carpenter redecorator. If you're just hanging a painting or two, you can also download iHandy's bubble level (free; Android and iOS).