We recently reviewed the standard configurations of the new MacBook Pros. And while we don't review custom configurations, Macworld Lab bought a couple of build-to-order (BTO) MacBook Pros, and our first benchmark results for a 15-inch system with the faster 2.3GHz Intel Core i7 quad-core processor are in.
What's a BTO computer? When Apple releases new computers, the company offers a list of preconfigured systems (often called "standard configurations"). And while these "good, better, best" systems fit the needs of most shoppers, Apple offers a lengthy list of built-to-order options for users who want to outfit the computer to better suit their needs. With options to change the capacity and type of hard drive, increase processor speed, add RAM, and even increase screen resolution, a MacBook Pro can be customized to fit just about any shopper.
15-inch 2.3GHz Core i7 quad-core MacBook Pro
The standard $2199 15-inch MacBook Pro comes with a 2.2GHz Core i7 quad-core processor with 6MB L3 cache, a 750GB hard drive, and a 1GB AMD Radeon HD 6750M discrete graphics processor. Apple offers a CPU upgrade for an additional $250 for this model: a 2.3GHz Core i7 quad-core processor with a larger, 8MB L3 cache. The custom model we purchased had the processor upgrade, but the same hard drive and graphics as the $2199 standard configuration model.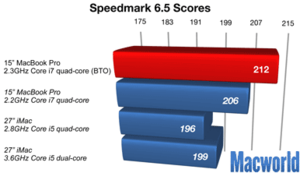 In Speedmark 6.5, our overall system performance testing suite, we found the custom 2.3GHz Core i7 MacBook Pro to be only 3 percent faster than the 2.2GHz Core i7 standard model. As you'd expect, graphics scores and hard drive tasks times were basically identical between the two systems, but CPU intensive tasks favored the 2.3GHz Core i7 upgrade. The biggest speed improvements were in our iPhoto import test and our Parallels test running PCWorld's WorldBench multitasking tests—the 2.3GHz Core i7 MacBook Pro finished 8 percent faster than the 2.2GHz Core i7 MacBook Pro in both tests. In our HandBrake test (which rips a DVD movie to the hard drive), our iPhoto import test, and Aperture import and process test, the 2.3GHz Core i7 MacBook Pro was 4 percent faster.
Anyone who thinks that using a Mac laptop requires sacrificing performance need only look at the Speedmark results of the two current highest-end iMacs. Overall, the BTO 2.3GHz Core i7 MacBook Pro was 8 percent faster than the standard $1999 iMac (a 27-inch model with a 2.8GHz Core i5 quad-core processor), and 7 percent faster than a BTO $1899 iMac (a 27-inch model with a 3.6GHz Core i5 dual-core processor).
The BTO iMac's individual test results show that Macs with processors that have fewer cores but faster clock speeds still outperform Macs that have processors with more cores but slower clock speeds in many tasks. Our Finder, Pages, iPhoto, and Photoshop tests were faster with the dual-core iMac, but applications like Mathematicamark, Cinebench, and HandBrake that can take advantage of the quad-core i7's eight virtual cores were significantly faster on the MacBook Pro.
You can look at the BTO 15-inch 2.3GHz Core i7 MacBook Pro's individual test scores below. We also have a list of recent Macs tested with Speedmark 6.5, if you're interested in seeing how the BTO 15-inch 2.3GHz Core i7 MacBook Pro compares to other Macs not listed here.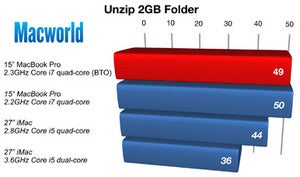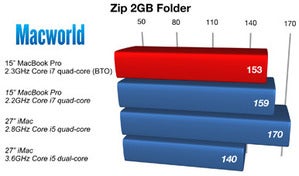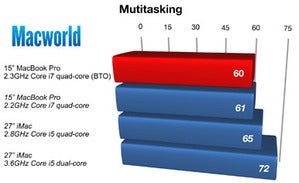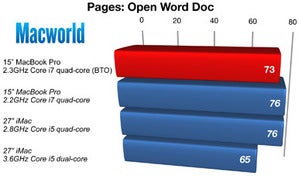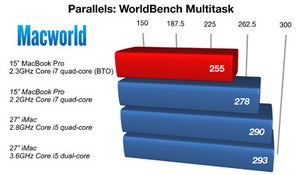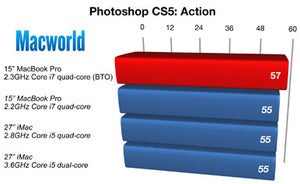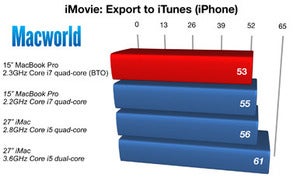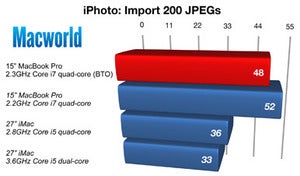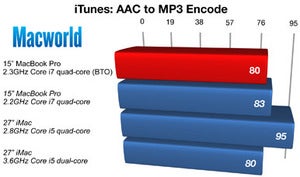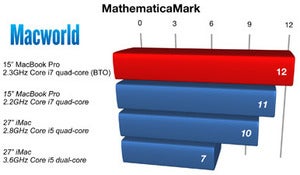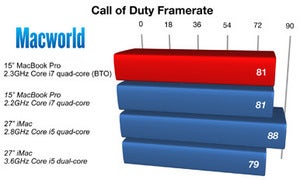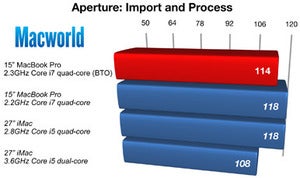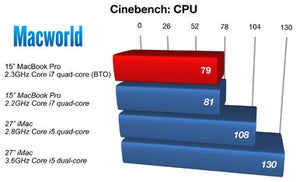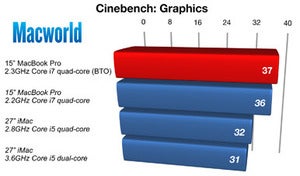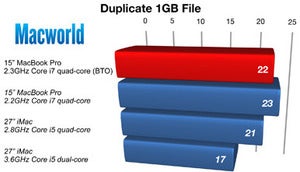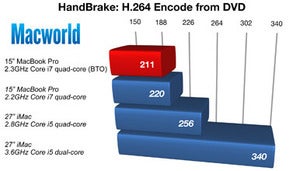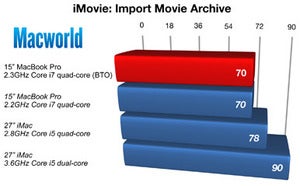 Apple MacBook Pro MC723LL/A Notebook
Note: When you purchase something after clicking links in our articles, we may earn a small commission. Read our affiliate link policy for more details.