Physicality defines Game Oven's mobile apps, and the studio focuses on much more than mere taps and swipes. The Dutch studio's first release, 2012's almost lurid-sounding Fingle, encourages intimate touching of fingers as two players solve puzzles together on an iPad screen. Last year's Bam Fu is more aggressive, as up to four participants tap frantically on colored pebbles on the same screen. And the more recent Friendstrap forces two players to each keep a thumb planted on a phone screen while discussing awkward topics as prompted—until one feels the urge to pull away, thus losing the showdown.
Game Oven's latest release Bounden follows in the multiplayer-focused footsteps of those earlier titles, but is decidedly more active, serene, and peculiar. Like in Friendstrap, two players place a thumb on the iPhone screen to begin, but after the device calibrates, a sphere appears with several circles upon it, which are cleared by a marker as players move the device in the appropriate direction. As a song plays, the circles continue to emerge in various patterns, requiring more elaborate movements in tandem, and before long you're dipping and twirling your partner. Whether you anticipated it or not, you're dancing—all thanks to an iPhone app.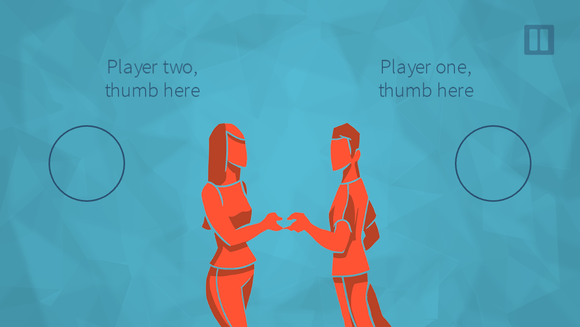 Game Oven designer and co-founder Adriaan de Jongh says that inspiration struck in part after he saw an old couple dancing and thought, "Wouldn't it be nice if I could make people dance?" Later, while testing Friendstrap, he noticed that some players would try to slowly wrench the device from an opponent's grip by contorting and twisting the device, which triggered the idea of a more harmonious experience. "This emergent behavior inspired me to use the rotation of the phone to try to guide people to do a sequence of movements," he says.
Charming as that premise sounds, making it work with a device—the iPhone version launched Wednesday for $4; it's launching on Android soon—situated between players proved anything but a graceful process. Several prototypes were tested until the team came up with the concept of the ball: A metaphor that eliminated the issues that came with the opposing orientation of each player. As you move together, so too does the ball on the screen, and it's a common instructing element that doesn't require viewing from any particular angle.
Granted, the minimal interface does make the several-minute tutorial very necessary to even understand the basics of Bounden. And de Jongh isn't even sure if it's even approachable enough at launch to quickly loop all prospective players into the fun. "Maybe we're not entirely there yet," he concedes, "but we will keep working on it until even my mom is able to understand the game fully."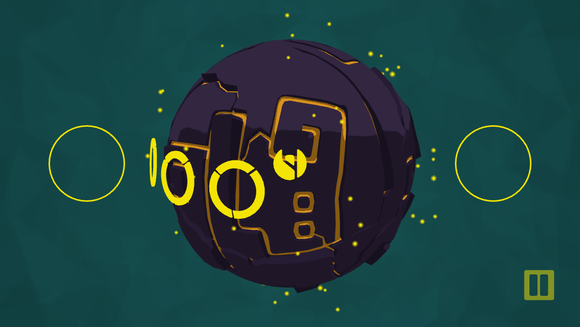 Designing choreography for each song that resembled actual dancing offered a real challenge, in part because the device has no knowledge of each player's positioning or full body movements—just the way it's being rotated. "We tried hard to find a bunch of 'tricks,' really, that make people do all those weird movements that the phone doesn't have control over," de Jongh explains, "and that is what most of the choreography in the game consists of a sequence of rings smartly placed on a ball to trick you into dancing."
Expectedly, the initial results didn't look all that much like dancing, even if the occasional move rang true. To solve that conundrum, Game Oven reached out to the Dutch National Ballet, whose Junior Company choreographer Ernst Meisner was recruited to help concoct several routines.
"It was a challenge for both of us; he had to stay within the constraints of having the phone guide his choreography, while I had to make sure that his choreography would fit in the game, too," says de Jongh, who would stand near Meisner's dancers and mimic their movements with his device in hand. In addition to helping develop the dances, Meisner lent the routines more of a balletic feel—a level of finesse and elegance to help bring it all together.
Trick or not, the results are exuberant, emotional, and unexpected. My wife was reluctant to play, but there we were in the kitchen, both holding the iPhone and giggling as we swayed and fumbled together as one. In those initial moments, it certainly didn't look like dancing; it didn't even necessarily feel like dancing. But the sensation was stirring and beautiful. It's like nothing I've ever played, and whether you're working with your soul mate or a stranger, Bounden seems likely to ignite something between partners.
Which is exactly what makes the months of iteration and hard work meaningful for de Jongh and his partners. "That small moment when people get it, when they suddenly understand how the game is tricking them into dancing, is really divine to me," he admits. "The smile on people's faces the moment they start rotating the phone, or the various moments when they figure out how to do the movement in a way that feels correct—those are the moments that motivate me to continue making the weird games we make."