I downloaded Another Case Solved on a whim, after seeing an ad in Mikey Shorts. (Both titles were produced by Noodlecake Studios, which partnered with Chillingo for this release. In fact, we've been giving a lot of love to Noodlecake Studios' collection lately— Flappy Golf is another game on our list.) I literally downloaded it because I accidentally clicked on an in-game ad, and because it was free. So you can understand how surprised I am to find that, two months later, I'm still playing Another Case Solved—enthusiastically.
Another Case Solved is a tile-matching puzzle game with a detective theme. The back-story is a little quirky—not surprising for a Noodlecake Studios title—and not particularly critical to the game itself. However, for those of you who are curious, it's something along the lines of an amateur detective (you) investigating crimes surrounding a city's sugar ban. Yes…sugar ban.
To earn your detective chops, you must solve cases by playing a series of mini-games. There are four mini-games in total, but the main mini-game—the "clue finding" step of the detective process—is a tile-matching game that requires you to drag your finger across at least three adjacent, matching tiles to remove them from the board. Tiles include "clues," like footprints, magnifying glasses, and question marks. If you collect five or more tiles in one fell sweep, a better tile/clue will drop onto the board for you to collect.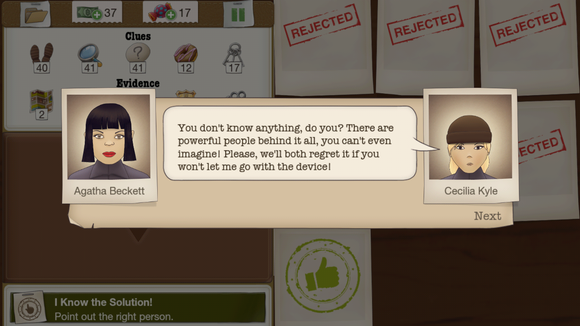 The tile-matching game has a move limit, so you have to collect as many clues as possible with each move you make. There are also clue goals at the top of the screen (you might be asked to collect 15 footprints, for example), which you have to complete—before your moves run out, mind you—to win. The tiles you collect in this main game will help you with future mini-games, so choose your moves wisely.
The additional mini-games are short and sweet, and include a Guess Who-style suspect line-up, a time-management breaking and entering game, and a map with unidentified locations. The clues you collected in the first step help you solve each of these puzzles, so you'd better hope you have enough of each clue-type to succeed! Each solved case earns you money and respect, which you can then use to customize yourself and your office, and advance in the game to solve bigger and more lucrative cases.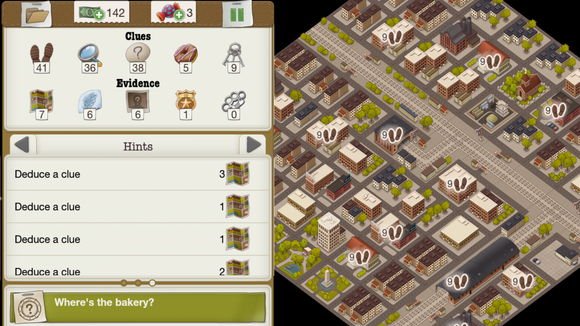 Though the mini-games are fun, three other aspects of gameplay make this a must-play puzzler:
Customize everything: You start out as a lowly amateur detective with a shoddy hairstyle and a crappy, windowless office. A large component of Another Case Solved is its customization aspect—as you solve cases and earn money, you can purchase upgrades to customize your gaming experience, including options for your appearance, your office, and your innate detective skills. Plus, many of the upgrades you can purchase are functional as well as cool-looking: Office upgrades give you better chance of finding candy (the game's premium currency), additional detective skills, and more money per case solved.
Simple or complex gameplay: Like most (good) mobile games, Another Case Solved is easy to pick up and play. The tile-matching game is self-explanatory, and the additional mini-games are ultra simple to figure out. You certainly don't have to worry about a learning curve here. But once you've mastered the basics of the game (and it's relatively easy to master), you can start taking a look at your skills and tools. The game provides an almost ridiculous number of skills and tools that you can purchase with in-game currency or that can be used once you've collected enough of a certain type of clue.
As you progress through the game, you'll find that the skills and tools at your disposal are not simply useful, but that they can be cleverly wielded to aid you on your hunt. For example, the use of a skill or a tool doesn't count toward your move limit, so a smart combination can save you.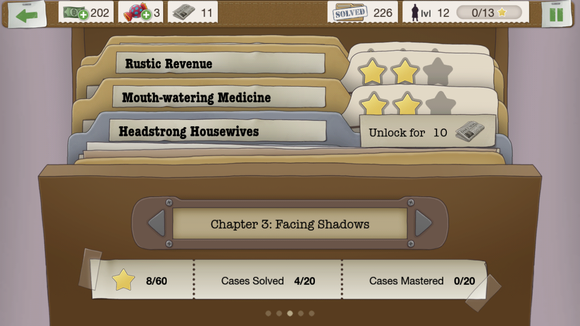 Truly freemium: It's difficult to make a truly freemium game. Most freemium games I come across are either completely free, but full of solicitations and shortcomings, or premium games in disguise—you'll get frustrated with your lack of progress long before you feel like making a purchase. Another Case Solved seems to have a very good, if not perfect, balance between free and premium. The game has a regular currency and a premium currency, but the premium currency is easy enough to obtain without dropping a dime. However, there are certainly perks to financially supporting the game, as even one small purchase frees you from ads (there aren't too many, but they are there) forever.
If you're a fan of tile matching, mini-games, and mild puzzles, Another Case Solved is a no-brainer (after all, it's free). The game is easy to pick up but offers lots of replayability, as you'll move through the missions at a very casual pace if you choose not to make any purchases. It's exactly what you're looking for in a mobile game: Easy to pick up, complex enough to keep you on your toes, and stocked with hours of game play.
Developer: Noodlecake Studios and Chillingo Platform: iOS (Universal), Android (Universal) Price: Free