Reader Shawna Collings wants to get the Beats. She writes:
I've just heard that Apple has acquired Beats Music. I've never used a subscription music service before but am curious to try. I'd like to hear its music on my devices other than just my Mac. What are my options?
To begin with, it's important to understand that Apple intends to operate Beats as a separate entity and that, as I write this, the acquisition announcement is all we have to work with. So, don't expect to launch iTunes and see it as a music source. For the time being, you access Beats as you always have done.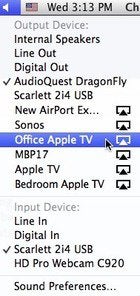 Although Beats doesn't currently offer a Mac app, you can stream its music through a web browser. Do so and you can then route that audio through AirPlay—send it to your Apple TV, for example. On a compatible Mac running Mountain Lion or later, hold down the Option key, click on the Sound menu bar item, and you'll see any Apple TVs on your local network. Select one and Beats will play through it.
Regrettably, the Mac OS doesn't currently allow you to send AirPlay audio to multiple destinations (although you can send audio to multiple destinations with iTunes). You can, however, use Rogue Amoeba's $25 Airfoil for Mac for the job. Just launch it, choose your web browser as the audio source, and select any AirPlay destinations you want to stream the music to.
There is a Beats app for compatible iOS devices (iPhone 4 and later, 3G iPad and later, and 4G iPod touch and later running iOS 6 or higher). With it and a subscription to the service you can not only stream music over Wi-Fi or a cellular connection, you can download tracks for offline listening. (Access to that music disappears if you cancel your subscription.) With a reasonably modern iOS device you can stream its audio using AirPlay as well. The means for streaming that music to multiple destinations is a little more complicated, but it can be done with a bit more help from Rogue Amoeba. Or you could stream Beats from an iOS device via Bluetooth.
Finally, in addition to working with Android and Windows Phone devices, Beats is available to Sonos multi-room music systems. Sonos is my preferred way of using the service but outfitting your home with a load of Sonos speakers can be an expensive proposition.