Your iPhone is smaller than many remote controls—and can function as a remote control itself. So why would you need a remote control for your iPhone (or other iOS device)?
A few months ago I would have thought the idea ridiculous. But it turns out that adding a Bluetooth remote control to my iOS devices has enabled me to solve some interesting problems and to make my iOS devices more useful. If you've never considered a remote control for your iOS devices, I'd like to suggest four uses that may change your mind.
Remote shutter release Long before anyone used the term "selfie," people put cameras on tripods, set a self-timer, and ran back in front of the camera to appear in a group shot. You can put your iOS device on a tripod too, but the built-in Camera app has no timer. No worries: use a button on an easily concealed remote control to snap the picture (or many pictures).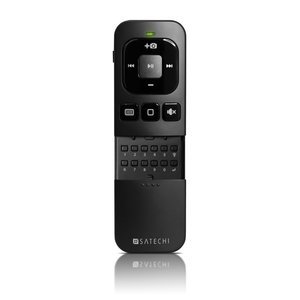 Control media playback Perhaps your iPhone is docked across the room, connected to your stereo or amplified speakers. Or maybe you're kicking back on the couch while a video from your iPad over on the coffee table is streaming to your Apple TV via AirPlay. A remote would let you pause, play, adjust volume, or otherwise control your media from farther away than arm's reach.
Control a presentation When giving a presentation from Keynote or PowerPoint on an iOS device—especially one that's tethered to an external display—you may want to be able to navigate your presentation without being right next to that device. Some iOS remote controls offer this capability.
Activate Siri in your car I recently bought a used car that has Bluetooth audio, but isn't new enough to have Siri Eyes Free. So, while I can use the car's microphone to ask Siri questions and get the responses through the car's speakers, I'd have to dig my phone out of my pocket (or wherever I've stashed it) to press the Home button. If I had a Bluetooth remote control mounted in a convenient place (such as on the steering wheel), I could activate Siri without any fiddling—and without taking my eyes off the road. (This tip works even if your car doesn't have Bluetooth, as long as your iPhone is close enough to pick up your voice clearly.)
Pick a model
All Bluetooth iOS remote controls emulate keyboards—that is, each button maps to a keyboard key—but the number of buttons, and therefore keys, is limited. (You could, of course, use a full Bluetooth keyboard as a remote control, but its size and shape usually wouldn't be a good fit for such tasks.) Different remote controls have different combinations of virtual keys, which means that not every remote is suited for every task. So, once you've chosen a task, be sure to find a remote control that supports the relevant keys. Broadly speaking, such remotes fall into a few categories:
Multimedia remotes Remote controls designed for multimedia typically have volume up/down, previous/next track, play/pause, and mute buttons. (When in a camera app, the volume-up button doubles as the shutter release.) You may also find a Home button (to activate Siri), a hide/show keyboard button (essential for on-screen typing, because without it, your iOS device would assume the remote is a full keyboard, and you woud be unable to type), and other buttons. Examples include the one I bought—the Satechi Bluetooth Multi-Media Remote ($35)—and the iStabilizer Shutter Remote for iOS ($40).
Multi-mode remotes If you want to be able to do more than control your media but without adding tons of buttons, you can pick up a more-advanced remote control that offers multiple modes—for example, a multimedia mode, a presentation mode (in which the buttons can control a Keynote or PowerPoint presentation), and an accessibility mode (in which the buttons navigate between apps, icons, and pages, with optional VoiceOver feedback). You switch modes by using a slider or by holding a particular button when you turn on the remote control's power. Examples include the Satechi Bluetooth Smart Pointer ($60) and the AirTurn Digit II ($40).
Shutter releases Some iOS remote controls have just a single button, which serves as a remote shutter release. For example, the App-Enhanced HomeSpot Low Energy Shutter Remote Control ($20) and ShutterBall ($25) fall into this category.
Siri-only remote I know of one iOS remote that also has a single button—but not for photos. The Mobile Home ($79) features only a large Home button, for activating Siri in your car.