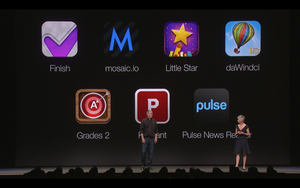 While Apple spent the first morning of its Worldwide Developers Conference showing off its new iOS 8 and OS X Yosemite operating systems, the company ended the day by announcing the winners of its annual Apple Design Awards
Apple describes the recipients as apps that "raise the bar in design, technology and innovation." Developers of the winning apps haul in a load of Apple hardware, including several Macs and iOS devices, as well as an ADA trophy-cube. Here are this year's winners.
PanoPerfect

PanoPerfect (free, iTunes Store link) was created to address the lack of panoramic support in social apps. You can find different panoramic shots, and share the ones you take on your iPhone.
Addimal Adventure
Created by grad students from Columbia University, Addimal Adventure (free, iTunes Store link) is a game for kids who are learning single-digit addition. You must save the city of El Sumado by solving math problems that exercise different math strategies.
Leo's Fortune

A platform game for iOS, Leo's Fortune ($5, iTunes Store link) has you looking for the thief that stole your gold. The game has 25 levels filled with lush environments, active backgrounds, and challenging obstacles. The judges liked this game for its integration of graphics, gameplay, and easy controls.
Day One

Bloom Built's Day One for Mac ($10, Mac App Store link) app makes it easy, even fun, to keep a journal. You can integrate text, video, and photos into entries, and a calendar and support for tags and hashtags helps you organize it all. The developer does make an iOS version, but Apple gave the award to the Mac version.
Blek

The point of this game is to draw lines that then animate to knock out dots that appear on the screen. Blek ($3, iTunes Store link) sounds easy enough, but it gets more complicated as you figure out the right gestures and avoid obstacles. While it's also simple in its presentation, it's a good example of how you can make a great game without being complex.
Yahoo News Digest

A former Macworld Staff Pick, Yahoo News Digest is a free iOS app that provides curated, high-quality content on top news topics. The app is updated twice daily and provides a good balance between quick news summaries and in-depth articles.
Threes

A favorite among Macworld editors, Threes ($2) is a tile-matching game that's challenging and nicely designed. Apple judges called out Three particularly for its "personality," expressed in the game through whimsical visuals and comical sounds.
Cinemagraph Pro

A professional graphics tool for creating "flixels"—combinations of video and photo. Cinemagraph Pro ($25) can let you quickly make animated GIFs from video clips, apply filters to videos, fix blemishes, mask a specific area for animation while the rest of the image remains still, and a lot more.
Device 6

The Apple judges call Device 6 ($4, iTunes Store) a "game-changing" type of app. Device 6 is a combination novel and game that integrates sound and visuals, requiring you to rotate your iOS device in different directions.
Storehouse-Visual Storytelling

Designed for the iPad, Storehouse-Visual Storytelling (free, iTunes Store link) allows you to create a rich story-telling experience. You can combine photos, videos, and text to create a story using built-in templates, and you can publish your story to the Storehouse community or distribute it to friends and family via email, Facebook, or Twitter.
Sky Guide

You can search for thousands of celestial objects with Sky Guide ($2, iTunes Store link), and the app will show you how to find whatever you're looking for in the night sky. Apple judges pointed out that the app uses all the latest app technologies to create an app that performs well on the iPhone or iPad.
Monument Valley

The Apple judges described Monument Valley ($4, iTunes Store link) as a game that set out to do something big, and it succeeds. The game takes Escher-type images and constructions and incorporates them into original gameplay, as you guide a princess through each map and figure out the optical illusions.