Instagram has always been leader of the pack when it comes to filters and social capabilities, but the more avid smartphone photographers were left in the dust. The app lacked more in-depth photo tools, replacing everything with Willow and Valencia (and, fine, a few options for cropping, scaling, tilting, and softening).
Pro Tip for editing me using @instagram's new creative tools: focus on me, nothing else matters

— Karl the Fog (@KarlTheFog) June 3, 2014
However, a major update that launched Tuesday introduces a more robust set of tools for editing photos that many Insta-fans have been craving. Version 6.0 now lets you manually tweak your photo's saturation and other settings instead of just slapping on a catchall filter. Dubbed Instagram's "creative tools," iOS and Android users now have ten new features to outfit their photos with.
After you've taken or selected a photo to share, you'll now find a wrench icon next to your row of filters; tap it to reveal your new editing toolkit. Some tools are simply better versions of older Instagram features—like the adjust tool, that now crops and straightens your photo at the same time, and a better brightness tool to make your photo lighter or darker.
While most of these tools are completely new to Instagram, you've likely seen similar features in other photo apps. You can adjust the contrast; use the warmth tool to make things warmer with orange tones or cooler with blue tones; and increase or decrease the photo's saturation.
There are also tools that focus on tweaking just certain areas of a photo, instead of doing an all-around adjustment. The highlight tool adjusts the brightness on only the bright areas of the image, and the shadows tool does the same, but focuses only on the dark spots. Vignette darkens the photo's edges, which draws the eye to the subject in the center. You can also use the sharpening tool to make the photo a little crisper, which is great for correcting a shaky shot.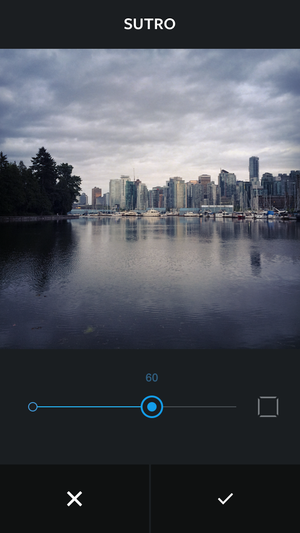 The final touch on Instagram 6.0 focuses on, of course, filters. Each filter can now be turned up or down, adjusting what Instagram calls filter strength. This setting isn't found in your toolbox—instead, just double tap on any filter to adjust its strength. You'll also find the border tool hidden in the filter strength tool; tap on a filter to add a border after you're done adjusting.
Each of these tools uses a slider bar for adjustment, so you can tweak your photos to get them precisely how you want them to look. Personally, I'm really pleased with the new filter strength option, as I prefer a more subtle approach to my Instagram snaps. I love the warmth of Sierra, for example, but sometimes find it too strong, so turning it down a notch will make it just right. Other photo control freaks will likely love the whole kit for its bevy of options and ease of use.
Instagram 6.0 is rolling out to Android and iOS users today—look for it in the App Store and Play Store.