I've been using iPads in education for as long as there have been iPads available to use in education. I implemented the world's first whole-school, one-to-one iPad program, in which all students in my school use iPads full time.
The iPad has served us very well over the last four years but, recently I had grown concerned that iPad was always going to remain the little brother to the Mac. Before WWDC last year, I wrote a blog post in which I outlined the limitations of iOS that we'd discovered when using the platform full-time for serious productivity work.
Last year, I didn't get much that was on my iOS 7 wish-list. (We did get AirDrop and it has been transformational in how easy it is to move large data files around the classroom.) But at WWDC 2014, Apple delivered on a huge chunk of my wish-list, and I couldn't be happier.
Extensibility
The most important feature in iOS 8 for someone who wants to use the iPad as a primary computing device is called extensibility. In fact, I think you could summarize this year's WWDC for education as, "extensibility and…some other stuff." That's not to discount the importance of the many other announcements, but rather an observation about just how important extensibility is for the serious iOS user.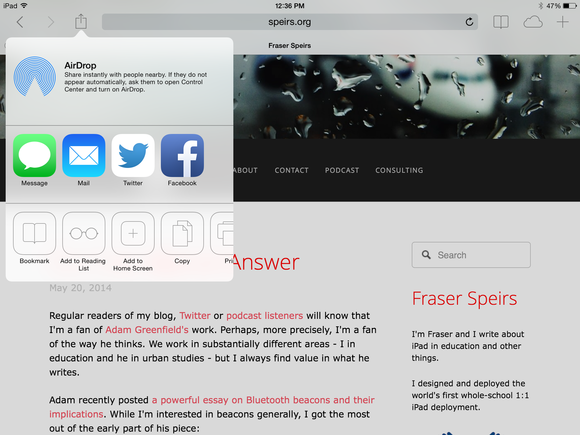 Until now, apps on iOS have had limited means of working together. For example, if I want to save a webpage in Evernote on my iPad (as I often do), the fact that Safari and Evernote cannot directly communicate is a serious impediment. A technique commonly used by "capture a webpage" apps such as Pocket is to check to see if the user has copied a URL to the clipboard when the app is launched; if it is, the app prompts the user to save it. This is awkward and frustrating, even if you understand why it's necessary.
Extensibility will end all of that. In iOS 8, apps can offer to present a small amount of their user interface inside another app. This means that Evernote or Pocket could provide an extension that hooks into Safari and directly clips the current page to their services, without the user ever leaving Safari.
It's not just for the Web, though. A huge source of my "read later" material comes from Twitter. In iOS 7, the ability to send links to Pocket has been something that the developers of apps like Tweetbot and Twitterrific have had to build into their apps. But what if I want to send all my Twitter links directly to Evernote instead? Under iOS 7, I need to lobby every developer of every app I use to build in support for Evernote. In iOS 8, the Evernote developers could make this happen themselves.
Extensibility is going to open up a whole new range of workflows in iOS 8 and, most importantly, make them accessible and understandable to ordinary users. I cannot overstate its importance: extensibility will enable us to stop having those awkward "there's no way to do that on iOS" conversations. If there isn't a way, developers can now make one.
iCloud Drive
I have mixed feelings about iCloud Drive. As a teacher, I have gone from spending time each lesson helping students find the files they saved "somewhere" on their Macs to having them always understand that "your Pages files are inside Pages" on the iPad. The re-thinking of the filesystem that Apple did in iOS has been a huge win when working with novice users.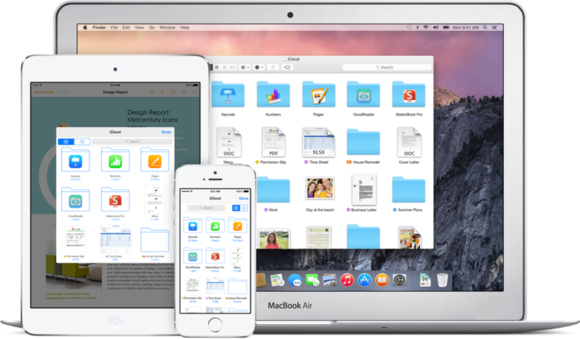 There's no denying, though, that it was a limitation for more advanced users. There was no way to open a file in another app without copying it to that app and copying it back, duplicating the file twice in the process.
iCloud Drive, essentially, puts the filesystem back into iOS. Not having used it yet, I'm rather conflicted about it. I suspect Apple is too, given the tiny sliver of attention that it was given in the iOS section of the keynote. I had hoped that Apple could satisfy the needs of advanced users without falling back on the hierarchical filesystem that we've used for so long. With OS X Lion, Apple tried to bring the iOS document model to OS X with Documents in the Cloud. I use this extensively but, ultimately, perhaps this is one legacy technology that even Apple can't ditch.
For education, my concern is two-fold. Firstly, from a teaching point of view, I hope that Apple has not reintroduced the ability to "lose" your files on iOS by saving them in the wrong place. There does still seem to be the concept of having app-specific folders for files, but the devil will be in the exact details of the usage model. I'll reserve judgment until I've tried it.
My second concern is about the deployment model. Currently our students use iCloud for those apps that use it—Pages, Keynote, Numbers and a few others. If every app adopts iCloud Drive, I wonder if that will lead to students eating up their iCloud storage allocation more quickly. Apple has announced lower price points for additional iCloud storage, but schools will need some way to provision students with that kind of storage that doesn't involve handing out gift cards.
Google Drive, by contrast, provides schools with 30GB for each student for free. Given the general trends in the cost of cloud storage, it is disappointing to see Apple being less aggressive than it could be here. Still, it's not just about the cost; it's about how easy or difficult it is to actually provide a student with an extension to their iCloud storage limits.
Enterprise
When I started deploying iOS in my school in 2010, the process we went through to set up devices and deploy apps was exactly the same process that I went through to set up my personal iPad. That process was never going to scale beyond 100 or so devices. Today, iOS deployment has become far more professional and scaleable.
iOS 7 actually did a ton of work to improve this area of iOS management. It introduced Managed Distribution—the ability to deploy apps to devices over the air—and the Device Enrollment Program that hooks your own management tools into the iOS Setup Assistant.
What iOS 8 brings to the table, by comparison, is smaller but still very welcome.
Firstly, there are new Mobile Device Management (MDM) controls and queries. An MDM query allows a management server to interrogate the device to find out something about its state. One that I will use heavily is the ability to discover when a device last backed up to iCloud. This will allow me to be alerted by my management server when students run into trouble with their iCloud backups and help them.
iOS 7 introduced a Web-filter restriction. This restriction, if applied, would enable a content filter that worked at the lowest levels of the iOS networking stack to filter out objectionable content. The problem was that the way iOS decided what was, and was not, objectionable was both extremely crude and almost totally non-configurable. iOS 8 introduces the ability for third-party developers to hook into this system and provide content filtering.
Apple TV has become de rigueur for many schools making heavy use of iOS, but it has always been a little difficult to manage them on large school networks. iOS 7 introduced some new capabilities to make this easier, but it wasn't quite the breakthrough it needed to be.
Last year, Apple added the ability to use Bluetooth to allow an iOS device to discover that it was close to an Apple TV. This eliminated one problem with discovering Apple TV across a large network, but you still needed to be able to send traffic between the iOS device and the Apple TV across that network. This was a problem for many schools where, for example, the student network and the staff network were isolated from each other.
iOS 8 promises to eliminate this problem entirely by, well, eliminating the need for a network between the two devices. Whereas iOS 7 had peer-to-peer discovery, iOS 8 has peer-to-peer discovery and playback.
This is important in several areas. Firstly, those schools with complex networks no longer need to find workarounds to accommodate Apple TV. Secondly, those schools with no networks can still buy and use Apple TV in the classroom. Thirdly (and this is dear to my heart as a travelling consultant), visitors to the school will not need to sneak onto the network just to use the Apple TV.
Keyboard Replacement
This is perhaps a smaller issue. I have not seen much evidence in my school that the iOS keyboard is a barrier to using the device. iOS typing is all about practice, something our students get plenty of. This is also true of a physical keyboard too—something forgotten by many commentators who confuse "what they grew up with" and "the way things should be".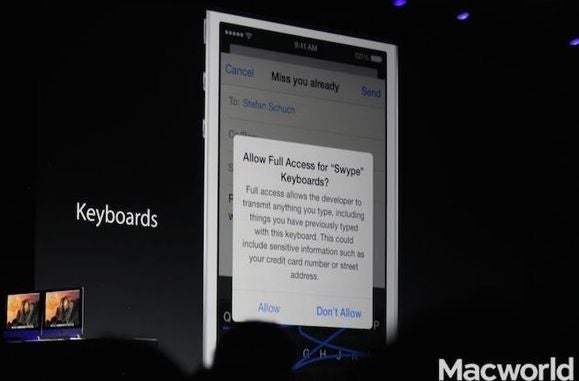 That said, the iOS keyboard has always presented its key caps in upper case. This is actually a problem for younger users who, for starters, don't know any letters at all but, secondly, they're always introduced to lower-case letters first. I hope some enterprising developer will build a lower-case keyboard for schools. Just don't set the caps in Comic Sans, OK?
iPad 2 support
iPad 2 was the iPad that wouldn't die. It lived on in Apple's product line long after it had been made obsolete by newer devices with far faster processors, more memory, better screens, cameras, accessory connectors and network radios. Apple finally ditched it in March, replacing it with one model of the fourth-generation iPad. This was a good thing.
In the years 2011-2014, schools were buying iPad 2 like it was going out of style (which it was). The main reason was that device-to-student ratios trump all other considerations. The most important thing in my experience is to get to a situation where students don't have to share devices, and iPad 2 made that possible for some schools.
I don't have hard data on this, but I imagine that the installed base of iPad 2 is disproportionately slanted towards education. The fact that iOS 8 will run on iPad 2 is a source of relief to many IT managers in schools.
Overall, I'm delighted that iOS has come out of a slightly awkward stage in its development. iOS 6 and iOS 7 really didn't move the platform forward in substantial ways that had obvious impact on users. iOS 8 promises to take the experience of the serious iOS user to a whole new level. I can't wait to see what developers do with it.