These days, keeping up with games can be a full-time job. So how do you separate the signal from the noise, the wheat from the chaff, the Temple Runs from the Temple Jumps? Allow us to help by regularly selecting a game You Should Play.
"What's this game called?" my wife asked, watching me maneuver simple shapes through abstract terrain on the iPad. "Thomas Was Alone," I replied. She chuckled—but it's a fair response. Indeed, Thomas Was Alone is a strange name for a platform-hopping game of this sort, but it's not your average Mario-like affair.
Thomas Was Alone began life as a PC and later PlayStation 3 and Vita title, and quickly charmed its way into the hearts of more than a million players—no small feat for an ultra-minimal indie title primarily created by one man. That's due in large part to the fact that it's not simply focused on bounding around 2D stages: It actually has a story and characters. And British comedian Danny Wallace narrates the entire game, lending humor and surprising weight to something that stars only squares and rectangles.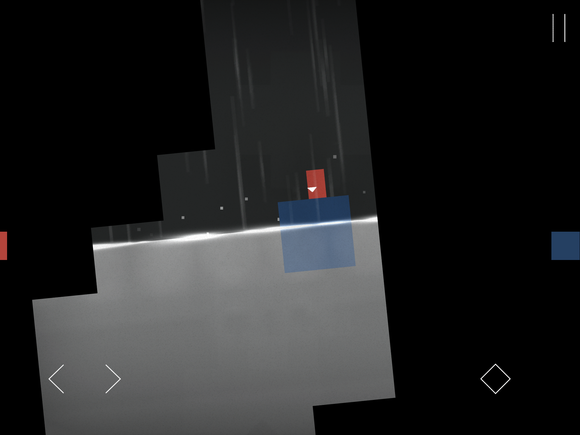 The game was just recently ported to iPad, and while a touch screen is rarely the ideal input option for platform challenges, Thomas Was Alone makes a really smart transition to iPad—and having the screen right in your face only seems to amplify the quiet, heartwarming storytelling.
Not quite convinced of this curious concoction's merit? Here are three reasons to join Thomas in his quest:
It's funny—and surprisingly sweet: Thomas is an artificial intelligence inside a computer that suddenly becomes self-aware. While he begins on his own, he soon finds compatriots over the course of the game's 100 levels. All are geometric shapes and lack faces, apparel, or even major animations, but they're made remarkably human. Each shape has emotional responses—envy, pride, happiness, etc.—towards each other and their respective situations, and even backstories that are lightly teased out by the narration. Without the care given to these characters, Thomas Was Alone would be a solid, albeit likely unmemorable experience. But the wit and warmth of the storytelling are core to its greatness, and despite the piecemeal fashion of the tale, it all coalesces nicely over time.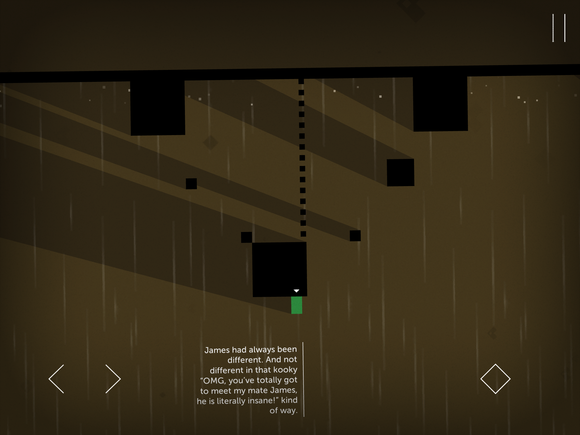 You'll use your brain (and thumbs): Thankfully, the game's strengths don't lay solely in narrative and character building. Like many platform-action games, the objective here is to reach an exit in each stage—only you'll often be controlling multiple characters with separate respective destinations. Each has its own strengths and weaknesses—one might double-jump, another can act as a trampoline for companions, while another still might float in water—and you'll need to use their myriad skills to get past the obstacles and find your way out. Some stages are real brainteasers, and may take several minutes to work through, while others are straightforward and done in a snap. That variety is appreciated.
It's optimized for the iPad: As I mentioned, platform games rarely translate well to touch displays; the missing response of pressing in a button is always missed. Thomas Was Alone has rare instances in which an intended tap to jump doesn't register, but they're thankfully rare. Overall, the new touch interface does a really solid job of making a fairly complex experience run pretty smoothly. You'll sometimes be controlling eight characters at once, but you can swap between them on the fly by tapping the little icons at the left and right edges of the screen. It can still be laborious in spots, but this approach helps make the madness manageable.
Thomas Was Alone has a similar "experiential" feel as great contemporaries like Limbo and Type:Rider—serious challenge is rare, but the journey is gratifying and the adventure as a whole really resonates with you. Some will surely guffaw at the $9 price tag, but the memorable several-hour campaign justifies the premium rate.
Developer: Bossa Studios Platform: iPad Price: $9