At a Glance
Expert's Rating
Pros
Two Thunderbolt ports for daisy chaining
Cons
Additional adapter required for 2.5-inch drives
Our Verdict
OWC's ThunderBay IV performs quite well and its price-per-gb is competitively low.
Multi-bay storage enclosures are versatile; you can reconfigure them for speed or redundancy depending on your needs. The ThunderBay IV from OWC has four drives that can be swapped easily with the aid of a screwdriver. You can configure the disks independently or as a RAID with the help of Disk Utility. The ThunderBay IV's simple design and consistent performance make it an attractive desktop storage device.
While the drive case is black like the late 2013 Mac Pro, the perforated metal front panel is reminiscent of legacy Mac Pros. The front panel has to be unlocked with a key to access the individual drives, and the key acts as a handle for pulling the front panel off the drive. Status lights for power and drive activity are visible through the front panel. A large fan in the back of the drive pulls air through the perforated front panel and expels it out the rear. Below the fan are two Thunderbolt ports for daisy chaining, a Kensington lock slot, and power switch.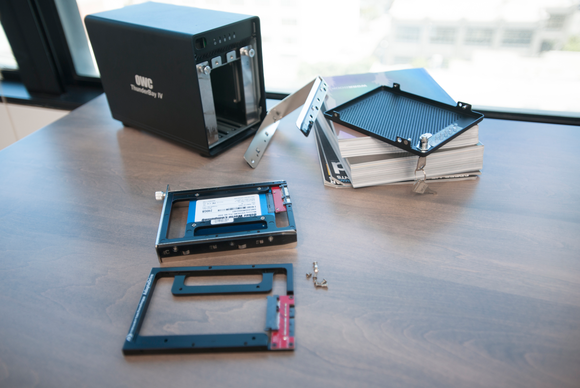 The drives (our unit came with 3.5-inch Toshiba DT01ACA300 mechanisms) are mounted on caddies with four screws, so you need a screwdriver to swap out the drives. In order to use any 2.5-inch drives in the 3.5-inch brackets you need to use a NewerTech AdaptaDrive converter bracket. I tried using a standard 2.5-inch to 3.5-inch adapter that comes with most SSDs, but the SATA connections on both the adapter and the ThunderBay IV didn't quite match up. Four of these adapters cost upwards of $60 total, something to keep in mind if you're looking to buy the ThunderBay IV unpopulated, or want to mix and match drive sizes.
Write File
OWC ThunderBay IV

749

CalDigit T3

564

LaCie 5big

784

Promise Pegasus R6

789
Read File
OWC ThunderBay IV

744

CalDigit T3

567

LaCie 5big

672

Promise Pegasus R6

681
With four drives, you can take your pick of software RAID configurations: 0, 1, 10, or JBOD. As a RAID 0 setup, the ThunderBay IV performs quite nicely. It can keep up with more expensive multi-bay drives like Promise's Pegasus R6 and LaCie's 5big Thunderbolt Series.
Write Folder
OWC ThunderBay IV

514

CalDigit T3

458

LaCie 5big

483

Promise Pegasus R6

519
Read Folder
OWC ThunderBay IV

468

CalDigit T3

521

LaCie 5big

524

Promise Pegasus R6

407
RAID 10 gives you data redundancy with a speed boost by creating a RAID 0 from two RAID 1 sets. We tested the drive under a RAID 10, and the speeds were about twice as fast as if the disks were managed independently. Keep in mind that, much like a RAID 1 configuration, RAID 10 limits you to half your total storage capacity.
Bottom line
OWC's ThunderBay IV delivers impressive performance at a much lower price point than much of the competition. This makes it a great choice for professionals who want large storage capacities without having to forfeit speed.