Earlier in June, Imangi Studios announced that Temple Run and Temple Run 2 have combined to surpass one billion downloads, becoming one of the only game franchises to his this insane mark ( Angry Birds, naturally, being another). Combining reflexes, a fear of deadly monkeys, and a smooth game mechanic, Temple Run isn't just an endless running game: It's the measuring stick against which all other endless running games are judged. TechHive looks back at the endearing popularity of one of the most popular games of all time.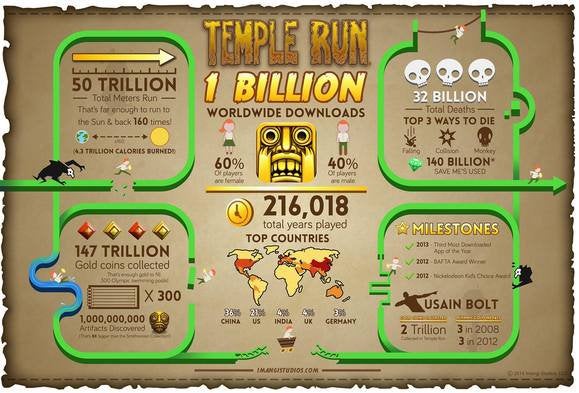 Surprising success
Temple Run was developed by Imangi Studios, founded by husband and wife team Keith Shepherd and Natalia Luckyanova in 2008. The franchise now spans several games, including Temple Run, Temple Run 2, Temple Run: Brave (tied into the Pixar film Brave) and Temple Run: Oz (tied into the movie Oz the Great and Powerful; both movie tie-ins were developed after an official partnership between Imangi and Disney Interactive).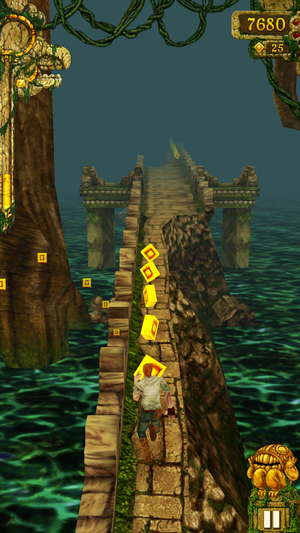 "It's kind of crazy," admits founder Keith Shepherd to GamesBeat. "We launched on August 3, 2011," he explains, but their little studio didn't even do the art in house. "We were working with a freelance artist on the game. The three of us made the original Temple Run in about five months."
The game's success caught the small studio by surprise. "We had no idea that it was going to become this huge hit and worldwide phenomenon and get a billion downloads. We were just a small team that loved to make games, working out of the bedroom in our apartment and doing what we loved. We'd been doing it a while—I think it was the tenth game that we released on the App Store—and it really blew up."
Familiar formula, done better
Just as Angry Birds once defined the physics-based puzzler, so has Temple Run come to define the endless running game. And like Angry Birds, it wasn't the first kid on the block. In fact, Temple Run had to first leap over two already popular games in the same genre: 2D minimalist platformer Canabalt launched in 2009 and the over-the-top Adult Swim-promoted Robot Unicorn Attack was released in 2010.
But it wasn't until Temple Run that the genre became popularized. Temple Run succeeded partly because people were already familiar with the formula: Players knew they had to avoid obstacles like pits, fire, and low-hanging trees, but developer Imangi made it even easier by utilizing the iPhone's touchscreen interface and giving the player simple, swipe and accelerometer-based instructions. The player always has four available directions to move (plus the ability to tilt the screen), and the game artfully walks the line between challenging and rewarding.
The world of Temple Run is also familiar, but distinctive: Recalling games like Tomb Raider and the Indiana Jones and Mummy film franchises, the player-controlled character is an explorer seeking to avoid certain death at the hand's of the temples demonic monkey guardians.
That's not to say the game was simply a well-worn path; the 3D environments and third-person perspective helped differentiate the game as well, making the experience feel distinctive. Many imitators have sought to replicate its success, but none have been able to surpass it.
Timing of launch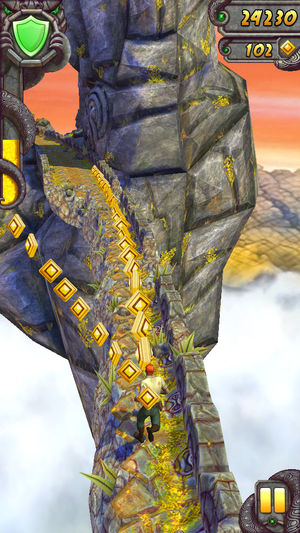 Released in the third quarter of 2011, the game launched right around when the iPhone 4S was released (October) and when the iPhone platform itself experienced greatly accelerated sales. Between the last quarter of 2011 and the first quarter of 2012 was one of the biggest jumps in iPhone sales so far, leaping from 17 million units sold to 37 million units sold. Suddenly, a lot more people were buying iPhones and many of them wanted games to play.
By December of 2011, the game was included in the App Store's highly sought after "top 50 most-downloaded apps" list. This list is a bit of a self-fulfilling prophecy, and long coveted by developers: Games that are on this list are already popular and benefit from increased visibility through Apple's promotion.
Better business model
Developer Imangi also wisely shifted its business model for the game around this time, changing from a $1 download model to the freemium model. In comparison, competitors like Canabalt and Robot Unicorn Attack cost money to download (at one time, as high as $3). Imangi's decision proved to be an exceptionally sound as users could then try the game for free, removing another barrier to popularity.
Instead of a download cost, Temple Run makes money through an upgrade system. Coins (either purchased or collected in game) can unlock power-ups and additional characters.
An enduring addiction
This is why the game, despite its simple premise, has more depth than your average endless runner. In the repeated failures—the times you forget to swipe down and you lose your head, or you miss a jump and get roasted by flames—there's always the sense that you can go just a bit further. Temple Run remembers your scores, and there's always bragging rights with your friends, so you try again to beat your last run, or grab a few more coins and unlock the Mega Boost upgrade, the wings, or another character. In short, Temple Run successfully tempts you into keep playing, despite never giving you the most common of video game achievements: Victory.