Several years have passed since I last reviewed Moneydance, a Java-based personal finance application created by The Infinite Kind. While Moneydance hasn't changed much in the intervening years—it's still a good personal finance application—in its latest iteration, The Infinite Kind have enhanced and upgraded Moneydance, adding iOS syncing using Dropbox to make managing your money that much easier.
Moneydance centralizes your personal finance information in a single window. A sidebar on the left provides links to all your accounts and budgets, and a list of reports. A toolbar at the top of the window allows you to select and display budget information and when you select an item from the sidebar, the data in the main window changes to reflect the item you've selected.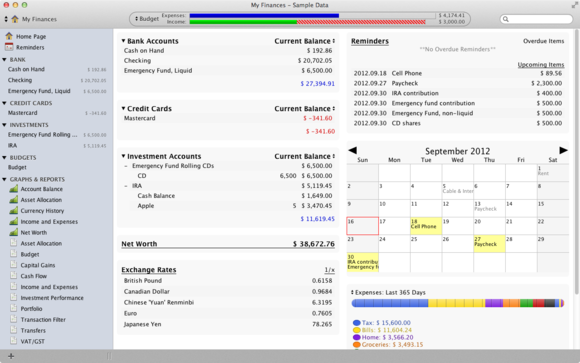 The Moneydance interface will be familiar to anyone who has ever used any computer-based financial app. You add and edit your banking data in what looks like a double-lined checkbook ledger. The first line displays the specifics of each transaction, including the date, how the transaction occurred (check, transfer, EFT, etc.), who the transaction was paid to, how much the check was for, and your account balance. The second line is for other details such as transaction category and associated check number.
While entering transactions in Moneydance is easy, I did encounter some unexpected behavior. When entering category information, adding new categories from the category field rarely worked correctly. Newly downloaded transactions that you've yet to confirm appear in the main window. Each displays a small dot in the description field indicating that they're waiting for you to confirm them. When you click the unconfirmed transaction, a new sidebar appears on the right displaying details for the selected transaction. When this sidebar opens, rather than expanding out to the right as a normal sidebar might, Moneydance's sidebar expands in, and resizes the ledger portion of the window. This does two things: it moves the place you clicked in the ledger away from your cursor and, often, info appearing in the ledger window gets compacted so that the ledger text appears underneath the little blue dot indicating that the transaction has not been accepted. You can resolve this by resizing the window, but this is less than optimal.
Moneydance offers automatic downloads of your banking data, but in order to use this feature you'll have to subscribe to your bank's download service, which, in the case of my banks, means I have to pay each of them a fee. Setting up online banking is simple and I was able to connect to my banks and download transactions in a matter of minutes. But this feature has limitations. Even though my bank offers the option to download information on my mortgage accounts, Moneydance doesn't support this feature. These are basic features that apps like iBank 5 and online services such as Mint.com and Personal Capital handle with ease and which should be available in Moneydance as well.
You can now link PDF files and other image documents to any transaction in Moneydance, allowing you to include receipts for purchases with their transactions. There is also a new Quick Entry option that lets you use the application's search field to create new transactions. Simply type a number for a dollar amount, and the name of who you made the payment to, say, 2.65 Peet's Coffee, and Moneydance opens a small Quick-Entry window you can use to edit or enter the transaction. Similarly, you can use the same field as a calculator similar to how you use Spotlight for calculations.
The application offers over 25 reports and graphs to help you track your financial information, including reports for missing checks, current net worth, and budget tracking. As was the case with transactions in the registers, graphs in Moneydance weren't as good as they could have been largely because they lose their shape when Moneydance's main window isn't exactly the right size. So, for example, if you had to stretch your window a bit in order to see all your data in the checkbook ledger, all the graphs and their associated text will looked stretched and out of shape. In order to get them back into shape you have to resize the window to make them look right.
The Infinite Kind have enhanced Moneydance's budgeting capabilites, now making it possible to take data from your checkbook ledger to use as a starting point for your budgets. In order for this feature to work, you need to take the time to map data you imported or entered by hand to specific categories. But once that process is complete, Moneydance categorizes any new items as they're added to your ledger.
Bottom line
Moneydance isn't perfect, mostly due to its UI anomalies, but overall the application offers good tools for managing your personal finance info. While it doesn't offer all of the automated download capabilities of apps such as iBank, its collection of reports and easy data entry features make it a tool worth looking at.