It's true that the US deviates a smidge from the rest of the world when it comes to sports. While most of our national attention is on the next football draft, international attention is on the other game of football. (You know, soccer.) But the World Cup kicks off in Brazil this Thursday, and for a brief moment, we'll be caught up in the excitement of soccer.
Even though good ol' Team USA pretty much has a zero-percent chance of winning, it's not too late to catch the footie fever. Here's how to join in on the fun without having to fly to Brazil. Just, please, no vuvuzelas this time.
FIFA's official World Cup app
If you want the basics, FIFA's official World Cup app (free; iOS and Android) has you covered. This app will offer up-to-date coverage for each of the Cup's 64 matches, along with a full calendar of matches, team rankings and info, Cup standings, news, awards, and other in-app games. For your absolutely favorite teams, you can set up match alerts that will notify you of real-time goals—if, say, you don't want to watch the game live in the middle of the night (thanks, time zones). Want more than just goals? This app will notify you of line-ups, kick-offs, red cards, and the score at halftime, if you so choose. Add as many teams to follow as you'd like.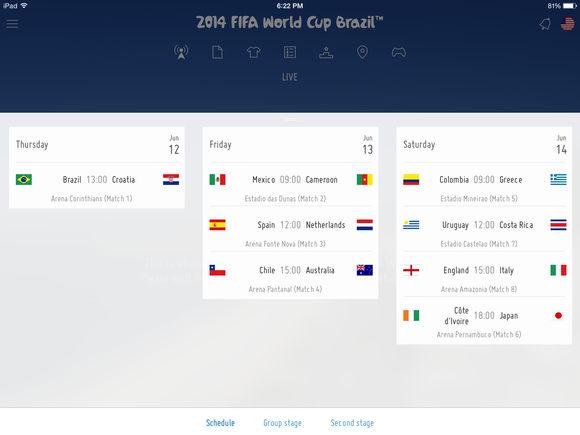 As live-game streaming won't always be an option (and isn't available through this app, unfortunately), your second best bet is FIFA's Global Stadium, where you can read minute-by-minute match action as games are happening live. These updates will be supplemented with pro analysis and statistics; coupled with your push notifications, you'll have your finger on the pulse of the tournament at all times.
Twitter
Twitter is really getting into the spirit with its own specialized World Cup timelines, both in its mobile apps for iOS and Android and directly through Twitter's website. For the most devout, it's offering a simple page makeover that changes your profile and header photos to show your support of a team, with a number of images to choose from.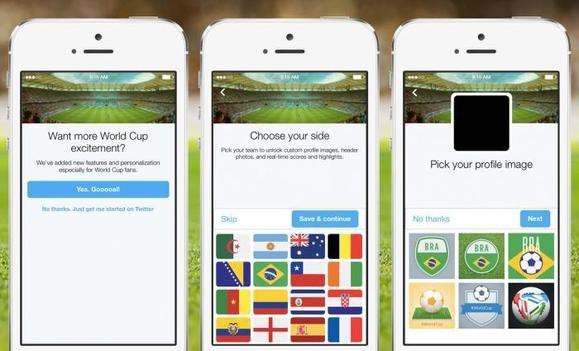 Besides following individual players, teams, and sports aficionados, keep an eye on Twitter's World Cup and match timelines, which you can view by searching for or tapping on #WorldCup or #WorldCup2014. The World Cup timelines shows related tweets from people within your network, along with relevant tweets from players, coaches, teams, celebrities, and fans that are actually in the stadium. Match timelines show tweets surrounding specific games, which helps you keep up with live matches.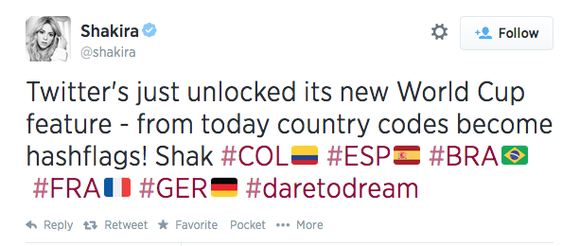 When composing your own Tweet, don't forget to include a "hashflag," which adds a cute flag icon when you use a hashtag in front of a team's three-letter country code. (Because, why not?)
FIFA 14 by EA Sports
Ever dream of competing in professional soccer yourself? Get yourself one step closer with EA Sports' FIFA 14 (free with an in-app purchase required to unlock premium features; iOS and Android). EA has just updated its soccer franchise to include the rosters of World Cup teams in its Match of the Day feature so that you can play the actual group stage matches and create your ultimate World Cup outcome. (Or not: Another TechHive editor just led heavy favorite Brazil to a 1-0 defeat at the hands of Croatia. We'll see how the teams really fare during the first match on Thursday.)
When the World Cup is over, try a hand (er, a foot) at building your own fantasy team and playing against your friends in real time. FIFA 14's intuitive touch controls make this game a blast to play on the iPad.
TheScore
Sports news app theScore (free; iOS and Android) continuously impresses me with its special events coverage, and its World Cup offerings follow that pattern. Its content is gorgeous, especially if viewed on a tablet. With frequently updated articles written by theScore's own staff, photo slideshows, videos, and integrated social media feeds, this app will provide you with tons of soccer stats.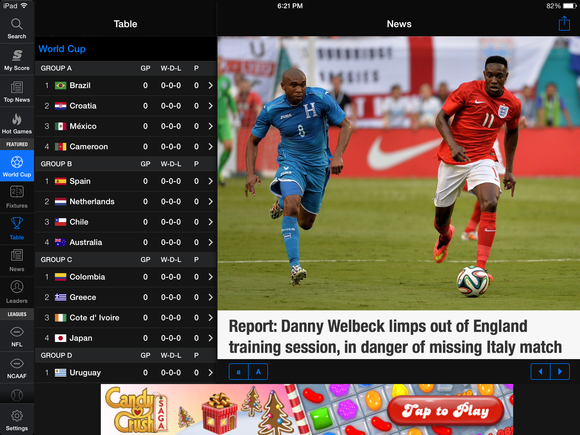 The app has designated pages for each fixture, which shows team odds and groupings broken down by match; a table section shows an overall chart of Cup victors, also broken down by match, in a bracket-style display. You can even curate your own feed by picking your favorite teams to follow, which then get saved in a separate tab. Afraid to miss anything? Enable push notifications to get real-time goal updates.
Forza Football
The app formerly known as Live Score Addicts certainly delivers on that promise: Forza Football (free; iOS and Android) offers live scores—with push notifications, naturally—and video highlights for more than 560 soccer leagues and cups from around the world. It got updated to version 3.0 just in time for this year's World Cup.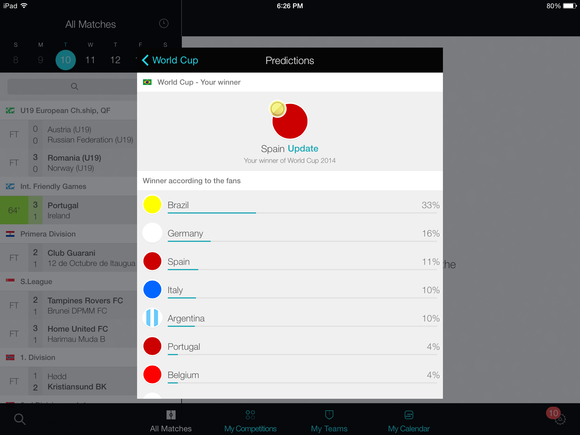 Forza Football walks you through setup, where you pick your favorite teams, leagues, and Cups to follow; you can also indicate whether or not you'd like to be notified. The app will send you match reminders, goals, lineups, video highlights, and real-time results. The app excels in letting users create their own experience, where you can flush out a calendar of matches to monitor, pick the time interval for live score updates, and share in the excitement live with other fans. As you're using Forza Football, the app will ask you opinion polls about teams, players, and coaches, and you can connect with other fans to discuss the results.
The Guardian's Football Weekly podcast
The Guardian's excellent Football Weekly podcast is kicking it up a notch during the World Cup: You can listen to a new podcast every day during the tournament, where the hosts (James Richardson, Barry Glendenning, James Horncastle, and more) will give you a rundown of the day straight from Brazil.
A bit of light reading
Want to do a little bit more background reading about Brazil and the history of the World Cup? Try an iBook. David Goldblatt's acclaimed Futebol Nation ($10) focuses on Brazil's soccer story, and how the sport has shaped the country's politics, art, and national pride—for better and for worse.
On the analytical front, there's Soccernomics ($10), by Simon Kuper and Stefan Szymanski, which answers some of soccer's big questions based on soccer's history and economics.
Finally, there's Brazil's Dance with the Devil ($10), by sports columnist Dave Zirin. This book takes a socio-economic look at how the expensive endeavor of hosting both the World Cup in 2014 and the Olympics in 2016 is affecting Brazil and Brazilians.