I honestly can't remember the last time I used Skype on my iPhone. It's one of those apps I installed a few years back and rarely ended up using, but I kept it installed because of the frequency that I use its desktop app on my Mac. There was nothing wrong with Skype for iOS before, it's just that there were other more mobile-friendly messaging apps that I preferred.
Apparently, I was not alone here, and the Skype team knew that. On Monday, Microsoft announced that they would be launching a remastered version of Skype for the iPhone that addresses issues found in previous versions.
"The pace of change in mobile is crazy," said Eric Lin, a product marketing manager for Skype, in an interview with TechHive. He added that the previous version of Skype was built in 2010, so in order to create an app that keeps up with other messaging powerhouses, the team scrapped the old app and redesigned it from the ground up.
We wrote about what features it would include—the ability to share offline photos, better device-to-device syncing, and several app-wide performance improvements—and now I've had time to test out these new features firsthand.
A defining look and feel
Skype is a messaging platform, after all, so even if you're new to Skype it will feel intuitive to use. When launching the app, you're prompted to sign in (or create a new account), and then you're shown a handy video on how to get started. If you have an existing Skype account, all of your contacts and saved conversations will be there when you log in.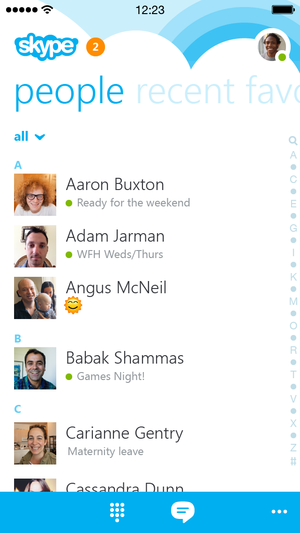 My first reaction to the app was: "Welp, this definitely looks like a Microsoft product." I use Outlook for my work email, and Skype 5.0 has a similar feel to Outlook's web app, or its standalone OWA app for iOS. It uses the same font, has similar navigation, and of course similarly matches Skype's app for the Mac. The design aesthetic places it firmly in Microsoft's ecosystem, which might sound a little bizarre for an iOS app, but the overall affect is one of continuity from platform to platform. Everything syncs smoothly across devices.
The main page houses three main tabs in an easily scrollable navigation bar along the top; browse between people (your contacts), recent (your recent conversations), and favorites (contacts and convos that you've marked as such). Above the tabs sits your profile picture; tap on it to update your profile settings and status. As you swipe between tabs, you'll notice a subtle animation as the app's background design—fluffy white clouds—moves along with you. If you scroll down, the top header shrinks, showing more information on screen. Tap on any contact or convo to chat.
At the bottom, you'll see two icons: a number pad for making calls, and a chat button to initiate a new chat. Tapping the chat icon will start a new individual or group chat; you can select users to add by scrolling through your contacts list, which appears in the new chat window, or just by typing a friends' name. Lin stressed that group chats are a huge trend in messaging these days, so the app makes starting a group chat just as easy as starting an individual one.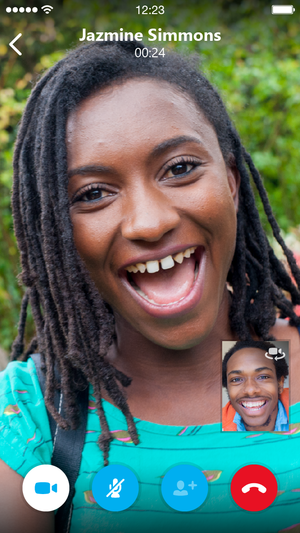 When starting a chat or picking up where a conversation left off, you'll notice the main bottom navigation items drift away. The replacement icons will launch either a video chat or a voice chat; by default, conversations start as standard character messages, just like Skype on your desktop.
I've made a couple of Skype calls and video chats with Skype 5.0 on my iPhone, and the quality naturally depends on your internet or data connection—much like FaceTime. With a good connection, both the audio and video quality are crisp and clear. I like that Skype's controls stay out of the way during video chat, displayed as small icons at the bottom of the screen, and they don't interfere with your chat. You can turn your phone's front-facing camera on or off, mute or un-mute your microphone, add a caller, or end the call.
One of the most notable new features is offline media sharing. If a friend is offline, you can still send her images or video messages. She'll receive them the next time she logs in. Skype won't notify you of every single message, ping, or incoming call—unless you want it to. The app offers ways to customize your notifications, and you could always log out of the app for temporary radio silence—which is really handy if you use Skype on multiple devices and want to cease the "pachinko parlor"-esque sounds of multiple notifications going off on your iPhone, tablet, and laptop.
While the features and app experience are nice, what makes this update a big deal is the emphasis that the Skype team has placed on making this app a better experience for users.
"Everything we've done is based on user feedback, and it's something we take very seriously," said Lin, adding that his team sorted through all sorts of user feedback and comments in the App Store to figure out what features to focus on. "We want to put your conversations in the forefront, with a more integrated experience overall."
Skype 5.0 for iPhone is now available for free in the App Store. The iPad version will receive a similar update at a later date.